The massive labor pool and low costs in China have led many Indian corporations to outsource manufacturing from China. 
However, a company must consider the organizational constraints and potential repercussions of relocating or outsourcing business operations in other international countries.
A prior understanding might assist in understanding the risk scenario, and performing chinese supplier risk checks for developing a successful outsourcing plan that meets your business objectives.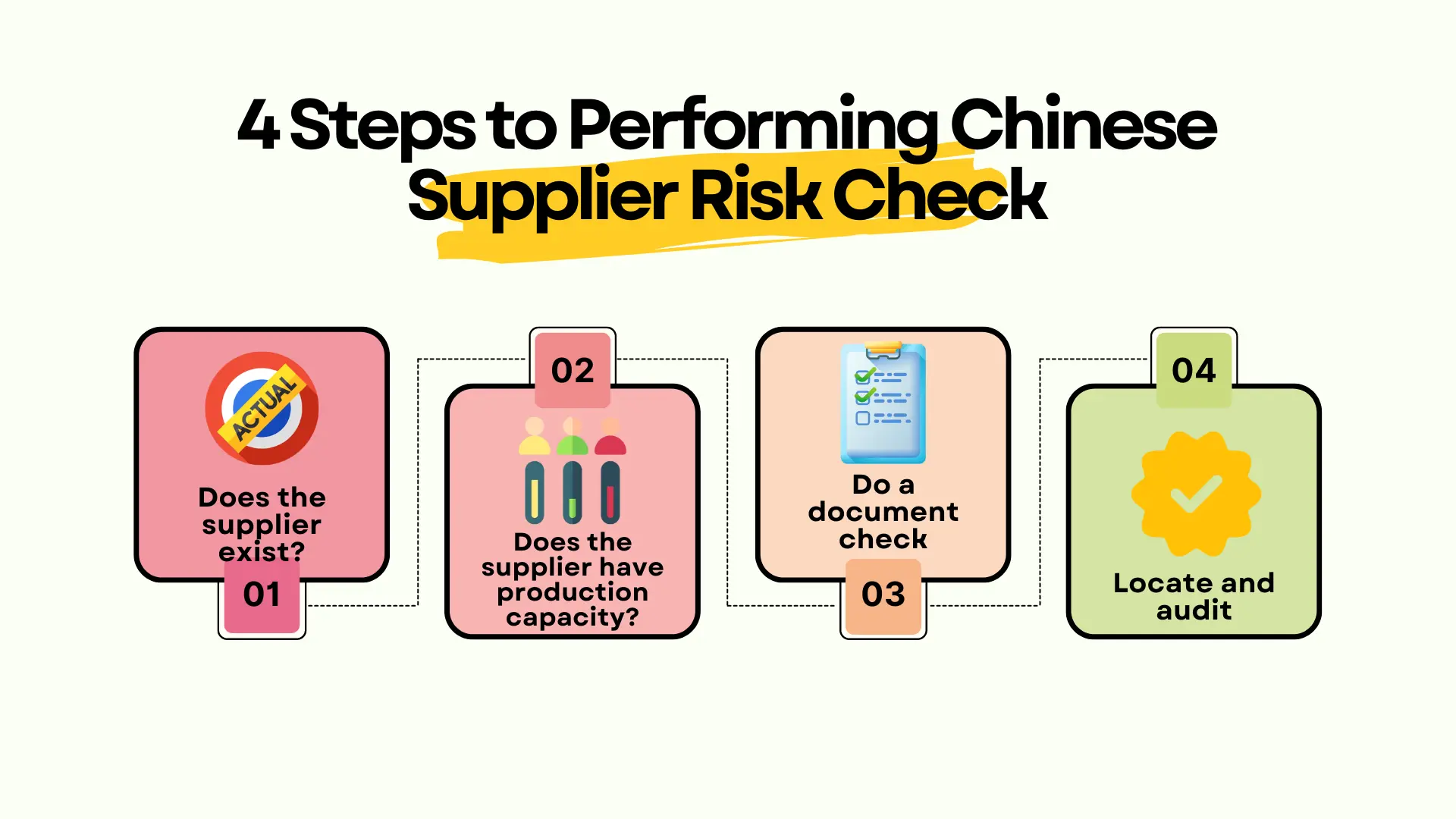 Chinese supplier risk check: Manufacturer or trading company?
Given that many importers favor manufacturers over trading companies, this is a crucial question when doing your Chinese supplier risk checks. A trading company acquires and sells things from the original producer. 
In some cases, your Chinese supplier may claim to be a manufacturing company when they are actually a trading one. If you require high-precision, custom-made goods, this can be fatal. 
How can you tell the difference? The methods for validating and shortlisting suppliers in China that follow will address this issue as well.      
Step 1: Does the supplier exist?          
As a company, this is the first thing you should do as a Chinese supplier risk check. 
Name of the supplier/company, phone and fax numbers, official email address, and factory address:

You'll need these specifics to cross-check with other sources, which we'll go through later in the post. Begin by contacting the official number and sending an email to the official email address to see if they exist and if you receive a response.

Bank account information:

Request the supplier's bank account number, beneficiary name, and bank location. Check to see if the beneficiary's name matches the supplier's name. Many Chinese vendors have Hong Kong bank accounts. This could suggest one of two things: a) the supplier is not the manufacturer, or b) the supplier is the manufacturer but has an account in Hong Kong because the financial transaction restrictions there are less stringent than those in China. You can avoid payment fraud by confirming the supplier's bank details early on.

Websites, online profiles, and social media:

A supplier's web reputation speaks volumes in today's digitized environment. Check their website for contact information, browse their product range, and read customer reviews. Do the same with their social media accounts.            

Customer reviews/buyer references:

Ask your supplier for buyer references, preferably from your own market. While Chinese suppliers tend to be hesitant about furnishing references, willingness to do so is a point in their favor while conducting a Chinese supplier risk check.

   
Step 2: Does the supplier have production capacity?
A Chinese provider may accept an order that they are unable to fulfill because of Miànzi or a desire to win a commercial transaction. As a result, importers must thoroughly investigate the supplier's production capacity, experience, and competence. Do the following for a Chinese supplier risk check.         
Year of foundation:

Determine how long the supplier has been in operation. You might not want to put your order with a supplier who has only been in the company for a year or two.

Turnover:

This provides an indication of the supplier's financial soundness. After all, you don't want to work with a vendor whose business could fail at any time.

MOQ (minimum order quantity):

Few Chinese suppliers work without a minimum order quantity (MOQ), which is the number of products they are willing to create and sell at one time. If you need to acquire 10,000 leather shoes, the supplier must be able to create that many at once. The MOQ is also a good sign of a supplier's reliability.
Step 3: Do a document check
Here are the documents you need to ensure a Chinese supplier risk check.         
Business license: A business license is required for all registered firms in China. The business license contains important information regarding suppliers, such as their business scope. This describes the supplier's activity and indicates if they are a manufacturer or a reseller. The terms 'production' and 'assembly' denote a manufacturer, whereas 'wholesale' and 'distribution' denote a trading firm.
The business scope also specifies the products that the supplier sells. Manufacturers often have fewer products that are all in the same category, whereas resellers have a wide range of products. A business license includes a QR code that connects to a government website where you may double-check the supplier's information. Keep in mind that company permits in China are issued in the local language.
Certificates: A good way of seeing Chinese supplier risk checks is by going through their certificates. A quality management certificate (ISO 9001) indicates that the supplier has met specific legislative and regulatory standards and has passed an audit.
A social compliance certificate confirms that the workplace is safe and ethical. An environmental certificate certifies that their processes are not harmful to the environment. Suppliers must pass professional audits to receive both social compliance and environmental certificates. As a potential buyer, you can have the supplier audited by a third-party agency or seek a copy of a certificate based on a prior audit from the provider.
Some products (information technology equipment, car parts, and electrical goods) require a mandatory product certificate known as a China Compulsory Certification (CCC) mark, which certifies that their products fulfill national safety standards.   
Value-added Tax (VAT) invoice: Chinese suppliers must provide a VAT invoice in order to get government rebates on VAT paid on inputs. The importer can request a copy of the supplier's VAT invoice as confirmation that the supplier is a legal company.
Product Catalog: Chinese factories specialize in one or a few goods. Expertise, like experience, is important when producing high-precision, tailored goods. If the supplier's product catalog contains a diverse range of items with little in common, they are most likely a trading company.
Step 4: Locate and audit
Given the country's structure of industrial clusters – towns and regions dedicated to producing just one type of product – the location of your China supplier can be eye-opening. Assume you want to buy socks.
Your supplier should ideally be based in Zhuji in Zhejiang province, commonly known as China's 'sock capital'. Not only is the city the largest sock production base in the world, but it also has the greatest supply chain systems in place to create and export your items. If the supplier's address is in a remote area, they are almost certainly a trading company.
A physical audit of a supplier's plant is highly advised as part of the Chinese supplier risk check once you've narrowed down your options. You could take the next flight out to China, or you could do the next best thing and pay a third-party agency or a China sourcing agent to do the legwork for you.
A physical visit is the most reliable technique to check a source. It determines whether the supplier exists, whether they are a manufacturer or reseller, and whether they have the knowledge, competence, and equipment to complete your request.
Common Chinese supplier risks or scams
The "come to China" scam
"Good day, my friend!" We are glad to notify you that we are interested in purchasing your product for $250,000. Please come to China as soon as feasible to discuss more with us and sign our contract. We can't wait to see you!"
We've observed numerous examples when an Indian firm is approached by an unknown Chinese "enterprise" seeking a lucrative business transaction.
The Chinese "business" requests that an Indian firm send personnel to China to execute a deal. When the Indian delegates arrive in China, they are instructed that it is normal for them to arrange a dinner for the host "company," pay a notary fee and purchase gifts for the "company" officials. The Chinese disappear once the money has been paid.
Tips
Conduct rigorous due diligence or supplier risk checks on the "Chinese company"

If your investigation reveals that the company is registered, contact the firm to confirm the identity and authority of those who have approached you.
The "representative" fraud
An Indian corporation may get an unsolicited email from a Chinese company that turns out to be situated elsewhere. The company is looking for representatives in India to create a corporate presence and, more significantly, to transfer money from Indian consumers. In exchange, the Chinese corporation promises a commission of five to ten percent of the payments. These cases are almost always false and should be treated with extreme caution.
Scam of a "new bank account"
"Dear loyal customer! As per our long-standing agreement, we will dispatch your recently ordered order after we receive the remaining $25,000 payment. We would like you to pay in a separate account from our regular one for tax purposes. Thank you very much!"
An Indian company may be asked by a respectable and long-term Chinese business partner to make a payment to a bank account other than the one generally used. This unusual request could be explained by a variety of factors, including taxes, government loans, the necessity to secure international funds outside of China, and so on.
Following the money transfer, the Chinese business denied any payment was made. In many circumstances, the Chinese corporation did not get the cash in full, but it has in fact been diverted elsewhere. Different motives for this scam:
Employees from your Chinese partner who are out to make a fast buck

Hackers have gained access to your Chinese partner's email account, maybe with the assistance of rogue personnel
Tips
Before making a payment to an unknown bank account, confirm with someone from the Chinese company with supervisory responsibility that the payment request is valid and provide a clear explanation. Because most email systems are not secure, use the phone!

Scam of the "false corporation"
"Good day, my friend!" We'd like to alert you to the fact that someone is attempting to register your trademark in China. If we act promptly, we can assist you to avoid this for $25,000 in legal fees. To preserve your intellectual property, please notify us as soon as possible."
Chinese organizations may pose as legitimate law firms, due diligence businesses, trademarks, copyright, domain registration or patent agencies, freight forwarders, and so on. This scam comes in a variety of forms. One of the more complex scams even involves non-Chinese people impersonating workers of the fictitious Chinese organization. Regardless of the strategies used, the scammers aim to take money from the Indian company while offering nothing in return. 
The "parasite" Company
"Dear Sir, we spotted your product at a tradeshow last month and would like to distribute it in China. Our company is one of the largest in China, and we have strong relationships with both local government officials and a significant number of potential clients."
Some Chinese enterprises, mainly distributors, pretend that they are industry leaders with large networks of potential clients or government links in order to gain big contracts. In most circumstances, these companies really exist, and simple due diligence will validate their legitimacy.
However, unless a thorough inquiry is undertaken early on, Indian enterprises will not discover until much later that their new partner lacks clout. While the scammers' claims may be exaggerated, the objectives are simple:
to persuade the Indian entity to commit to an exclusive distribution agreement

to secure a better contract
Tips
Conduct meticulous Chinese supplier risk check

Request examples to back up their claims or references from past international partners of the company.

Consult with other companies in the industry on an informal basis to acquire a true sense of your possible Chinese business partner.

Proceed carefully and with caution.

Ensure that no monies are provided and that no trip expenses are incurred without proper caution.

Use industry groups and other contacts to build a local network and get to know your partners better.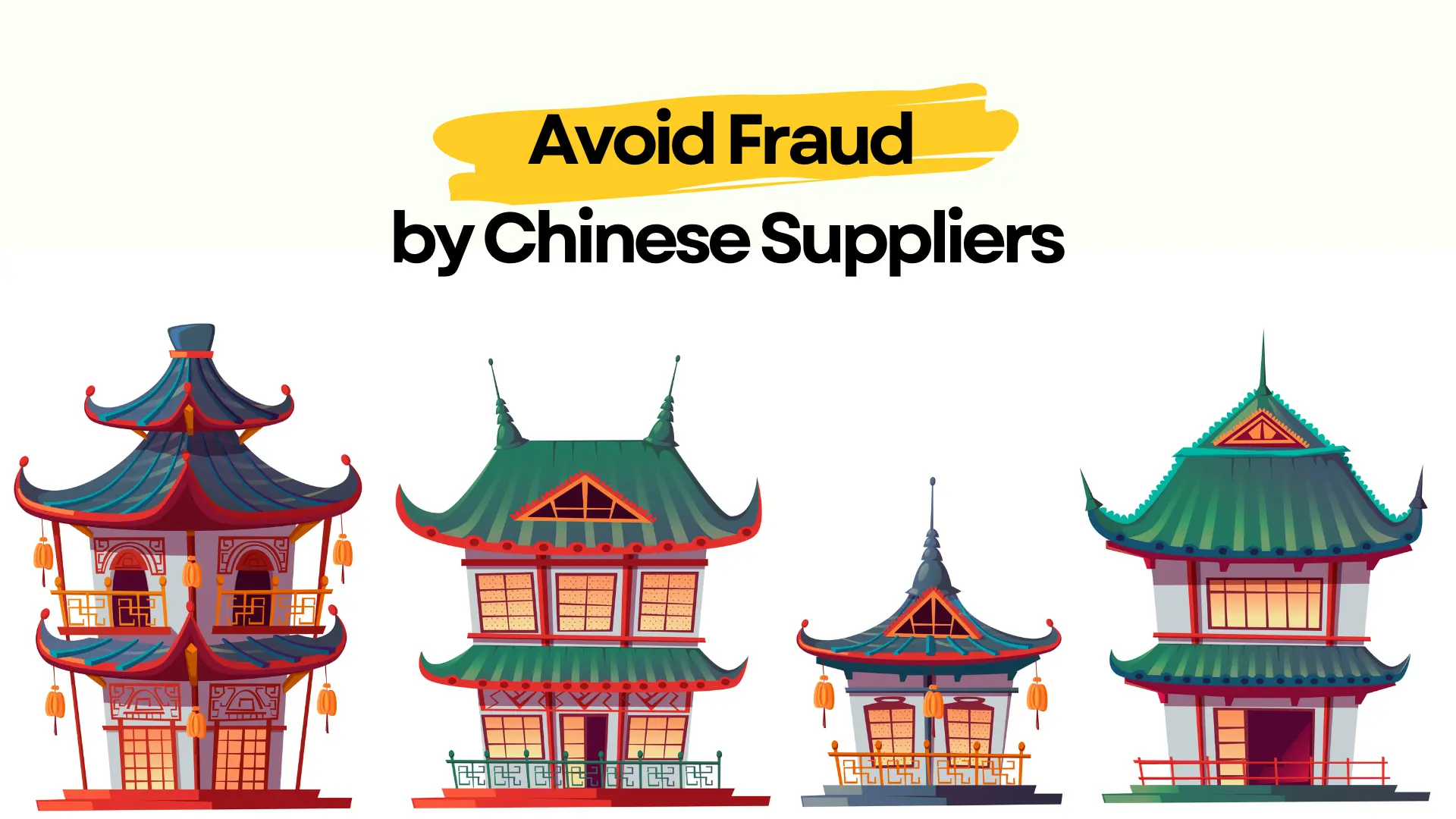 Chinese supplier risk check: How to avoid fraud by Chinese suppliers?
Finding an international supplier can be a stressful procedure because there is always the possibility of being duped.
To avoid this, conduct specific research on each supplier, acquire references, and implement a due diligence procedure to ensure your source of choice is authentic and trustworthy. The best recommendation is to go to the plant and take a look for yourself.
Choose a trustworthy supplier
You cannot expect to select a provider who will adhere to strict discipline and overcome moral hazards. This is hardly "trustworthy," in our opinion. What we mean is to do a verification on the china suppliers – by selecting a third party motivated by profit to keep their promises.
This type of provider "chooses" to follow the contract since it is the most cost-effective for him. Objectively, there are few self-disciplined providers in the Chinese market exclusively for moral reasons, whereas suppliers that maintain their pledges for financial reasons are more likely to be found.
So, how can you know if your supplier was one of the two?
To begin, if your supplier's manufacturing and sales scale are large, the provider is extremely likely to follow its promises for interest. Because it would be economically foolish for the provider to profit from the willful breach of your "little orders" in this scenario.
Second, if your supplier believes that you can consistently and constantly place orders, they will honor each order in the interest of a long-term partnership. As a result, if you can consistently bring them orders, it will be a win-win situation for both of you.
Furthermore, regardless of the type of supplier, you have the 'toolbox' to counteract the supplier in the event of purposeful violations. You can, for example, present their poor track record to other consumers, the relevant industry association, or their marketing platform for business development (such as Alibaba). As a result, you should make excellent use of these tools to keep your provider from breaching the contract.
Sign a contract to undertake due diligence on a Chinese vendor
This means you should create a transaction structure to control moral hazard and include it in the contract. 
First and foremost, payment and delivery are the primary ways of control. For example, the deposit or prepayment percentage should never be excessively large in relation to the entire purchase price. Furthermore, you should never pay the complete payment in one single sum before the supplier delivers the items.
The bigger proportion of your prepayment in the entire purchase amount, the more probable you will end up more like a "Party B". If at all possible, you should go with batch-by-batch delivery and payment for each batch provided. This will compel the supplier to thoroughly complete past batch deliveries for later payments. Of course, letters of credit can also be used to assure payment security.
Second, the contract's terms cannot be overly detailed. In addition, every obligation of the provider must be included in the contract.
This is because, if there is any ambiguity, the supplier will interpret and apply the clause that is most favorable to itself (possibly unfavorable to you). You must also detail the product's technical specs so that when drafting the contract, you can pretend that the supplier is inexperienced.
Finally, you must confirm that your contract is legally binding. You must guarantee that the provisions of your contract may be enforced by a court, whether the case is filed in China or in your home country.
It will be wiser that you should make it explicit in the contract that any dispute emerging from the transaction is subject to the jurisdiction of Chinese courts. If you win the case and the supplier's property is in China, it will be easiest to enforce a Chinese decision in China.
China's supply chain: Implications of outsourcing
China has repeatedly asked India, through official channels, to establish a "fair" and "non-discriminatory" environment for Chinese enterprises having investments and activities in India.
A Chinese embassy official in Delhi criticized India's "regular investigations" of Chinese firms. According to the source, the Chinese government "firmly supports Chinese firms in preserving their legitimate rights and interests."
Many top Indian enterprises with a presence in China see the Chinese market as profitable and will be adversely affected by limitations.
Despite this, a shift away from Chinese supply chains could help India gain access to new markets and create strengths in indigenous manufacturing. However, this will demand a coordinated government effort to implement measures to stimulate inward investment. 
Experts, meanwhile, believe that while it is necessary to make Chinese supplier risk checks and make companies comply with laws and regulations, care should be taken to not discourage investments or harm the interests of Indian enterprises.
Frequently Asked Questions
Ques: How do I verify a Chinese supplier?
Ans: A company can use the following procedures to confirm a Chinese supplier: look up the business, confirm their accreditations and licenses, get in touch with references, visit the factory, confirm their products, judge their financial stability, and take into account hiring a third-party inspection company. This will enable you to confirm the supplier's dependability and reliability.
Ques: How do I approach a Chinese supplier?
Ans: A company can follow these simple guidelines when  approaching a Chinese supplier:
Finding the correct suppliers should be your first step. Use online business directories like Alibaba and sector-specific websites to study possible suppliers.
Identify the right suppliers: Start by looking for suppliers through business directories such as Alibaba and industry websites.
Prepare a clear product specification: You should have a clear understanding of the product you intend to buy, including specifications, quantities, and delivery dates.
Contact the supplier: Get in touch with the supplier through their website's contact form and introduce yourself and your company. Provide a description of the product you are interested in purchasing and a quote request.
Negotiate terms: Negotiate the terms of the transaction after receiving a quote, including price, payment terms, and delivery schedule.
Place a trial order: Prior to making a larger purchase, place a small order to test the supplier's quality and reliability.
Build a relationship: Maintain a strong relationship with the supplier by communicating regularly and addressing any issues promptly and professionally.
Ques: How do I find Chinese suppliers online?
Ans: There are several ways to find Chinese suppliers online, including:
Business directories: There are many business directories on the internet that connect buyers with suppliers from all over the world, including China, such as Alibaba, Made-in-China, and Global Sources.
Online marketplaces: Alibaba, Amazon, and eBay often offer a large selection of Chinese products on their online marketplaces.
Industry websites: Several industries have websites devoted to listing suppliers and manufacturers of specific products, such as chemicals, electronics, and textiles.
Trade shows: Canton Fairs, such as the one in Guangzhou, China, brings together suppliers and buyers from around the world and can be an excellent source of new suppliers.
Social media: To connect with potential suppliers and industry professionals in China, use social media platforms such as LinkedIn and WeChat.
Search engines: Chinese suppliers can also be found by conducting online searches using keywords related to your product or industry.