India is one of the UK's most strategic partners in the Indo-Pacific, both in terms of market share as well as defense, while the UK maintains naval facilities throughout Oman, Singapore, Bahrain, Kenya, and British Indian Ocean Territory. 
According to the Department for International Trade, India invested in 107 projects and created 8,664 jobs in the UK, making it the second largest source of foreign direct investment (FDI) after the US. Metrics such as these demonstrate the importance of trade and capturing opportunities in growing economies.
Indians source supplies from UK suppliers for a variety of reasons

There are a number of reasons why Indian enterprises might choose to work with UK suppliers or UK-based suppliers. Some of these reasons include:
Quality products:

The UK is known for its high-quality products and services, and many Indian enterprises choose to work with UK suppliers to access these quality offerings.

Strong reputation

: The UK has a strong reputation for stability, reliability, and trustworthiness, making it an attractive partner for Indian enterprises looking to establish business relationships with foreign suppliers.

Access to advanced technology

: The UK is a hub of innovation and technology, and working with UK suppliers can give Indian enterprises access to cutting-edge products and services that can help them stay competitive.

Proximity to Europe:

The UK's proximity to Europe makes it an attractive gateway for Indian enterprises looking to access the wider European market.

Strong legal system:

The UK has a robust legal system that provides protection for businesses and their intellectual property, making it an attractive destination for Indian enterprises looking to do business in the region.
Problems Indian enterprises face while dealing with UK suppliers

Not all suppliers are perfect, and when your company is sourcing international jurisdiction you have to be on extra alert and cautious. There can be a number of challenges that Indian enterprises face when dealing with UK suppliers in their supply chain. Some of these challenges include:
Cultural differences: Differences in language, business practices, and cultural norms creates communication and understanding issues between Indian enterprises and their UK suppliers.
Time zone differences: The time difference between India and the UK can make coordinating meetings, negotiations, and other activities difficult and time-consuming.
Regulatory compliance: Indian enterprises must ensure that their UK suppliers are in compliance with relevant regulations and standards in both countries, which can be complex and time-consuming.
Shipping and logistics: Shipping goods from the UK to India can be challenging and expensive, requiring careful planning and coordination to ensure timely delivery and minimize costs.
Currency fluctuations: Changes in exchange rates can affect the cost of goods and services provided by UK suppliers, creating uncertainty and risk for Indian enterprises.
Intellectual property rights: Protecting intellectual property rights is essential when working with UK suppliers, and Indian enterprises must ensure that they have the necessary agreements and protections in place.
Quality control: Ensuring that the goods and services provided by UK suppliers meet the necessary quality standards can be challenging, especially when dealing with suppliers located in another country.
It is crucial for Indian enterprises to carefully manage these challenges to ensure a smooth and successful relationship with their UK suppliers.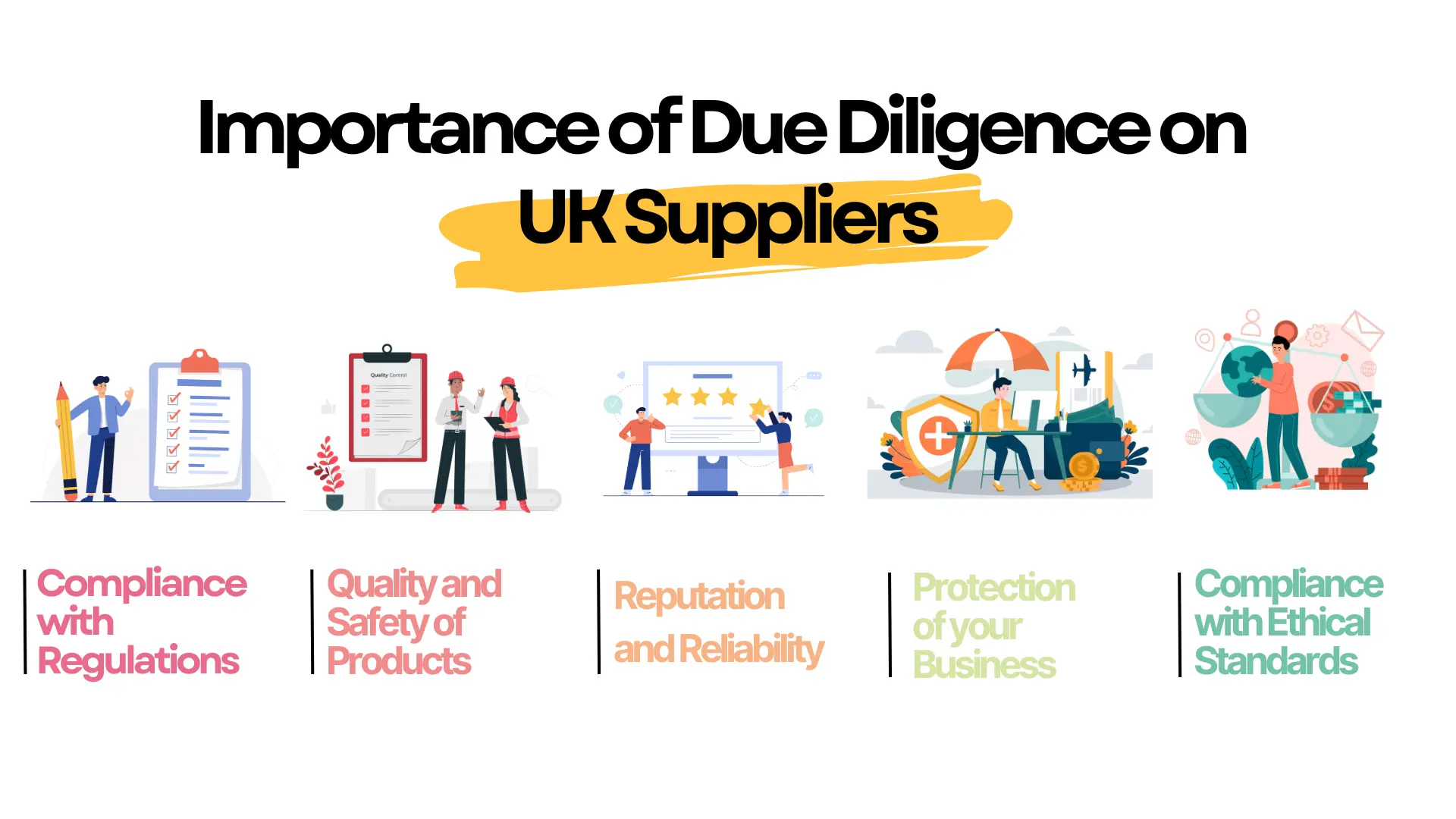 The Importance of running Due Diligence on UK Suppliers
 
It is important for companies to conduct due diligence on UK suppliers for several reasons:
Compliance with regulations:
Conducting due diligence can help ensure that the supplier is in compliance with relevant regulations and standards, such as the Health and Safety at Work Act 1974, Consumer Rights Act 2015, and Environmental Protection Act 1990.
Quality and safety of products:
Due diligence can help identify any potential issues with the quality or safety of the supplier's products, such as the use of hazardous materials or the lack of adequate safety measures.
Reputation and reliability:
Due diligence can help assess the supplier's reputation, reliability, and financial stability, which can affect the quality of the products and services they provide.
Protection of your business:
By conducting due diligence, you can protect your business from the risks associated with working with a supplier who may not be trustworthy, financially stable, or compliant with regulations.
Compliance with ethical standards:
Due diligence can help ensure that the supplier operates in an ethical manner, such as by avoiding practices such as bribery, corruption, and exploitation of workers.
Compliance standards for UK suppliers
In the UK, suppliers are expected to comply with a number of standards and regulations in order to ensure the safety, quality, and legality of the products and services they provide. Some of the most important compliance standards include:
      1. Health and Safety at Work Act 1974:
This act requires suppliers to ensure the health and safety of their employees, customers, and any other people who may be affected by their work activities.
      2. Consumer Rights Act 2015:
This act sets out the rights of consumers when they purchase goods or services from a business, including the right to receive goods that are of satisfactory quality, fit for purpose, and as described.
      3. Data Protection Act 2018:
This act requires suppliers to handle personal data in a way that complies with data protection laws, including the General Data Protection Regulation (GDPR).
      4. Environmental Protection Act 1990:
This act requires suppliers to take steps to reduce the impact of their activities on the environment and to prevent pollution.
      5. Modern Slavery Act 2015:
This act requires suppliers to take steps to ensure that their supply chains are free from modern slavery and human trafficking.
      6. The Bribery Act 2010:
This act makes it illegal for companies to offer, promise, or give a bribe, and it requires companies to have adequate procedures in place to prevent bribery.
      7. The Equality Act 2010:
This act requires suppliers to provide equal treatment to all customers and employees, regardless of their race, gender, age, religion, or sexual orientation.

It is important for UK suppliers to comply with these and other standards in order to protect their reputation, maintain the trust of their customers, and avoid legal and financial consequences.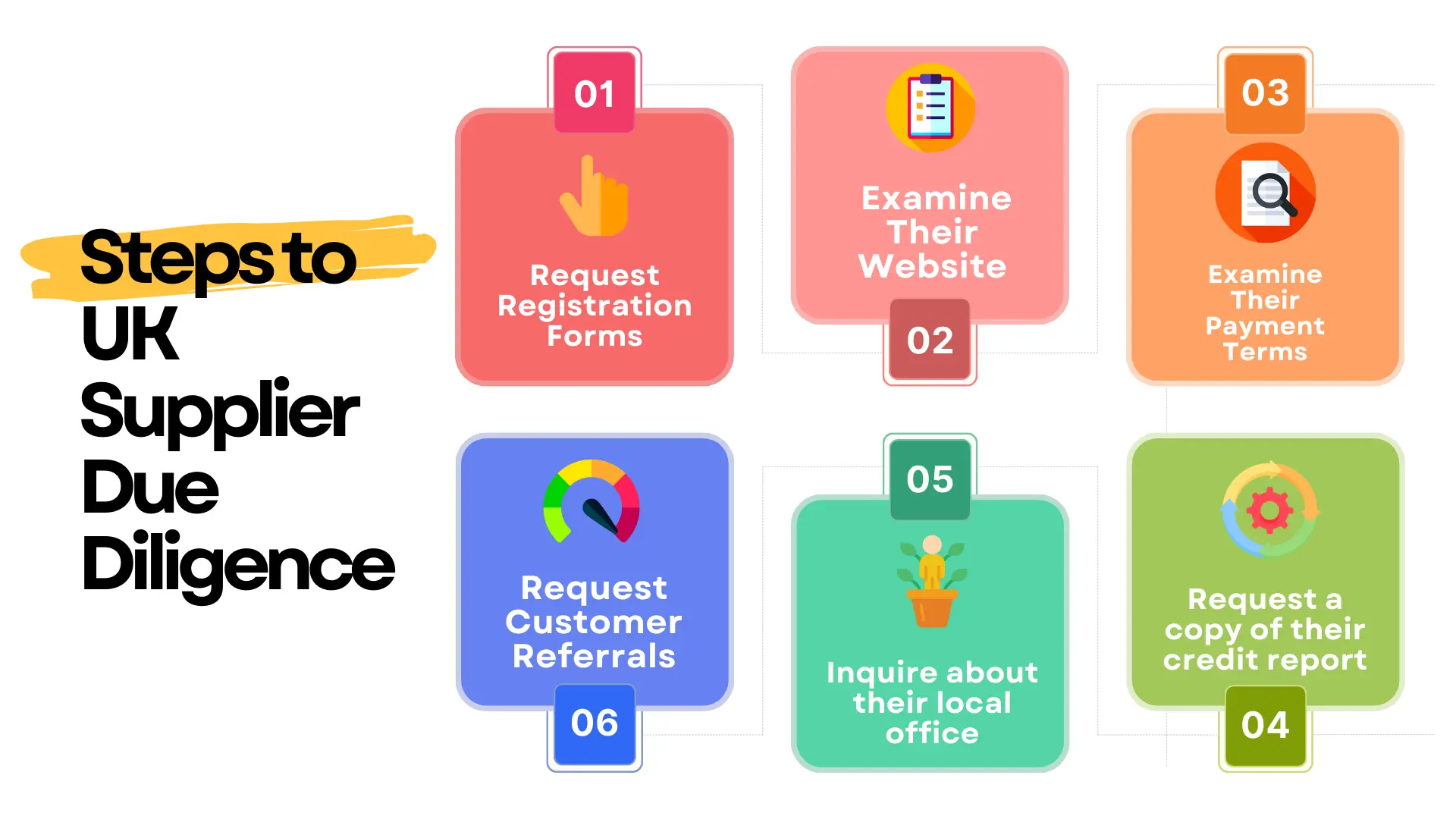 Verify  UK suppliers with simple steps
Due diligence is required to enable you to judge transactions and supply chain integrity. Ensure that your suppliers, supplies, customers, employees, and labor supply are credible, legitimate, legal, and tax compliant.
Due diligence on all parties is needed to prevent exploitation, fraud, and avoidance, so checks done purely regarding your immediate suppliers and customers may not suffice. The credibility of the supply, as well as payment arrangements, must also be considered.
Step 1: Request Registration Forms
The first thing you can do is request that your supplier present you with any paperwork that proves their company is registered and regarded as authentic. An emailed copy of a certificate of incorporation, a tax number, or a business ID number may be included.
You can then take these papers and use your local corporate database to establish if the business exists and if it is still in existence. We also recommend that you properly examine these documents for evidence of falsification.
When verifying papers, keep in mind that many bogus businesses will supply fictitious locations and phone numbers. So, rather than examining their company websites to determine if the information is correct, it is preferable to confirm such information with a local government. You can use the following website to confirm the accuracy of a supplier's data: Company House
Step 2: Examine Their Website
Because of technology improvements, modern businesses now have access to a variety of options (for example, WordPress templates) that make it relatively simple to design a website, regardless of skill level or budget size. These technologies have enabled everyone to create a website where you can verify important firm information such as phone numbers and addresses.
So, we know that a firm website may not be the most dependable approach to verify facts, because the website's developer might easily enter bogus details to match the data they provided you. However, it can still be valuable.
Step 3: Examine Their Payment Terms
The payment conditions of a supplier are one of the most important markers of the company's authenticity. Be wary of companies that require you to pay the entire sum up ahead. When purchasing physical products, you should normally only pay 30% upfront, with the remainder due once the product has been evaluated for quality and approved for shipment.
This is called a Letter of Credit Payment and is most common with large orders. Companies who refuse to take Letters of Credit in favor of untraceable payments, such as Paypal, can be a warning flag.
Finally, be wary of suppliers who request that you escrow funds through their lawyers or an unknown or untrustworthy escrow company. This group is likely to be fraudulent. If you want to employ an escrow service to finalize payments, both parties should choose a reliable company.
Step 4: Request Customer Referrals
If the provider is a credible and well-established company, they should be able to supply you with client references. Ask for phone numbers, a firm name, and a contact person, and then call them to receive their comments immediately. However, before contacting them for a referral, do some research to ensure that they are a legitimate business.
We also recommend that you get references from consumers in your nation, as they will be able to provide you with feedback that is relevant to you. However, if none are available, worldwide references will suffice.
Step 5: Inquire whether they have a local office
The subject is mainly pertinent to large, established suppliers, who frequently build local branches in various key trading hubs to facilitate operations within that country. If they have a local office, they are more likely to be a legal business; also, you will be able to visit their office and conduct an inspection in person. However, keep in mind that the lack of local representation does not imply that the company is illegal.
Step 6: Request a copy of their credit report
Another technique to ensure that a supplier is a trustworthy firm is to use a credit report service, which will provide you with useful information about the organization. Credit history, financial performance, the company's legal history (if applicable), contact information, years of operation, credit score, and management structure are all examples.
A credit report is a highly credible and trustworthy source of information if you utilize a reputable organization because it is based on data that has been validated against or provided directly from official sources.
Performing Due Diligence on your UK suppliers with SignalX
With SignalX get comprehensive due diligence and business information reports on UK suppliers. With SignalX's trusted and carefully curated databases, powered by AI, you can assess the risk of your UK-based vendors, suppliers, and business partners to generate a composite risk score. 
Accelerate your business with – 
Comprehensive public data 

Reduced Risk of fraud in UK suppliers 

Ensured regulatory compliance

In-depth understanding of UK Suppliers
Frequently Asked Questions
Ques: What is a due diligence process in the UK?
In The UK, a due diligence process consists of investigating and evaluating a potential business or investment opportunity before investing in or purchasing it.
During the process, an expert team reviews information to identify the risks and opportunities of the investment. The results are summarized in a report to help make an informed decision and minimize risks.
Ques: What is enhanced due diligence in the UK?
Enhanced Due Diligence (EDD) is a higher level of scrutiny applied to high-risk individuals or businesses as part of anti-money laundering or counter-terrorism financing efforts in the UK.
It involves a more detailed investigation that goes beyond standard due diligence, including additional checks and reviews to identify and mitigate potential risks. EDD is an important tool for compliance with AML and CTF regulations in the UK.
Ques: How to do due diligence on a UK company?
Performing due diligence on a UK company/UK suppliers involves gathering and analyzing information about the company's financial health, compliance with relevant laws, and any potential risks.
The review must include financial statements, assessing legal and regulatory compliance, and investigating key personnel's backgrounds.