Due diligence procedures have changed recently in response to shifting business environments, new technologies, and increased regulatory scrutiny.
Standing in 2023, we look back at the due diligence practitioner landscape from 2022 and speculate on a few possible due diligence trends for the coming year. 
We explored the potential due diligence trends you should be aware of this year after reviewing the recent landscape for practitioners, evolving methodologies, techniques, tools, and priorities that are frequently used during the due diligence process. 
These trends are influenced by a number of variables, including technological developments, modifications to legal and regulatory frameworks, market conditions, and the emergence of best practices.
Due Diligence Trends you should keep an eye on in 2023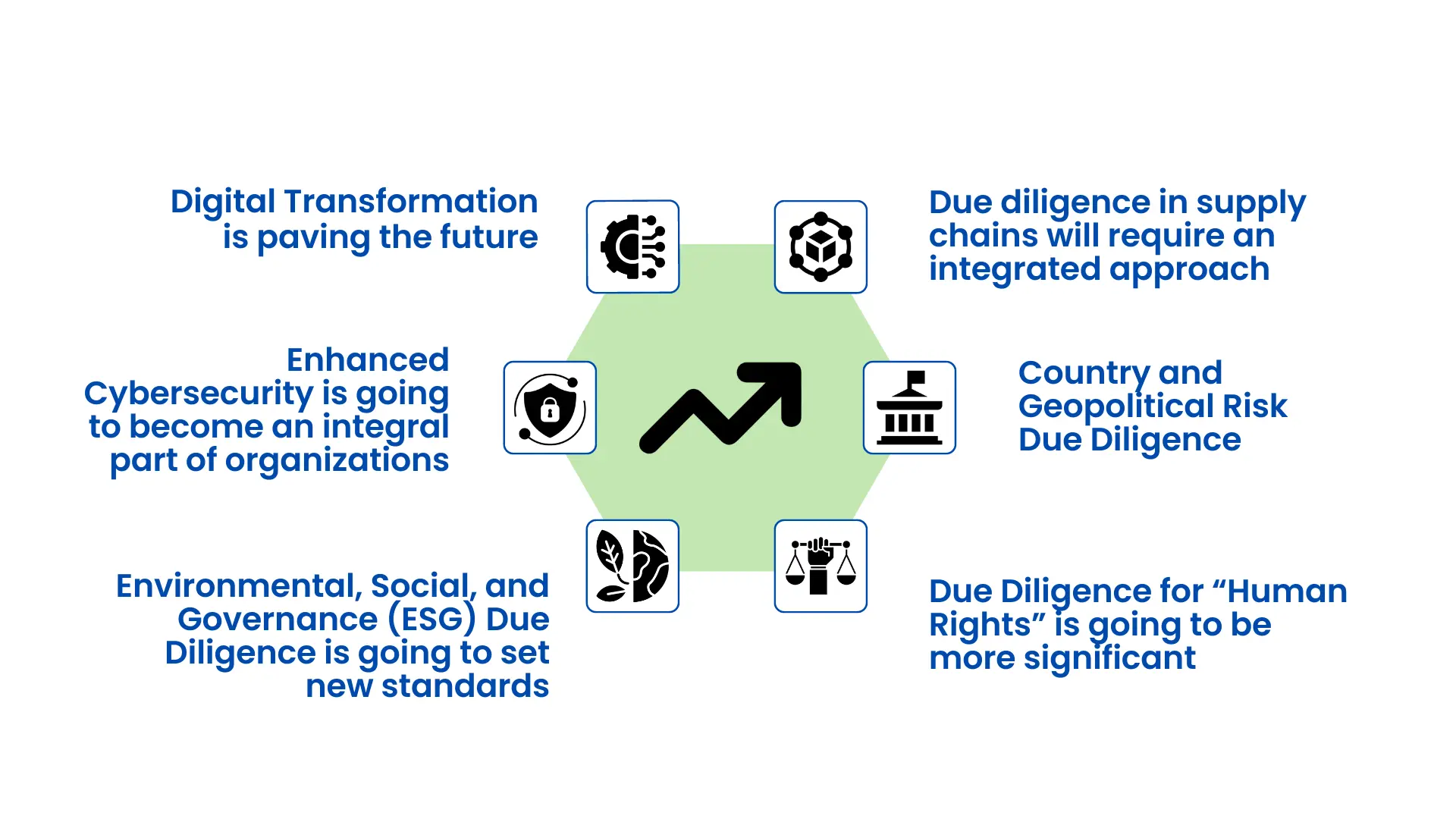 1. Digital Transformation is paving the future:
More and more due diligence procedures are being done online or on automated platforms like SignalX. Automation of data collection, analysis, and risk assessment is possible with the aid of advanced analytics, machine learning, and artificial intelligence (AI) tools. By enabling quicker and more thorough due diligence, these technologies help organizations make better decisions and stay risk free. 
2. Enhanced Cybersecurity is going to become an integral part of organizations:
Organizations are putting more emphasis on evaluating the cybersecurity risks related to potential investments, partnerships, or acquisitions as cyber threats continue to evolve. To avoid expensive data breaches and reputational harm, it is becoming more essential to assess the target company's cybersecurity measures, data protection protocols, and incident response plans. The aim is not just to react to cyber threats, but to proactively mitigate risks and safeguard the organization's digital landscape.
3. Environmental, Social, and Governance (ESG) Due Diligence is going to set new standards:
In recent years, ESG considerations have become increasingly important. The environmental and social impact of investments is becoming more and more important to investors and organizations and also regulators. ESG due diligence entails evaluating a company's corporate responsibility, diversity and inclusion practices, ethical standards, and sustainability practices. 
4. Due diligence in supply chains will require an integrated approach:
The COVID-19 pandemic revealed weaknesses in international supply chains. Organizations are now giving evaluations of supply chain resilience, sustainability, and ethical practices more attention. 
As businesses become more interconnected, the need for comprehensive due diligence within supply chains is becoming paramount. This includes assessing the financial stability, operational efficiency, and ESG practices of suppliers. Moreover, the rise in digital transformation is leading to an increased focus on cybersecurity within supply chains. 
The trend is moving towards a more holistic and integrated approach to due diligence, where every link in the supply chain is scrutinized to ensure resilience, sustainability, and security in an increasingly uncertain global market.
5. Country and Geopolitical Risk Due Diligence:
Recognizing country-specific risks is essential in light of the geopolitical tensions and economic uncertainties. Political stability, governing structures, economic indicators, and potential geopolitical risks in the target market are going to be assessed as part of the due diligence process. With this, organizations can reduce the chances of potential risk and make informed decisions with the aid of this assessment. 
6. Due Diligence for "Human Rights" is going to be more significant:
In the subject of due diligence, "human rights" issues are becoming more important. Businesses are increasingly prioritizing the assessment of potential partners or investments in terms of their impact on labor standards, human rights, and supply chain transparency. 
By incorporating human rights due diligence into their evaluation process, organizations can steer clear of affiliations with parties involved in human rights violations or unethical practices. This trend underscores the growing importance of ethical considerations in business partnerships and investments.
Why is it crucial for companies to stay up to date with the recent trends on Due Diligence?
       1. Risk reduction:
Conducting thorough research before making a decision about a partnership, investment, or transaction can help you identify and evaluate potential risks. Individuals and organizations can improve their risk management procedures and make better decisions by keeping up with the latest due diligence trends. This enables them to steer clear of or lessen potential risks related to the law, money, operations, reputation, or compliance. 
      2. Regulatory Compliance:
As laws, regulations, and industry standards change, so do the requirements for due diligence. Keeping abreast of due diligence trends makes sure that these requirements are met. Regulatory non-compliance may have legal and financial repercussions, including fines, penalties, and reputational harm. 
     3. Enhanced Decision-Making:
Due diligence trends offer insightful information on new methodologies, technologies, and best practices. Individuals and organizations can make better decisions by incorporating these trends into their due diligence procedures. They can make better decisions by utilizing new tools, data sources, and analytical techniques to collect and analyze pertinent information. 
The changing business environment, which includes market dynamics, new risks, and developing business models, is reflected in due diligence trends. Stakeholders can modify their due diligence procedures to fit the circumstances by keeping an eye on these trends. They are able to recognize new problem areas, assess developing markets or technologies, and modify their strategies as necessary. 
     4. Confidence among Investors and Stakeholders:
Strong due diligence procedures inspire trust among investors, shareholders, and other stakeholders. Organizations show their dedication to openness, risk management, and ethical decision-making by adopting the most recent trends and putting in place a thorough due diligence procedure. In turn, this promotes the growth of trust among stakeholders and the attraction of investors. 
     5. Mergers and Acquisitions:
The importance of due diligence in M&A transactions cannot be overstated. According to Beyond M&A, 62% of mergers and acquisitions (M&A) fail to meet their financial objectives, with poor due diligence often being a contributing factor.The parties involved in M&A deals can effectively evaluate target companies, assess their assets and liabilities, and negotiate favorable terms by being aware of the most recent due diligence trends and implementing a robust due diligence program. Following which will increase the likelihood of successful M&A transactions and reduce risk.
Keeping up with the Due Diligence Trends: How technology is playing a role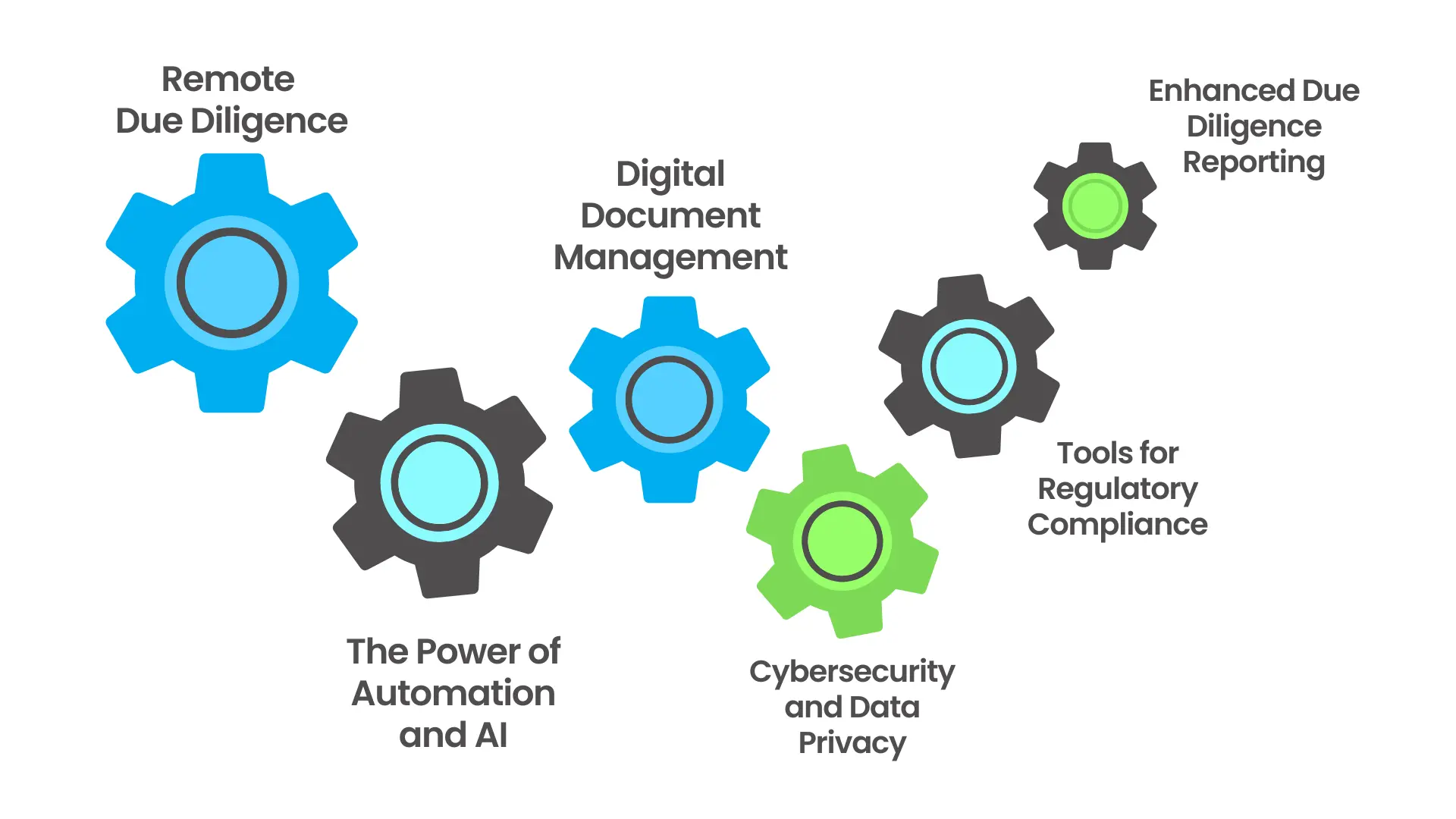 Remote Due Diligence:
The COVID-19 pandemic has accelerated the adoption of technologies for remote due diligence. According to a survey by Litera, 57% of respondents were now using remote technology to handle due diligence procedures, a trend largely driven by the working conditions imposed by the pandemic.
Global business transactions are facilitated and the need for in-person meetings and travel is decreased thanks to virtual data rooms, video conferencing tools, and collaboration platforms.
The Power of Automation and AI:
AI-powered tools that automate repetitive tasks, like data collection, analysis, and risk assessment, have revolutionized due diligence procedures. The rapid extraction of pertinent information from massive amounts of unstructured data, such as contracts, financial statements, and online sources, is made possible by Natural Language Processing (NLP) algorithms.
Digital Document Management:
Digital solutions are taking the place of conventional paper-based document management, making it simpler to store, search for, and collaborate on due diligence documentation. Real-time access, version control, and audit trails are made possible by cloud-based platforms and secure file-sharing systems, ensuring effective due diligence workflows.
Cybersecurity and Data Privacy:
Strong cybersecurity measures and data privacy compliance are becoming increasingly important as due diligence procedures become more digitized. To protect sensitive information, due diligence technologies are incorporating encryption models, secure data storage, access control
Tools for Regulatory Compliance:
To make it easier to identify and keep track of regulatory risks, due diligence technology platforms are integrating compliance modules. These tools aid in ensuring compliance with other legal and regulatory requirements, such as know your customer (KYC) and anti-money laundering (AML).
Enhanced Due Diligence Reporting:
Interactive dashboards and visualization tools have improved reporting capabilities, allowing stakeholders to quickly understand the outcomes of due diligence assessments. Customizable reports offer in-depth analysis, risk evaluations, and suggestions for wise decision-making.                             
Conclusion
In conclusion, in today's complex business environment, the trend of due diligence has become increasingly important. Due diligence has become a non-negotiable practice as regulators, investors, and even the general public are scrutinizing companies more closely. The need for thorough assessments has been further increased by the development of technology, the globalization of markets, and the rising threat of fraud and cybersecurity breaches.
Organizations can reduce risks, make wise decisions, and safeguard their reputation by carefully examining the financial, legal, operational, and environmental aspects.
Promote accountability, transparency, and trust, which forms the basis of sustainable business practices.
Due diligence will undoubtedly continue to be crucial in fostering responsible and robust business growth as we move forward. Therefore, embracing these trends is not only a wise decision but also an ethical requirement.