Navigating the world of procurement can be complex, but understanding the concept of a purchase requisition can simplify the process. This guide aims to provide a comprehensive understanding of purchase requisitions, their purpose, benefits, and much more. So, let's dive in!
What is a Purchase Requisition?
A purchase requisition serves as a formal request generated by an employee or department, seeking approval from the organization to acquire specific goods or services from external vendors.
What is the Purpose of a Purchase Requisition?
A Purchase Requisition serves as the initial step in a structured procurement process, acting as a formal request for the acquisition of goods or services. Created by an employee or department, this document outlines the specifics of what is needed, from item descriptions to quantities and estimated costs.
The requisition is then submitted for internal review and approval, usually by the department head and the procurement team. This internal vetting process ensures that the requested items align with the organization's budget, quality standards, and overall strategic goals.
Beyond initiating the purchasing process, a Purchase Requisition plays a vital role in financial governance and operational transparency. It acts as a control mechanism to prevent unregulated spending and potential fraud. By requiring managerial oversight and multiple layers of approval, the requisition process ensures that expenditures are justified, budget-compliant, and free from irregularities.
This not only fosters a culture of accountability within the organization but also aids in audit trails, making it easier to track and validate financial transactions.
Vet your vendors before onboarding them onto your organization
What are the Benefits of Using Purchase Requisition Forms in Your Procurement Process?
Enhances Transparency
Transparency isn't just a buzzword; it's a business imperative. The purchase requisition process adds multiple layers of approval, each serving as a checkpoint for accuracy and legitimacy. This ensures that every stakeholder, from the requesting department to the finance team, has visibility into what is being ordered, why it's needed, and how much it will cost. This level of transparency builds trust and fosters a culture of accountability.
Streamlines Operations
Imagine a world where each department in your organization makes its own purchases without any centralized control. Chaotic, right? A centralized procurement process, facilitated by purchase requisitions, acts like the conductor of an orchestra, ensuring each section plays its part at the right time. This leads to a streamlined, efficient, and harmonious workflow that saves both time and resources.
Deters Fraudulent Activities
Having a robust purchase requisition system acts as a built-in security mechanism for an organization. By requiring managerial approvals and cross-departmental reviews, it becomes exceedingly difficult for any single individual to make unauthorized or fraudulent purchases. This multi-tiered scrutiny acts as a powerful deterrent against internal fraud.
Eliminates Duplicate Orders
Duplicate orders are more than just an annoyance; they're a drain on your budget and a logistical nightmare. The purchase requisition system serves as a centralized database, allowing the procurement team to easily track all incoming requests. This eliminates the risk of ordering the same item multiple times and ensures that your organization's spending is as efficient as possible.
Increases Accountability and Security
Accountability and security go hand-in-hand. A well-documented purchase requisition form serves as an immutable record that traces the life cycle of each purchase, from initial request to final receipt. This paper trail is invaluable, not just for day-to-day accountability but also for providing documentation during internal audits or any legal scrutiny.
Facilitates Cost Savings
When purchase requests are consolidated through a centralized system, it provides a clearer picture of the organization's overall spending. This collective buying power can be leveraged during vendor negotiations, often leading to bulk discounts or more favorable payment terms, thereby saving the company money in the long run.
Serves as Audit Evidence
Audits can be stressful, but they're a lot easier when you're prepared. Purchase requisition forms are like gold during an audit. They provide a detailed record of what was purchased, why it was needed, who approved it, and how much was spent. This level of detail can help expedite the audit process and substantiate the organization's financial records.
7 Steps involved in a typical purchase requisition process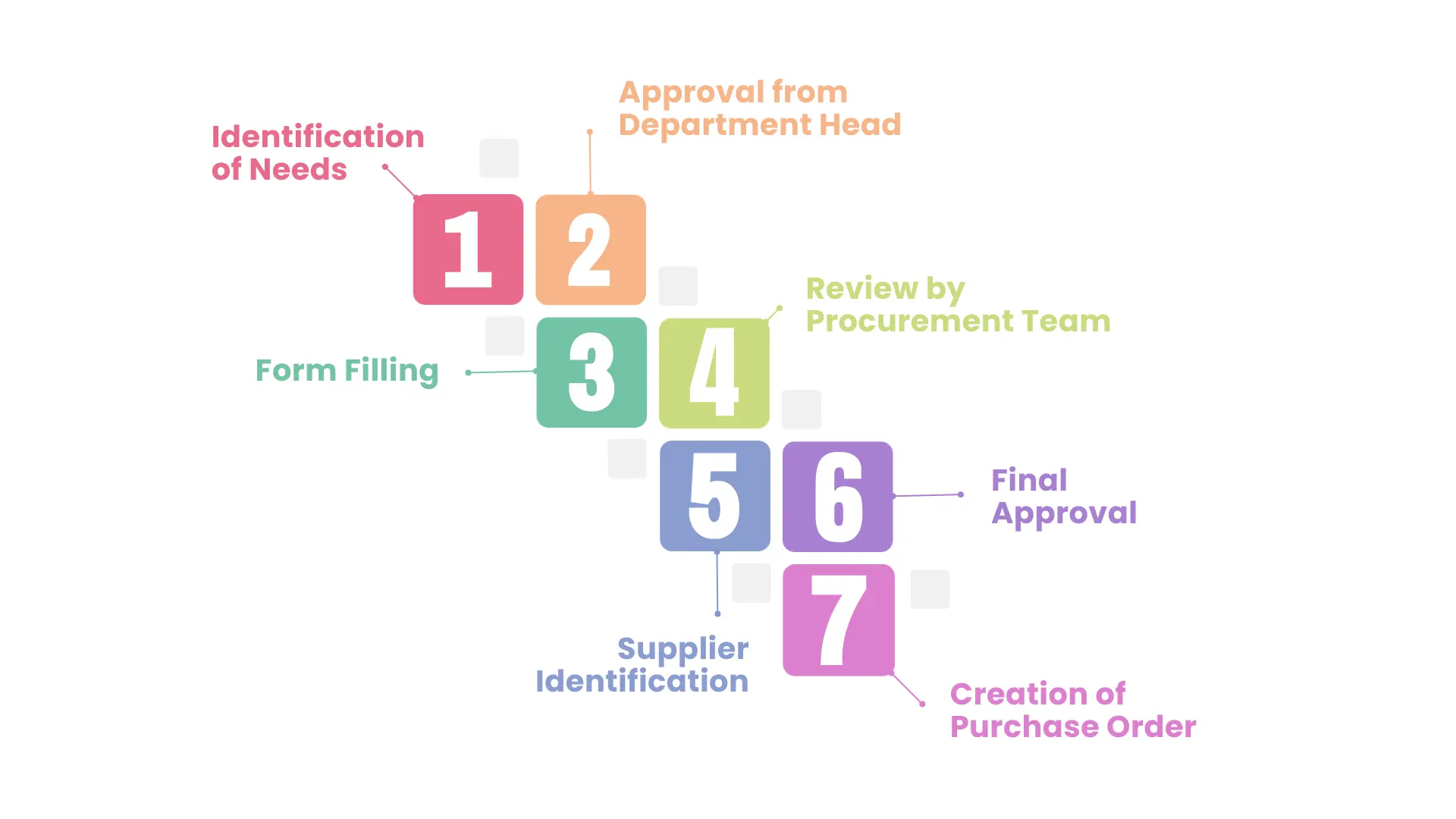 Whether it's a new software solution or office supplies, the initial phase involves a thorough assessment of what is required. This involves consultations with various departments to pinpoint exact specifications, quantities, and deadlines. It's not just about what you need, but also why you need it and when.
Approval from Department Head
Once the needs are identified, they need managerial approval. This is where the department head comes into play. They review the request to ensure it aligns with budgetary constraints and organizational goals. Their approval serves as the first layer of scrutiny, ensuring that the request is both necessary and feasible.
After getting the green light from the department head, it's time to get everything in writing. The employee responsible for the request fills out a purchase requisition form. This document captures all the nitty-gritty details, from item descriptions and quantities to estimated costs and preferred vendors. It serves as the official record of the request and is crucial for the steps that follow.
Review by Procurement Team
Once the form is filled out, it's passed on to the procurement team. They scrutinize the form to ensure it complies with company policies, legal requirements, and budgetary constraints. This is where expertise in vendor management and cost analysis comes into play. Any red flags are addressed at this stage, ensuring a smooth purchasing process down the line.
In the supplier identification phase, the procurement team conducts a thorough market analysis to identify suppliers who can deliver the required goods or services on time, within budget, and at the desired quality level. This often involves RFPs (Request for Proposals), negotiations, and even site visits to ensure the supplier meets all criteria.
Once all the above steps are executed the final approval usually comes from senior management or the finance department. They review all the collected data, from the initial request to the chosen supplier, to give the final nod. Their approval is the ultimate checkpoint, confirming that the purchase aligns with organizational strategy and financial health.
Creation of Purchase Order
With all approvals in place, a purchase order is generated. This is the formal document that's sent to the supplier, outlining the terms of the purchase. It includes everything from item descriptions and quantities to pricing and delivery schedules. Once the supplier accepts the purchase order, the procurement process moves into its execution phase.
What is a Purchase Requisition Form and what content goes into this form?
Think of a Purchase Requisition Form as your shopping list for the corporate world. It's a standardized document that serves as the cornerstone of the procurement process. This form is the official way to communicate your department's needs to the procurement team, ensuring that all requests are documented, approved, and tracked.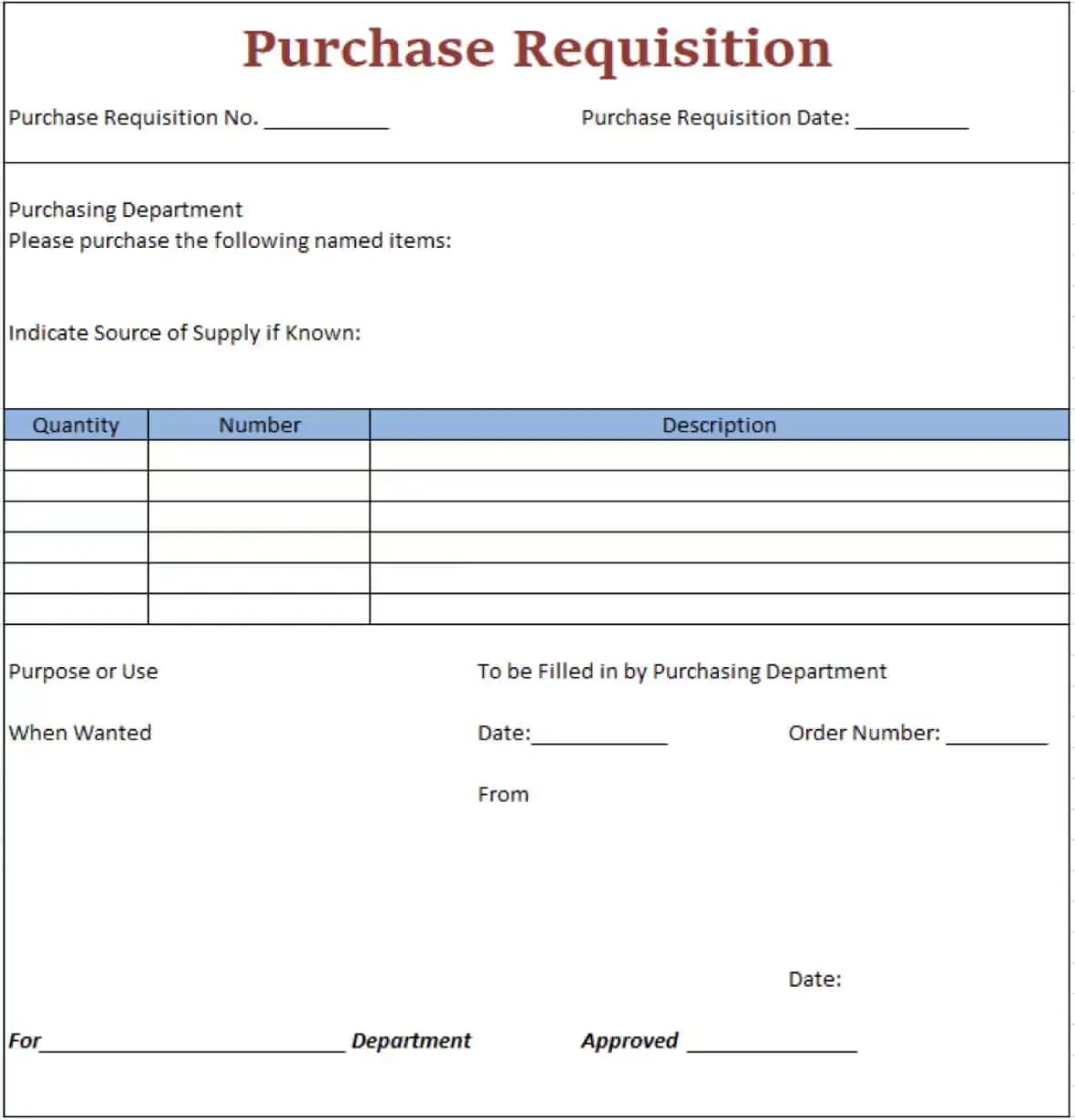 Item Description: The devil is in the details, and nowhere is this truer than in the item description section. This is where you specify exactly what you're looking to purchase. Whether it's a particular brand of printer ink or a custom-built software solution, the item description should be as detailed as possible to avoid any ambiguity.
Quantity: Quantity isn't just about numbers; it's about scale and need. This section requires you to indicate how much of each item you need. Be as precise as possible, as this will impact budgeting and supplier negotiations. If you're unsure, consult with other departments or team members who might also use the item to gauge an appropriate quantity.
Estimated Cost: Here, you'll provide a ballpark figure of how much you expect the requested items to cost. This is crucial for budget allocation and also serves as a reference point during supplier negotiations. Always aim for accuracy but leave some room for contingencies.
Preferred Vendor: In case you already have a preferred vendor in mind then this is the section where you can indicate them. While the procurement team will ultimately decide on the supplier, your input can provide valuable insights into vendor reliability, quality, and past performance.
Delivery Date: Timing is everything, especially in business. In this section, specify when you need the items delivered. Whether it's an urgent requirement or something that can wait, being clear about the delivery date helps the procurement team align their efforts with your timeline.
Authorization Signatures: These usually include the requester, department head, and sometimes even members of the procurement team. These signatures serve as formal endorsements of the request, adding layers of accountability and approval to the process.
Various Types of Purchase Requisitions:
Standard Requisition
Standard Requisitions are used for items that are frequently purchased and well-known within the organization. Think of things like office supplies, cleaning products, or even recurring software subscriptions. Because these are routine purchases, the approval process is often streamlined, making it quicker and more straightforward.
Special Requisition
When you need something that's not in the regular playbook, you turn to Special Requisitions. These are for items or services that are unique, specialized, or custom-made. Whether it's a piece of specialized machinery or a tailored software solution, these requisitions often require additional layers of approval and may involve more complex vendor negotiations.
Emergency Requisition
When the unexpected happens, Emergency Requisitions come to the rescue. These are used for items or services that are needed immediately due to unforeseen circumstances, such as equipment breakdowns or sudden project requirements. Given the urgency, these requisitions often bypass some of the standard approval processes, but they still require stringent post-purchase reviews to ensure compliance and necessity.
Contract Requisition
When you're in it for the long haul, Contract Requisitions are your go-to. These are used for establishing long-term contracts with suppliers, often spanning multiple years. These requisitions are particularly important because they lay the groundwork for an ongoing relationship with a vendor. They require meticulous planning, comprehensive vendor evaluations, and often involve multiple rounds of negotiations to finalize terms.
4 Key Differences Between Purchase Requisition and Purchase Order
Understanding the difference between a Purchase Requisition and a Purchase Order is crucial for effective procurement management. While both are essential components of the purchasing process, they serve different purposes and are used at different stages. 
Below is a table that outlines the key differences between the two: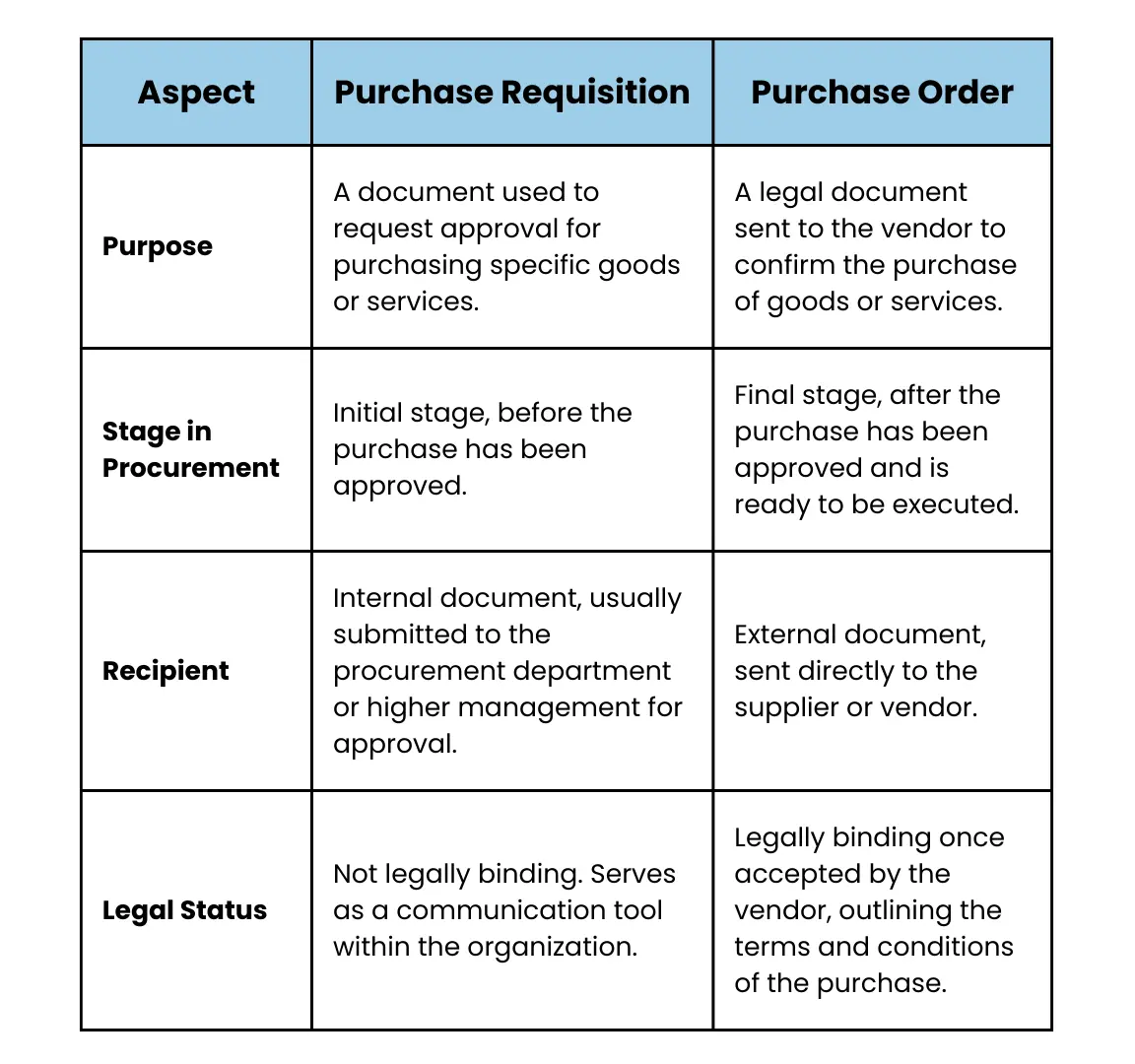 Mastering the art of procurement starts with a solid grasp of purchase requisitions. This foundational element not only streamlines the buying process but also adds layers of accountability, transparency, and cost-efficiency. Whether you're on the requesting end or the approving side, understanding the ins and outs of purchase requisitions is key to smarter, more effective procurement.
Frequently Asked Questions
Who issues purchase requisition?
A purchase requisition request comes initially from the employee or the department of an organization who are in need of a product or service that needs to be purchased from some outside vendor. Once a purchase requisition is issued, it goes through a lot of stages within the organization until the requisition form is finally converted into a purchase order form and is sent to the vendors for further proceedings. 
Can we create Purchase Order without Purchase Requisition?
Purchase requisition and purchase order are two very important documents used by an organization to purchase products or services from outside vendors. Purchase requisition/purchase requisition forms are used by internal departments to justify the need of the purchase, whereas a purchase order is prepared based on the purchase requisition that is to be sent over the vendor or supplier. 
It is possible for companies to directly create a purchase order without creating a purchase requisition, but it is highly not recommended. A purchase requisition document helps an organization to esure, every purchase made by the various departments are well organized and documented and properly authorized by the responsible authorities within the organization. 
In case of an emergency requisition, the purchase order can be raised as per urgent need and the same can be shared with the vendor. But a post purchase scrutinization is imperative to record the details of the products and services purchased.