Implementing a risk based approach for supplier due diligence is essential to identify and safeguard the business from suppliers and trade-partners that may expose you to financial, legal, reputational and compliance risks. Over 87% of surveyed enterprises have reported supply chain disruptions due to third-parties risks. 
Effective due diligence process starts with establishing criterias under which a supplier will be subjected to supplier due diligence. This could be the contract value, strategic nature of the relationship, location of the supplier or nature of its business.
Many enterprises also subject all its suppliers through a discreet supplier due diligence process which enables them to rate the business across the following parameters without having to collect data and disclosures from the suppliers.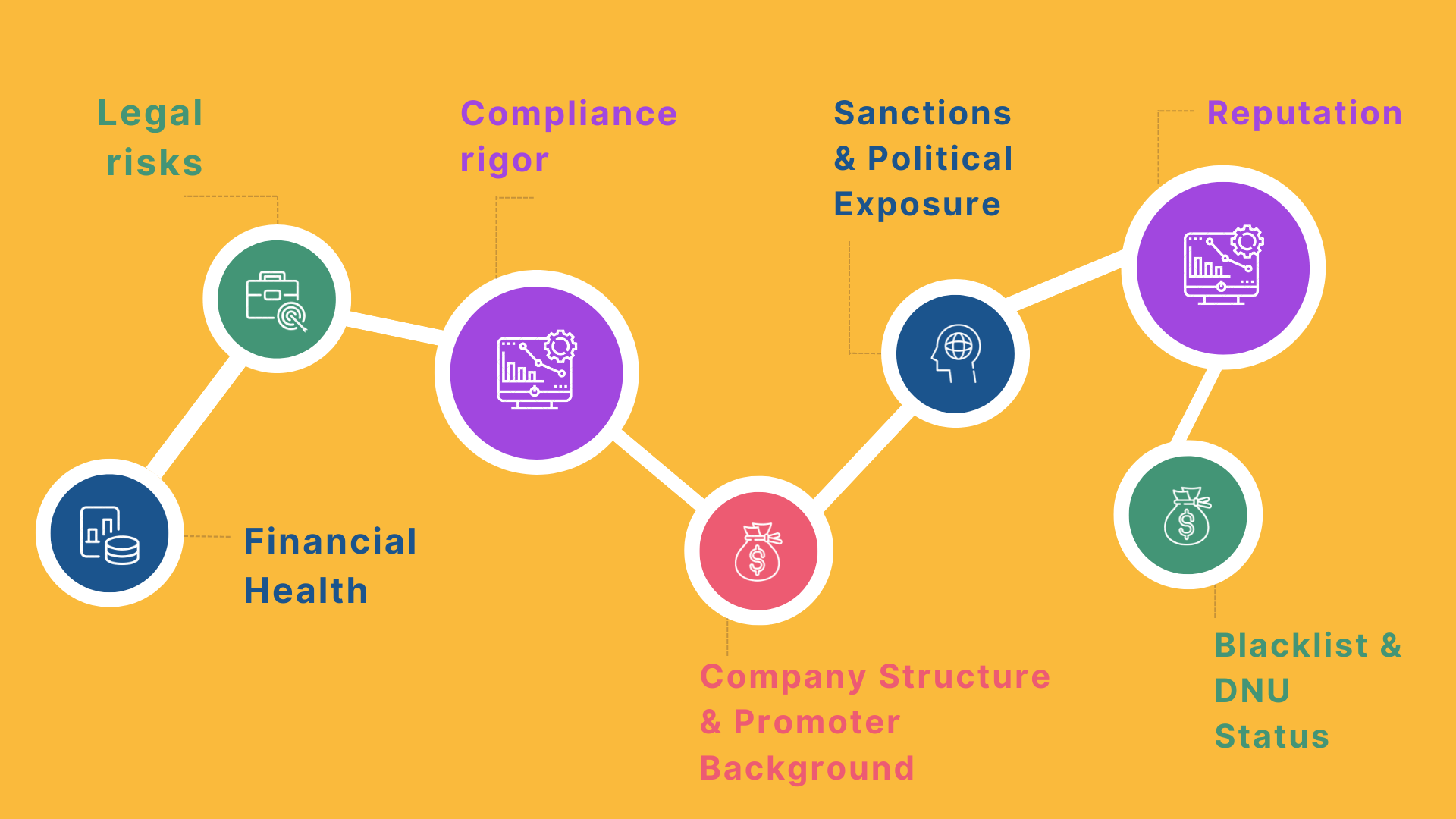 7 Parameters in Supplier Due Diligence
Financial health
Is the supplier financially sound? Do the balance sheets and P&L statements indicate sufficient liquidity and healthy growth in revenue? Is the business profitable or does it rely on external capital to sustain its operations? Does the business default or delay its GST, TDS, PF, ESIC payments and ITR filings. Are there credit ratings available on the business? Has there been instances of economic default or loan defaults to financial institutions?
Legal risks
Are there any adverse litigations against the supplier? Any prior economic defaults, debt recovery issues, adverse tax disputes, insolvency and bankruptcy issues, cheque bounce related litigations, incidents of fraud etc? Is the supplier a litigious entity and has a history of excessive lawsuits with counterparties given its size and scale. 
Compliance rigor
Does the business pay its tax dues on time? Are there delays and defaults in the supplier's GST payments in the last one year. Are there delays and defaults in labor payments, PF, ESIC and TDS payments? Are there defaults in the supplier's ITR filings? If the supplier is a company, are its balance sheets filed on time?


Company Structure and Promoter Background
Does the business have a complex structure given its size and scale? Are the directors of the business its ultimate beneficiaries? Do the promoters of the business have adverse litigations against them such as previous insolvency and bankruptcy incidents, fraud, economic defaults, prior debt recovery issues and more?
Reputation
Have there been any instances of adverse media coverage on the supplier or its promoters in the last 5 years? Adverse media includes news on bribery, corruption, lobbying, tax fraud, tax raids and more. 
Sanctions and Political Exposure
Does the supplier, its promoters, past directors, key shareholders or any of its connected businesses have been or are currently part of any denied party lists, or specially designated individual list or trade sanctions lists? Are any of the Key Managerial Personnel of the supplier a Politically Exposed Person (PEP) or a Known Close Associate of a PEP?
Blacklist and DNU Status
Has the supplier or any of its connected entities been blacklisted previously by your organization or its subsidiaries? If yes, how long has it been and what was the reason for the same? Maintaining a shared Do-not-use or DNU list of suppliers across the organization is an essential component of supply chain management.
SignalX is purpose-built to help you understand the credibility of the parties you are doing business with and helps you stay compliant with regulatory requirements / internal risk policies through various due diligence checks on any concerned party.
We enable Corporate Compliance and Legal teams to assess potential engagements and streamline business partner on-boarding via an air-tight and easy to use due-diligence automation platform, powered by AI.