What is a MSME?
Micro, Small, and Medium Enterprises is referred to by the acronym MSME. An MSME is defined as a business with an investment in plant and machinery up to Rs. 10 crores for manufacturing enterprises and Rs. 2 crores for service enterprises.
Understanding MSME according to Indian Law
The Micro, Small and Medium Enterprises Development (MSMED) Act, 2006, was created by the Indian government. The best way to understand what is meant by "micro, small, and medium enterprises" legally is the table below: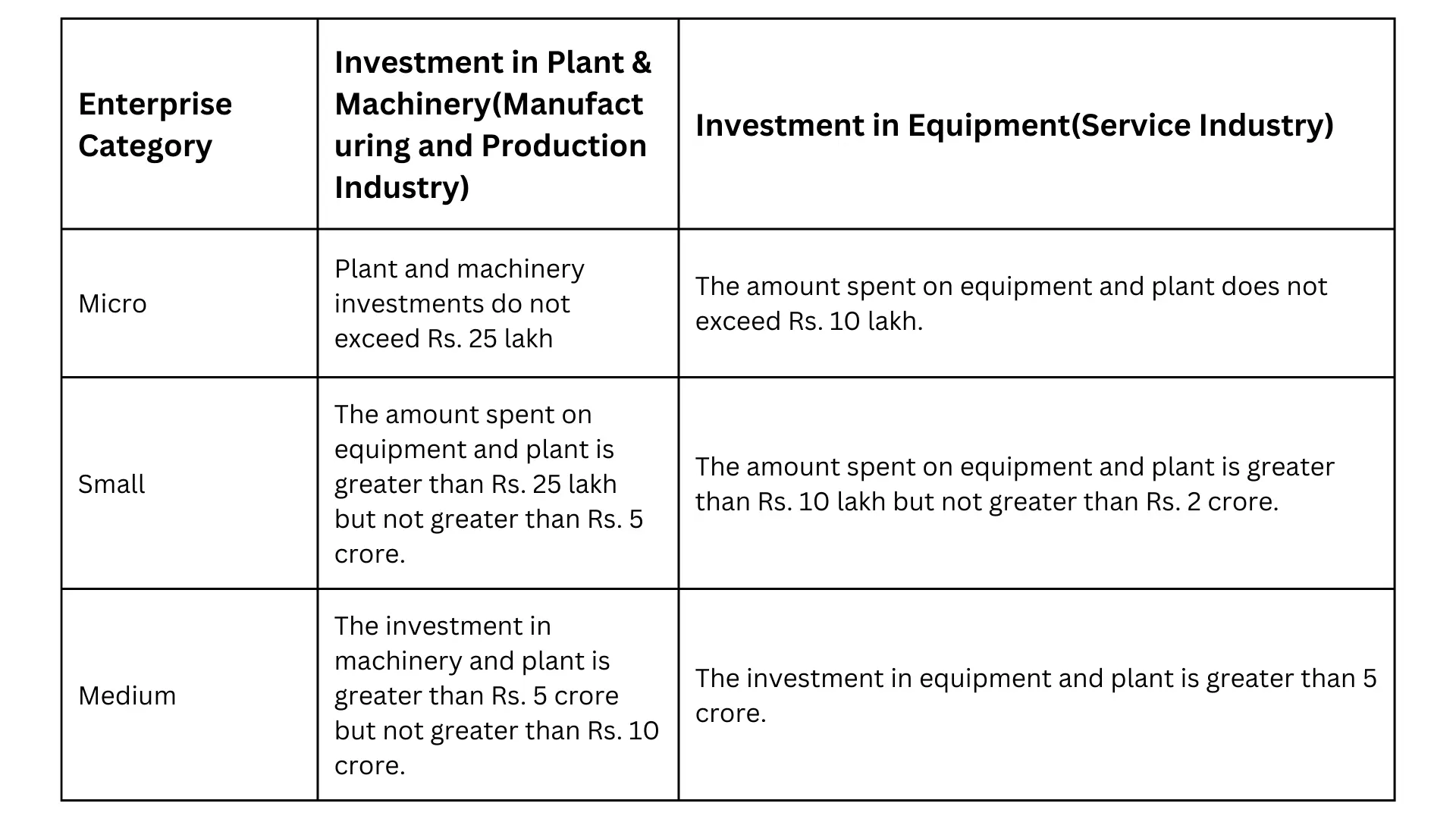 MSMEs currently contribute 6.11% of India's manufacturing GDP and 33.4% of its manufacturing output, respectively. Additionally, they support 120 million jobs in India and account for about 45% of all exports from that country.
For a business or a company, MSME registration is necessary in order to participate in the MSME sector in India. Regardless of whether a business is in the manufacturing or service sectors, it must register as an MSME according to the MSME act, 2006.
MSME verification – what is it?
The procedure of confirming the validity and authenticity of an MSME (Micro, Small, and Medium Enterprise) registration in India is referred to as MSME verification. In order to ensure compliance with the relevant requirements and regulations, it entails verifying the information that the enterprise provided during the registration process.

In order to determine whether an MSME is eligible for the benefits and programmes the government offers to MSMEs, the verification process typically entails reviewing the documentation and information that has been provided by the MSME.
The benefits and support aimed at MSMEs are only given to legitimate businesses thanks to this verification, which also helps to prevent fraudulent registrations.

The main goals of MSME verification are to maintain the ecosystem's integrity, ensure transparency, and make it possible for the government to implement policies and programmes that will effectively support these businesses.
However, before you verify your MSME, you need to register it. 
MSME registration – what is it?
Micro, small and medium enterprises play a critical role in contributing to the economic growth of India, according to the Ministry of MSMEs under the Government of India. In order to achieve this, a variety of subsidies and benefits are provided. To obtain these benefits, and to establish a smooth authorization procedure, MSME registration is required.

Companies need to get the MSME registration done online using the portal Udyam registration.gov.in. This process is also known as Udyam Registration. 
Is MSME Registration Compulsory?
No, registration for MSMEs is not mandatory for every business in India. Only new businesses, individuals, and business owners who wish to take advantage of subsidies, concessions, and other programmes may voluntarily register for MSME/Udyam Certificate. Since the government greatly supports MSMEs both directly and indirectly, doing so is always advisable if your company satisfies the requirements for classification.
What are the documents required for MSME registration?
Address verification for the company
A replica of the purchase and sales invoice book
receipts and invoices for the purchase of machinery or equipment
a copy of the PAN card, industrial license, and Aadhaar number
IFSC code, bank account number, and NIC code
employee information, if any
Employee count and the date the business started
In the case of a partnership firm, partnership details
GSTIN document 
Partnership deed for an unregistered partnership
Licenced partnership company: Certificate of Registration
Articles of Association (ADA) and Memorandum of Association (MoA)
Declaration of Incorporation
Copy of the board resolution adopted at the company's annual general meeting, along with a director's permission to sign and submit the MSME application.
What is an MSME/ Udyam Certificate?
An MSM certificate or Udyam certificate is given to applicants after their successful MSME registration. This serves as registration proof. And is a legitimate document that is accepted to receive any authorizations, concessions, or schemes. Any applicant attempting to register multiple MSMEs must complete a separate registration process for each business. And a unique MSME certificate is issued for each of these.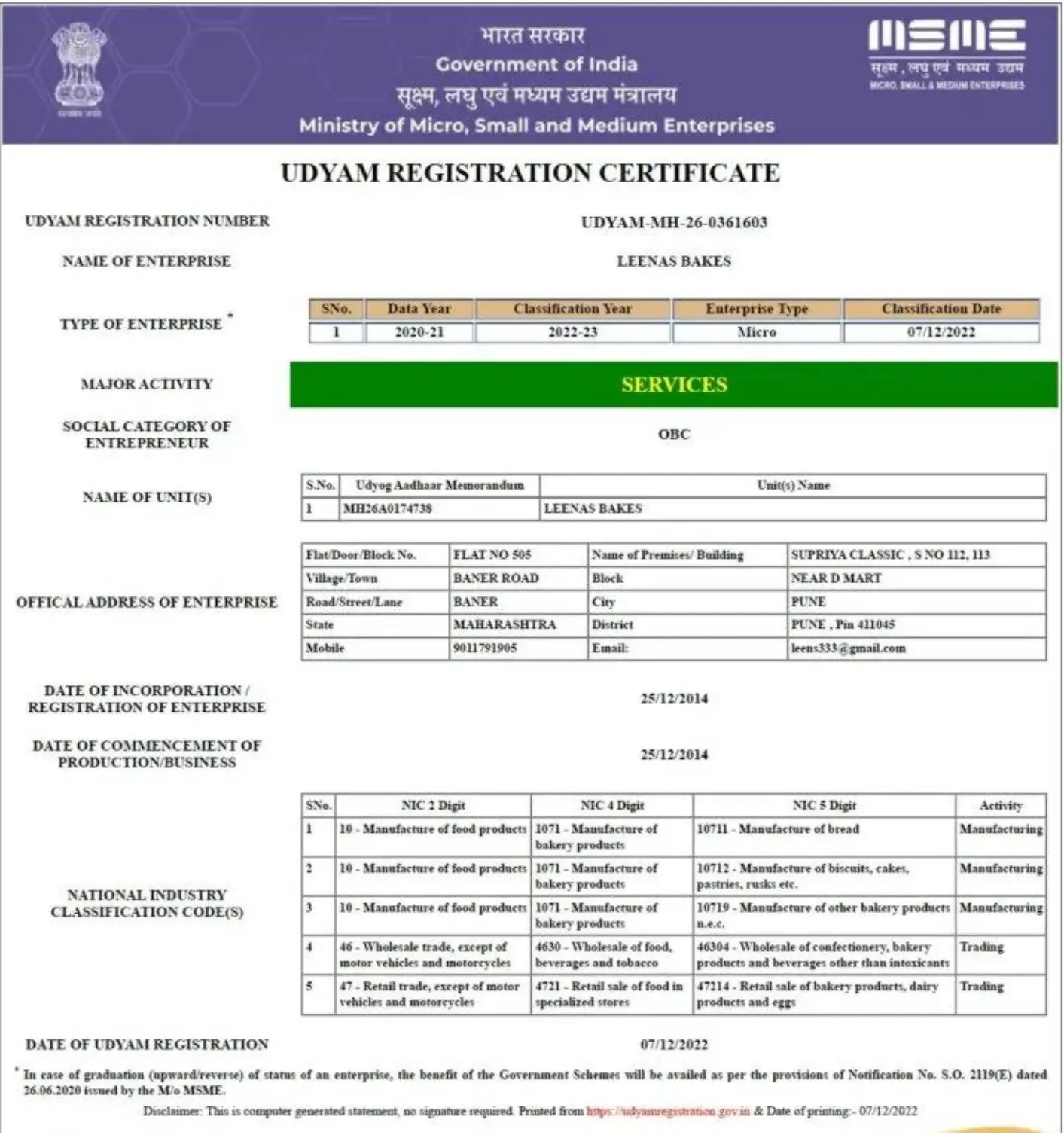 How to verify the MSME registration in India?
Go to the Udyam Registration website. Visit the Udyam Registration website at

https://udyamregistration.gov.in

.

Select "Udyam Registration" from the menu: Locate and select the "Udyam Registration" tab from the homepage.

The Udyam Registration Number (URN) must be entered: Enter the special Udyam Registration Number (URN) that was given to you at the time of registration in the registration form.

The "Validate and Generate Certificate" button should be clicked: Click the "Validate and Generate Certificate" button after entering the URN.

Verification and creation of certificates: If the URN entered is accurate, the system will generate the Udyam Registration Certificate. You can use this certificate as documentation of your MSME registration.

Download the certificate, then save it: You can download and print the certificate once it has been generated. It is advisable to keep a digital and physical copy of the registration certificate.

Make sure to verify all the information on the Udyam Registration Certificate, such as the name of the enterprise, the registration date, the Udyam Registration Number, and other relevant details. Check that all details are accurate and match what was provided during registration.
Benefits of MSME verification
The advantages of MSME verification for both the government and registered businesses in India are substantial. Here's a brief explanation of each advantage:
1. Access to Government Programmes and Incentives:
Verification ensures that only authentic MSMEs benefit from government programs, incentives, subsidies, and benefits. These include financial aid, tax benefits, credit assistance, tech advances, marketing support, and priority in government contracts, all designed to foster MSME expansion.
2. Credibility and Trustworthiness:
MSME verification boosts a business's credibility and trustworthiness. It offers a degree of assurance to customers, partners, and financial institutions about the company's legitimacy and reliability, enhancing its market reputation.
3. Easier Access to Financial Aid:
Verification simplifies obtaining financial assistance from banks and other funding bodies. Verified MSMEs are more likely to secure favorable loan terms and conditions, and working capital support, as they're perceived as lower-risk entities.
4. Priority in Government Tenders:
Verified MSMEs often get preferential treatment in government tenders. Verification ensures eligible MSMEs can access these opportunities and compete fairly against larger businesses.
5. Exposure and Networking Opportunities:
Verification provides MSMEs with exposure and networking opportunities, including listings in MSME directories and participation in trade fairs and business events. These avenues allow MSMEs to promote their offerings, explore new markets, and establish valuable connections.
6. Policy Evaluation and Impact Analysis:
MSME verification aids the government in assessing the effectiveness of policies, initiatives, and programs intended for MSME development. The reliable data facilitates policy decisions by highlighting areas of improvement and addressing unique challenges faced by MSMEs.
Why must organizations conduct MSME verification before onboarding any third party vendor or supplier?
An MSME verification check is crucial for any business trying to onboard a third party or partner into their supply chain operations. Here are some reasons why running an MSME/Udyam Verification Check is important. 
1. Risk Mitigation:
Verification MSME registration of an entity at the time of onboarding to reduce the risk of fraudulent or financially unstable suppliers. It ensures that the MSME is operational, financially healthy, and has a proven track record.
2. Compliance:
MSME verification helps in ensuring regulatory compliance. When onboarding new suppliers, there are several regulatory mandates to adhere to in order to avoid legal complications and penalties. Performing a comprehensive MSME verification process ensures a company that the suppliers they engage with meet all necessary legal and regulatory requirements to avoid issues like fraud, money laundering, or violation of labor laws.
3. Supply Chain Stability:
Companies can ensure greater stability in their supply chain by verifying that an MSME is reliable and capable of delivering as promised. This can help prevent disruptions in the supply chain that might occur if an unverified supplier fails to deliver as per expectations.
4. Quality Assurance:
MSME Verification can help companies determine if the supplier meets their quality standards. This is especially important in industries where the quality of inputs can significantly impact the final product.
5. Sustainability and Ethical Sourcing:
Many companies today are committed to ethical sourcing and sustainability that leads to better compliance with ESG standards. MSME verification helps to confirm whether suppliers align with these values, such as by checking whether they adhere to environmental regulations, fair labor practices, and other related issues.
6. Building Trust:
Finally, onboarding a MSME verified entity can help build trust between the company and the supplier. By ensuring that the supplier is reputable and reliable, the company can enter into a business relationship with greater confidence.
Conclusion
In conclusion, MSME verification, as outlined by the MSME Act of 2006 in India, is instrumental in fostering a credible and transparent business ecosystem. This verification process not only validates an MSME's legitimacy and makes them eligible for government incentives, but also strengthens their standing and reputation in the market. 
For organizations, prior MSME verification of suppliers ensures risk mitigation, regulatory compliance, and supply chain stability. Hence, paving the way for trustful and sustainable business relationships and empowering organizations to stay proactive in managing potential risks while bringing new partners onboard.
Frequently Asked Questions
How do I check my MSME is valid?
To check if your MSME is valid, you can follow these steps:
Go to the Udyam Registration website.

Click on the "Verify Udyam Registration" tab.

Enter your Udyam Registration number.

Enter the verification code.

Click on the "Verify" button.
If your MSME is valid, you will see a message that says "Your Udyam Registration is valid." If your MSME is not valid, you will see a message that says "Your Udyam Registration is not valid."
You can also check the validity of your MSME by contacting the Ministry of Micro, Small and Medium Enterprises.
How many years in MSME valid?
MSME registration is valid for an indefinite period as long as the business is running. There is no need of renewal of MSME.
The Ministry of Micro, Small and Medium Enterprises (MSME) has not specified a validity period for MSME registration. This means that once you have registered your business as an MSME, you will not need to renew your registration. Your registration will remain valid as long as your business is running.
How can I verify the udyam certificate?
There are two ways to verify an Udyam certificate:
Online verification: You can verify your Udyam certificate online by visiting the Udyam Registration website. On the website, you will need to enter your Udyam registration number and the verification code. Once you have entered this information, you will be able to view the details of your Udyam certificate.
Offline verification: You can also verify your Udyam certificate offline by contacting the nearest District Industries Centre (DIC). The DIC will be able to verify your certificate by checking the details in their records.