In the modern globalized world, outsourcing to vendors is one of the most opted ways by companies to scale the business as it reduces cost, increases functionality, and enhances product quality, furthers companies' outreach, and affords them the much-needed agility to navigate & respond in an ever-dynamic business environment.
Further, vendor outsourcing has reduced the significance of factors like location and physical presence. But at the same time, it demands the need for a transparent, comprehensive, and integrated vendor management system and vendor onboarding is the foundation stone for all of it.
What is vendor onboarding and how does it work?
Vendor onboarding (synonymously called supplier onboarding) is a systematic process by which a business entity hires a third-party supplier, of goods or services, to execute or expand its business operations. It includes inviting vendor applications, collecting vendor data, screening the applications, running due diligence on the vendors, and signing the Vendor Contract/Master Services Agreement (MSA).
Here, "vendor", also called suppliers, subcontractors, providers, etc, means a third-party service provider or goods supplier who sells his product either for your own business usage or as input to the product your business resells further.
Eg: If you are a logistics company that provides door-to-door delivery service, all the delivery personnel you will hire to execute your business operations will be your vendors, and the process by which you screen, approve, and contract fresh delivery agents is collectively called your vendor onboarding process.
Think of the same example in the case of hospitals and waste removal agencies, e-commerce aggregators & retailers, ed-tech companies & content developers, etc.
Why having a vendor onboarding process is important?
The importance of a well-laid vendor onboarding process can be understood from the two statistics:
1. According to PwC's "Global Economic Crime and Fraud Survey Report" 2022, after the COVID pandemic:
At 20%, of vendors/suppliers were among the top external perpetrators 

90% of organizations reported that conduct risk, that is, risks connected with the firm's vendors, internal personnel, agents, and customers was the highest threat.
67% of the most disruptive shocks to their supply chain came via an external attack or collusion between their internal and external sources.

52% of Indian businesses have suffered fraud or economic crime in the past2 years.
2. NASA incurred a USD 700M loss due to the supply of faulty aluminum products for its projects by its vendor.
3. The US Securities Exchange Commission has, charging Oracle for violating the Foreign Corrupt Practices Act ("FCPA"), imposed USD 23M fine on the company to settle the charges. 
A diligent vendor onboarding process ensures that your company is shielded from all the aforementioned and any other threat, arising either from internal factors, external factors, or collusion between them. Check the graph below: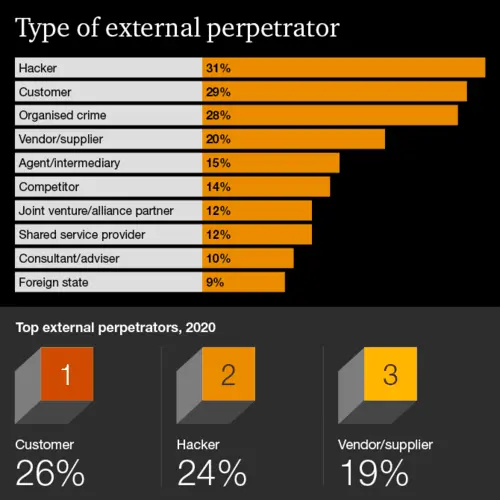 PwC's Global Economic Crime and Fraud Survey 2022
Vendor onboarding aids businesses in smoothly hiring authentic vendors with the best track records of delivering quality services/goods while also applying additional hiring criteria like compliance records, capacity, connected parties checks, financial ratios, legal history, sanction checks, market signals, etc.
A full-proof vendor onboarding process also makes certain that the vendors understand your organization's best practices, regulations, and goals. Further, it also ensures well-accounted timely payments to the vendors and helps in clearing accounts in case of vendor offboarding. Thus, robust vendor onboarding management can lead to –
Higher Competitiveness
90% of the yearly revenue, particularly in manufacturing, aerospace, defense, food processing, and utility industries, is linked to vendor agreements. Also, it is essential to identify strategically important vendors so that additional governance can be added to their contracts. Thus, identifying genuine and competent vendors directly affects the organization's competitiveness.
Protection from Frauds and Risk Mitigation
:
In 2019, frauds by third-party suppliers stood at 29% (10% increase YoY). It's the top priority of any business to keep out unscrupulous and fraudulent partners from the business network and thorough vendor due diligence during the onboarding process is at the center of it. 
Enhanced Efficiency and Profitability
:
Proper analysis of vendors' performance history, financials, risk matrix, etc allows you to calculate/understand the profitability a vendor will bring to the relationship or the risk they pose. Further, identifying strategically important vendors is crucial to inculcate additional governance in their contracts. A proper vendor onboarding process is fundamental to all these activities.
Quality Supplier Relations and Sturdy Supply Chain
:
A well-informed vendor onboarding decision, rooted in thorough vendor due diligence, helps in building mutually beneficial business relations thereby curtailing buyer-supplier relationship breakdown that can disturb the supply chain.
Brand Building
:
Your brand is an extension of your products & services and is symbolic of your organization's character essential for the business's success. Thus, a proper screening during vendor onboarding is necessary to ensure corrupt vendors, who can damage brand reputation before your customers, employees, and other stakeholders, are blocked at the gate.
What's a Vendor Approval Process?
The vendor approval process in vendor onboarding varies as per the needs of the business and at what stage of the business operations is a vendor relevant. The vendor management team first verifies the data submitted by the vendor on their business portal. After the verification, if the submitted data is found to be legitimate, the vendor application undergoes a screening process where the applications that don't meet specific criteria (arranged in a particular order) are screened out. 
After that, the filtered vendors have meetings/interviews with the business officials of the company to discuss the synergies and mutual expectations. Finally, the selected vendors are added to the company's software after being explained its necessary processes and workings.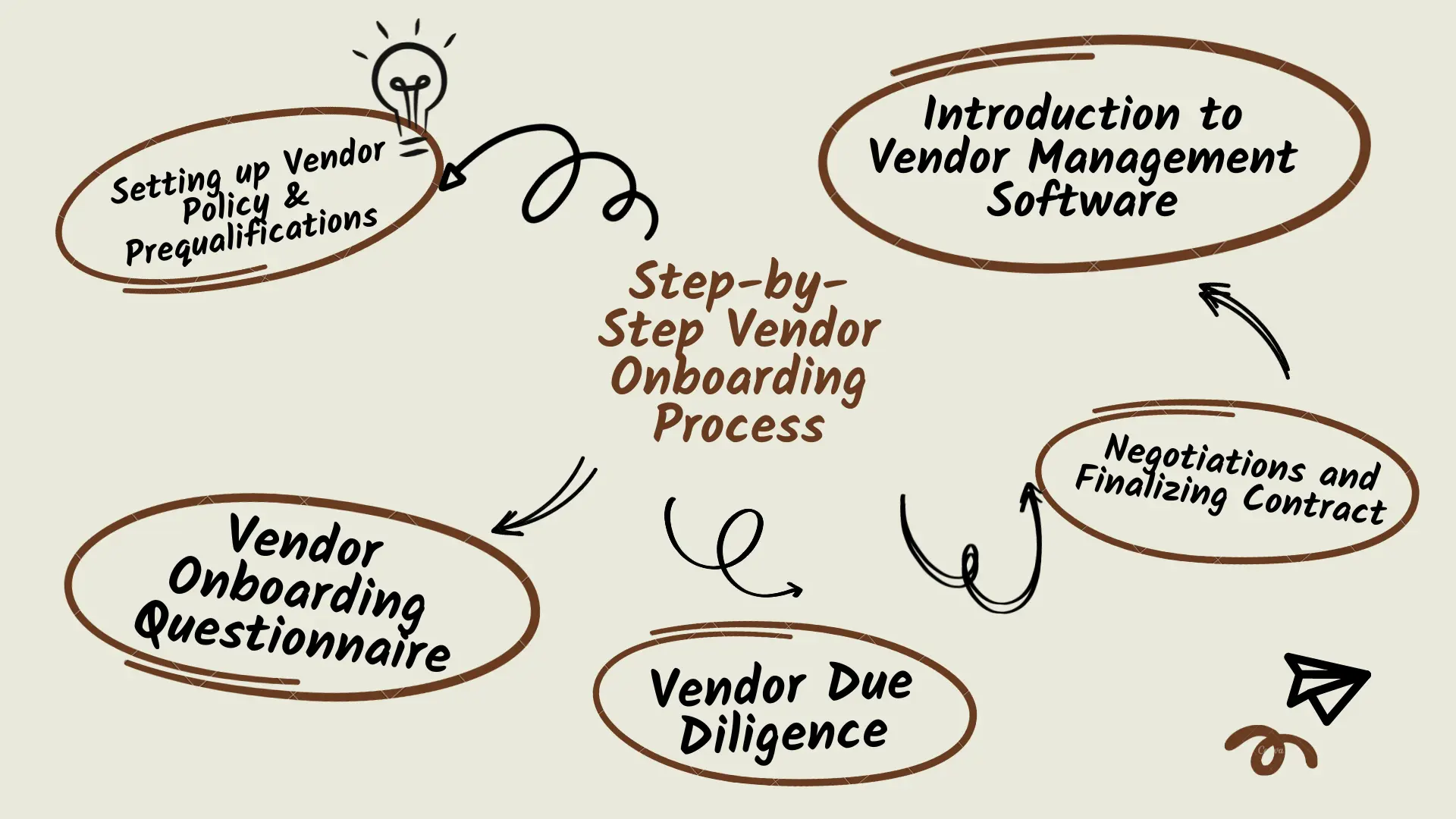 Vendor Onboarding Process – A step-by-step approach
Different organizations, depending upon their unique vendor requirements have an elaborate vendor onboarding process. For the sake of readers' understanding, we have merged a few steps and have avoided jargon.
Step 1: Setting up Vendor Policy & Prequalifications
Setting up Vendor Policy in light of internal and external compliances and laws. Understand their motivations, incentives & expectations. List down the red flags and the basic organizational compliance & business requirements (pre-qualifications) to check for, in the prospective selections. 
Send the vendor's point of contact an invitation email to make an account on your vendor portal (whatever software your business uses) so that you can add them to your business network and collect documentation & data later. The standard information a vendor is required to provide at this stage of onboarding is name, registered business address, GST no., product categories and delivery information, etc.
The login credentials generated in this process can be used by vendors in the future for self-services like updating information including payment details. The broad framework/skeleton for creating a holistic Vendor Onboarding Policy can be as follow: 
Introduction

: Purpose, Scope, Document management, Roles & responsibilities, Materials 

Process

: Overview, Flow, Process description, Inputs, Boundaries, Tasks, Output, Exceptions to routine process flow, Points of control.

Measurements

Verification

References

Change History
Step 2: Vendor Onboarding Questionnaire
Submitting a vendor onboarding questionnaire is the extension of collecting vendors' data in the first step. It is done to check and ensure that the vendor is willing to comply with and can meet your business bylaws and standards. Though the questionnaire varies from the vendor requirement, here is a vendor onboarding questionnaire checklist:
Basic information

– registered & trading name, principal owners, legal status, registered business & trading address, email, website, telephone number, VAT registration, etc.

Contact Information

: Main contact, alternative contact, managing director contact, accounts receivable contact point, legal notices contact point, and data protection officer contact. 

Financial Information

: Bank details, turnover, gross profit margin of previous years, tax information, currency, payment terms & method acceptability, invoicing process acceptability, etc.

Insurance

: Employer Liability Insurance, Public Liability Insurance, Product Liability Insurance, Professional Indemnity or Printers Errors and Omissions Insurance, 

Accreditations

: Check for the certification on quality (usually ISO9001); Data protection (ISO:27001); Environmental, ethicality, and recycling (ISO:14001); Business continuity (ISO:22301); Health & Safety (BS: OHSAS 18001).

Compliance: Acceptance/Acknowledgement of your business'  General Terms of Purchase, Ethical Trading Policy, Anti-Bribery & Corruption Policy, No Conflict of Interest, Personal Data collection practices, and ICO Registration number.
Step 3: Vendor Due Diligence
This exercise is central to all the other activities in vendor management/vendor onboarding. The due diligence team utilizes the data provided in Step 2, but more data might be requested from the vendor for an exhaustive check. This is also the screening stage for trashing out fraudulent vendors, duplicate vendors, and overall bad vendor information. Whether it is: –
verifying vendor data

filtering unscrupulous vendors

preventing payment frauds

vendor risk assessment

negotiating & preparing vendor contracts

identifying strategically important vendors

adding additional governance clauses

performance review
vendor due diligence exercise either includes it or forms the basis for it. Vendor due diligence reports allow you to evaluate vendors based on the specific type and quality of supply needed. The following things need to be vetted extensively in a proper vendor due diligence: –
Corporate Structure and Financial Capability

Financial Health

Credit History

Compliance Rigor

Litigation History

Defaulters and Blacklist Mentions

Sanctions and Politically Exposed Persons

Promoters and Related Parties Quality 

Market Sentiments
As this is a crucial exercise for vendor management, we have elaborated on each of the aforementioned pointers in the later parts of the article. Most businesses outsource the task of performing vendor due diligence to specialized entities like SignalX as they don't have in-house expertise, experience, and bandwidth (being a business organization and not a business compliance expert) for undertaking the burdensome yet meticulous exercise like this effectively. 
Step 4:  Negotiations and Finalizing Contract
The legal team reviews all the documents submitted by the vendor in previous stages. Further, based on the inputs from Vendor Due Diligence reports like the risk scorecards, financial health, connected parties check, etc, and the overall comparison of the competence & capabilities of each vendor, the legal team accordingly negotiates the pricing and terms of the contract. Once the draft is prepared from the business' end, it is reviewed with the vendor and then finalized.
Tips for Effective Vendor Contracting
Based on SignalX's practical industry experience, here are some pro-tips we offer to our clients for acing the vendor contracts: 
Vendor Due Diligence Report is the Base: The negotiations should be driven by the objective considerations from vendor due diligence reports. 
Don't Solely Rely on Force Majeure Clauses

: One tends to leave out important and include unnecessary factors in the contract.

Try Avoiding Archaic and Verbose Language

: Also avoid extraneous words and ensure that all the parties have read the contract to the last line and understand their role and responsibilities as envisaged in Vendor Policy and to be imbibed in the contract.

Post-Award Conference

: With the settlement of each contract negotiation, organize a meeting with the newly onboarded vendor (post-award conference) where you clarify managerial details like preferred mode of communication, payment reports, inspections, meeting requirements, etc. If implemented conscientiously, this reduces the chances of any friction between the vendor and the company.

Concluding the Vendor Relationship

: A common pain point businesses suffer is to define when the contract is concluded/completed (thus the need for review with the vendor). Chart out the objective inspection and acceptance criteria. Ensure that the inspection personnel are aware of it and follow them strictly.
Step 5: Introduction to Vendor Management Software
Introduce the vendor to your vendor management software. Explain to them its core functions like an approval process, payroll management, data validation & collection, vendor self-service, resource planning, record keeping, etc.
Vendor Due Diligence: The Backbone of Vendor Onboarding
Financial Profile:
Analyze the balance sheet, income statement, and cash flow of the company and draw insights on loans from financial institutions, expenditures, profitability, growth prospects, weak financial indicators & KPIs, etc. Look for trends in EBITDA & Interest expense in the past 3 years,  any abnormal growth or plummet in any line item of P&L among other things. The particular ratios needed to be checked are: 
Quick Ratio

Current Ratio

Cash Ratio

Leverage Ratio

Debt to Equity Ratio

Profitability Ratio

Average Inventory Turnover Ratio
Business Ownership and Connected Parties:
Reveals the real beneficial owners, past owners, promoters' other businesses, and conflict of interest of any vendor (if any). Check whether any of the promoters or directors have any connection with your competitors or with any political entity.

Litigation Report:
Legal history and pending cases against the vendor and its promoters such as prior bankruptcy or insolvency incidents, debt recovery suits, money laundering, fraud, criminal breach of trust, cheating, eliminating competition, etc. Check if any of the owners/directors of the vendor company ever has been convicted of financial fraud, corporate espionage, etc. Has the vendor ever been sued by its past clients for breach of contract or poor service?

Regulatory Default and Penalties:
Blacklisting by regulatory authorities such as MCA, SEBI, RBI, EPFO, CBI, and more. NPA and Wilful Defaulter checks on loan defaults from financial institutions, tax disputes with authorities, and more. Ensure that your strategic vendors are not on the radar of law enforcement agencies.

Compliance Issues:
Delays and defaults (if any) in GST filings, wages payments, income tax payments, and RoC non-compliance.
Reputation:
The public image of the company includes adverse media mentions across 60+ themes such as tax evasion, espionage, embezzlement, bribery, corruption, fraud, breach of trust, and more. 
Sanctions:
Scanning the founders, directors, board members, and key managerial personnel of the target company for political exposure and sanctions in carrying out international business by organizations like the Bureau of Industry and Security, Switzerland Sanction List, Treasury Department, and Public Safety Department of various countries, etc.
Vendor Onboarding Checklist
One constant with any sort of vendor serving in any industry is the essentiality of a holistic and value-adding vendor onboarding process. It's the foundation for a robust and resilient supply chain for your business which translates to higher competitive advantage, fraud protection, risk assessment & mitigation, increased profitability, and boosts the business brand. SignalX has prepared a ready-to-implement vendor onboarding checklist for your business so that 
1. Approval and Evaluation Criteria
As mentioned earlier, a well-informed vendor onboarding decision rooted in thorough due diligence (the heart of vendor onboarding) helps in building mutually beneficial relationships. Checking their service track records, credit history, critical financial ratios, peer comparison, litigation, associated entities, etc helps you check that the vendor is genuine and can fulfill your business requirements. The documents needed are:-
Vendor Onboarding Policy and Flow

Vendor Code of Conduct 

Vendor Ethical Code of Conduct

Request for Approval email template 

Vendor Evaluation Matrix

Vendor Risk Assessment Matrix

Vendor Registration Form

Additional governance requirements for strategically important vendors
2. Setting Vendor Requirements and Expectations
Once the question of the vendor's legitimacy and compatibility is settled, the process moves forward to negotiating specific business requirements. The particulars decided at this stage are needed for aids in setting expectations and establishing accountability. The things you need to put forth to the vendor during these negotiations are as follows (these are general tick-offs and vary from business to business):-
Volume of requirements

Lead period (start to end)

Order processes and specifications

Pricing equation

Terms of payment and credit 

Delivery benchmarks

Training requirements

Vendor Contract/Master Service Agreement (envisaging all the aforementioned points).
3. Adding on the Vendor Management Software
Quality vendor management software is important because it enables you to automate repetitive tasks, reduce the time gap between vendor approval to activation, track data, and workflow, and monitor vendor compliance. Vendor management software is the core interaction point between the business and the supplier as the supplier creates an account on this software, fills the questionnaire, submits a Request for Proposal, and updates data (including payment details)  It helps in transparent vendor data collection and sharing and expedites the overall onboarding process.
The basic information you need to collect from your vendors is: 
Vendor's contact details like the name of the entity, registered business address, phone number, etc.

Category of the product or service with an appropriate description.

Vendor's business relationship details e.g. ownership details, interaction with government entities, interaction with competitors if any, etc.

Vendor's payment details: GST registration, preferred payment mode, bank account details (including currency of payment in case of international entities)

Acknowledgment of the company's Vendor Code of Conduct by the vendor.

Required licenses and documentation (if any).

Additional vendor contracts (if any).
SignalX for Vendor Onboarding Solution
SignalX's team of experts on vendor due diligence and pre-investment due diligence has run 7,000+ analyses for our 100+ clients across industries like law firms, accountancy firms, conglomerates, financial institutions, and manufacturing businesses. 
We undertake 200+ supplier risk checks and provide risk assessment reports within 48 hours of the request. With automated systems like SignalX in place, companies can now keep a regular monitoring system to run risk profile checks on third parties and raise red flags on associated risk factors. With SignalX's end-to-end automated solutions, companies can – 
Generate 26 Parameter Scorecard & supplier risk rating

Assess Suppliers of any size and type

Collect disclosures and data from Suppliers

Monitor Strategic & Critical Suppliers

Build a Resilient Supply Chain

Ensure Compliance in your Supply Chain

Build Trust and Reduce Onboarding Time

Identify Red Flags early on and Mitigate Risks
Schedule a call with us to discuss your use case and find out how we can help you with a robust vendor onboarding and vendor due diligence solution. 
Frequently Asked Questions
What is a vendor onboarding checklist?
A vendor onboarding checklist is a list of tasks and procedures that must be accomplished throughout the onboarding procedure for new vendors. A vendor onboarding checklist's goal is to make sure that all relevant procedures are followed and that all necessary data is gathered and confirmed in order to start a working relationship with the new vendor.
Some common items that may be included in a vendor onboarding checklist are:
Obtaining vendor information such as legal name, address, contact details, tax identification number, etc.

Verifying vendor insurance and licenses.

Establishing payment terms and methods.

Reviewing and signing contracts or agreements.

Setting up vendor access to relevant systems and databases.

Communicating the company's policies and procedures to the vendor.

Assigning a point of contact within the company for the vendor.

Monitoring vendor performance and regularly evaluating the relationship.
What is the importance of vendor onboarding?
Vendor onboarding aids businesses in smoothly hiring authentic vendors with the best track records of delivering quality services/goods while also applying additional hiring criteria like compliance records, capacity, connected parties checks, financial ratios, legal history, sanction checks, market signals, etc.
A full-proof vendor onboarding process also makes certain that the vendors understand your organization's best practices, regulations, and goals. 
How long does it take to onboard a vendor?
The complexity of the vendor's goods or services, the scale of the vendor's business, and the extent of the vendor's documentation can affect the onboarding timeline of a vendor. To completely onboard a vendor, often takes a few weeks to several months. The precise timetable will be determined by the requirements and procedures of the company performing the onboarding procedure.