Standing in the year 2023, the word outsourcing has become an integral part of any business throughout the world. As the stability of the outsourcing industry concretes, big companies are relying on outsourcing for some of the biggest projects in the world. 
It is very evident that even with so much abundant technology in place it is still not feasible for companies to build everything in-house. That is because outsourcing is always a better option than hiring employees, training the staff, and going over procurement operations. 
Though outsourcing is highly advantageous and can really help companies reduce time and cost, there is still always room for risks and outsourcing failures. 
If you want to mark the year 2023 as the turnaround point for your business then read through the article to know how an outsourcing failure happens – lessons to be learned from real examples.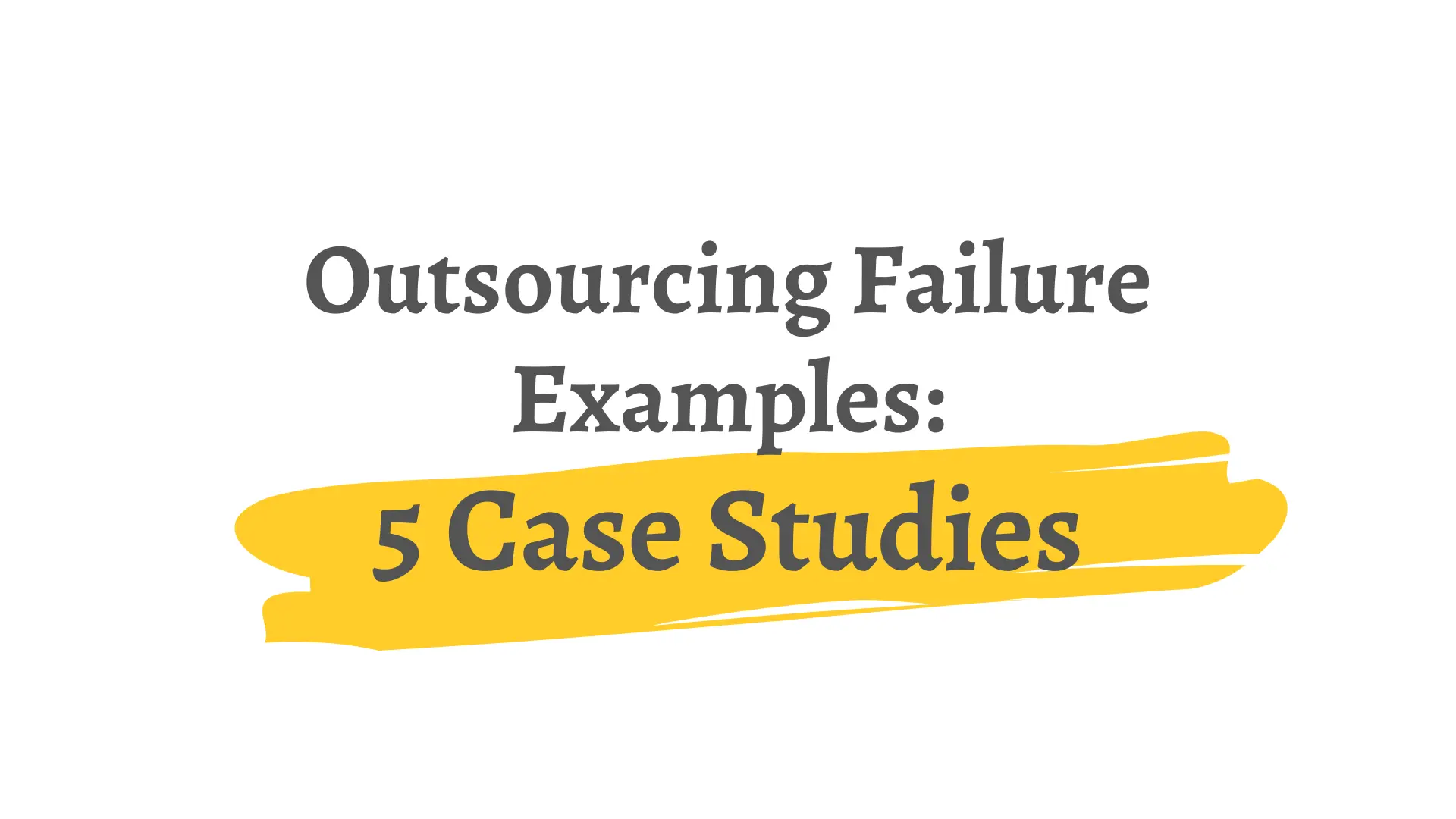 Understanding Outsourcing Failure: 5 Case Study Examples
Outsourcing Failure Case 1: IBM and Texas State 
In the year 2006, the state of Texas went into a 7-year contract with IBM with a contract value of $863 million. The aim of the outsourced project was to consolidate the 27 state agencies' data centers into two data centers. 
The state is hoping to save thousands of dollars on the IT system. However, after 4 years IBM was only able to finish 12% of the project which in turn resulted in more backlogs and increased costs. 
As a consequence, IBM had to repay the State and later was replaced by two IT companies, Xerox and Capgemini. 
Key Takeaways:
Always try to choose the ideal contract structure based on the nature of the deal(long-term or short-term)

Monitor progress and stay up-to-date on project developments.

An official contract detailing deliverables and deadlines should be created.
Outsourcing Failure Case 2: IBM and Queensland
In the year 2007, Queensland took an initiative to create an application to manage the payroll of the health department of Queensland. This project was outsourced to IBM and the company promised to finish the project by the mid of 2008 with a budget of $6 Million. 
After the project began, IBM was experiencing some technical difficulties and informed the state the budget will go up to $27 million. Years after that IBM kept dragging the project and the payroll system kept on failing to work correctly. 
This distressed situation led to numerous miscalculations in payout for employees like unpaid employees or overpaid employees. As the project gradually came to an end the amount of money that stood as a cost was $1.2 billion(which is 16,000% more than the initial budget). 
This outsourcing failure incident made Queensland bar IBM from working further on any such government projects thus IBM taking a huge toll on its reputation. 
Key Takeaways:
Provide realistic deadlines to third-party vendors.

Assess the skills of the outsourced team rather than just their brand value.

Prioritize project risks and budget projections.
Outsourcing Failure Case 3: Accenture and hertz
This outsourcing failure case happened in the year 2017 when Hertz hired Accenture as an outsourced partner for a project. In order to make the project right, Hertz has spent months planning, defining goals, strategies, business planning, and development roadmaps. 
However, when Accenture came into the picture, it deliberately neglected several of the platform's scalability criteria and limited its applicability to a particular geographical region. Making it impossible for the brand to use the application outside North America. 
This incident was a huge blow to the reputation of the IT giant Accenture which faced a lawsuit for outsourcing failure from Hertz in the year 2019, which also gained many people's attention. 
Key Takeaways:
Always provide a clear description of what you expect from the project.

Stay in touch with the contracted team at all times.

Formalize the assertions made by outsourcing suppliers.
Outsourcing Failure Case 4: Virgin airlines and Navitaire
In September 2010, on one fine day, the online reservation, check-in, booking, and boarding system of Virgin Airlines failed to leave behind over 50,000 distressed customers. 
These IT systems of Virgin Airlines were developed by Navitaire. The situation even got worse when the development company could not find a solution to the problem (as was required in the contract). There was also no backup hardware available, thus leaving Virgin Airlines vulnerable to huge loss of finance, operational disruption, unhappy customers, and a bad reputation. 
Key Takeaways: 
Consider logistical and time zone considerations when selecting a vendor.

Always try to keep your in-house development experts on board to find solutions alongside outside specialists.

Verify that IT outsourcing companies are competent and capable of resolving related issues.
Outsourcing Failure Case 5: Royal Bank of Scotland and their IT vendor
The year 2012 was a memorable one for RBS bank. The Banking system and payment processing of the Bank came to a halt when there was an issue with a software update of the banking system by the outsourced IT developer. 
The banking system was down nearly for a week making the bank accounts inaccessible to the customers. Later on, the Union Officials blamed the outsourced IT company from India, however, it was found that RBS technical personnel had botched the update.
Two years after the incident, in 2014 the Financial Conduct Authority (FCA) penalized the bank for the amount of 42 million euros. 
Key Takeaways:
It is always better to develop an emergency response process in case of system failures.

Determine if outdated software or hardware is causing critical weaknesses in online systems by conducting risk analyses.

Hire an outsourced service provider who can assist you with critical tasks, such as system updates and data recovery.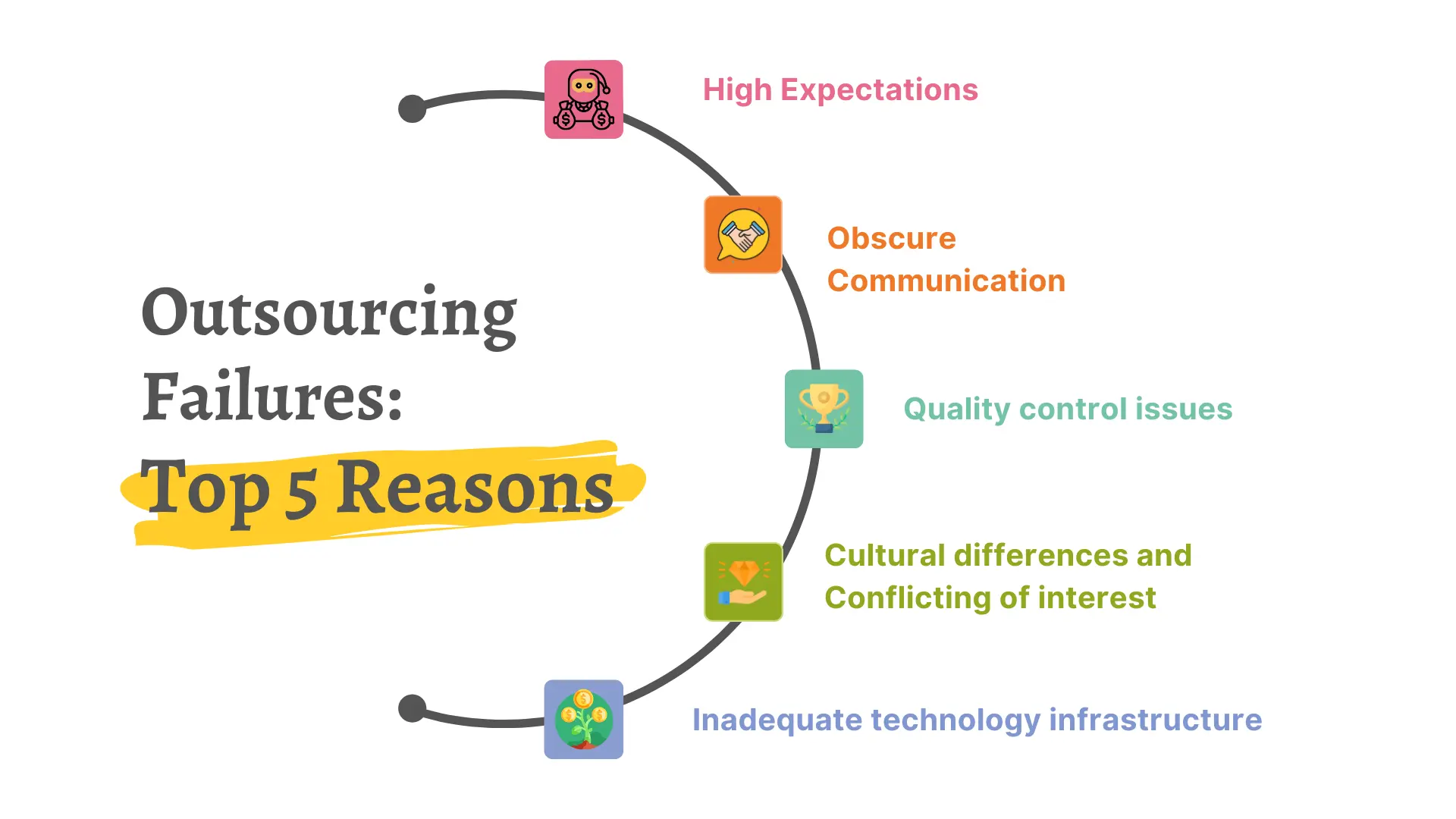 Top 5 Reasons for Outsourcing Failures and How to avoid them
The above case studies portray various scenarios of outsourcing failures occurring in different situations. 
Though the reasons for outsourcing failure can highly depend on the nature of the company and vendor it's dealing with, there are some reasons that may be considered as the most common ones because of which an outsourcing failure can happen. 
Reason 1: High Expectations
When a company decides to outsource certain activities to a third party, the first step to be taken is selecting the best man for the job. At this stage, many third parties often overemphasize their capabilities in order to get the contract for their profit.
Based on the promise from the third party, the company's expectation exceeds which later on creates a difference between what is delivered and what is expected.
[Solutions]: 
It is always better to first assess the capabilities of third parties and then sign a contract with them 

Run a background check on the vendor to find out whether they have handled such projects before and how was the outcome.

At the time of onboarding, conduct an in-depth vendor vetting process to uncover hidden information that might indicate the inadequacy of the third party. 
Reason 2: Obscure Communication
Communication has always been the key factor when it comes to outsourcing a project to a third party. And it is also one of the primary reasons for outsourcing failure. 
It is a very healthy habit for both the company and the third party to maintain clear and transparent communication throughout the course of the project.  When the expectations and responsibilities of each party are not clearly defined, misunderstandings and mistakes are bound to happen.
[Solutions]: 
Establish open lines of communication between the organization and the outsourcing partner on a regular basis to make sure that everyone is aware of the project's objectives, deadlines, and deliverables.

To ensure that everyone is aware of their responsibilities and what they may anticipate from the other side, clearly outline the duties and expectations of both parties. This will lessen the likelihood of misunderstandings and disputes.

Promote open dialogue between the business and the outsourcing partner. Make sure that both parties feel comfortable raising issues as they arise by establishing a clear method for doing so. This will encourage the parties to have more gratifying and fruitful interactions.
Reason 3: Quality control issues
Outsourcing failure can also happen due to quality control issues. Sometimes it becomes challenging to make sure that the project is on track when the firm lacks a clear means to monitor and evaluate the quality of the work being done by the outsourcing partner.
On the other hand, if the project is handled by in-house employees then the management has strong control over the quality and TAT of the delivery. For companies outsourcing major projects, it is always a difficult task to make sure that the vendor is abiding by the quality standards and keeping a monitoring system in place to stay up to date. 
[Solutions]: 
Establish specific quality control procedures before the project starts, and make sure that the organization and the outsourcing partner are both aware of them. This will make it easier to guarantee that the operation complies with business standards and that the results fulfill their requirements.
Develop a specialized quality control team to keep an eye on the outsourcing partner's work. To make sure that the work complies with the organization's quality requirements, this team should undertake frequent check-ins and audits.
To evaluate the caliber of the task being completed by the outsourcing partner, use performance measures. By monitoring these measures, the business may rapidly spot any areas where the outsourcing partner is performing below par and take corrective action.
Reason 4: Cultural differences and conflicts of interest 
Cultural differences between the organization and the outsourced partner are another factor that might cause outsourcing to fail. Conflicts and misunderstandings resulting from these discrepancies may slow down the project's development.
[Solutions]: 
Recognize and account for the cultural variations between your business and the outsourcing partner while communicating and cooperating. This can lessen the chance of misunderstandings and disputes brought on by cultural differences.
Give both parties training so they can comprehend the culture, values, and communication style of the other party. This training can aid in bridging the outsourcing partner and company's cultural divides and fostering mutual understanding.
Conflicts that could emerge as a result of cultural differences can be avoided and managed by having a strategy in place for dealing with them. When a dispute develops, this procedure should be used immediately after being agreed upon by both sides.
Reason 5: Inadequate technology infrastructure 
When outsourcing, inadequate technology infrastructure can be a big problem since it puts confidential data and information at risk. Data breaches and other security concerns are more likely to occur when the outsourcing partner's IT infrastructure is outdated, lacks the appropriate resources, or lacks security measures. 
This may result in a loss of confidence, reputational harm, as well as monetary losses. Inadequate IT infrastructure can also cause outsourced delays and other problems, which can lead to project failures and eventually have an impact on corporate operations.
[Solutions]: 
The IT infrastructure of the outsourcing partner should be carefully examined before a contract is finalized to make sure that it is current, secure, and able to handle sensitive data and information.
To secure sensitive data, establish clear, stringent security rules and procedures, and make sure that all parties are aware of and follow them. By doing this, the chance of data breaches and other security problems will be reduced.
Encourage the outsourcing partner to make investments in cutting-edge security technology and procedures. This can lessen the risk of data breaches and assist to guarantee that sensitive data is adequately safeguarded. Keep monitoring the security precautions to make sure they are still effective and can meet the demands for security.
Conclusion: 
Lastly, outsourcing may be a great method for businesses to reduce expenses and increase efficiency, but it's crucial to be aware of the possible dangers and take precautions to prevent them. 
Failure to communicate clearly, cultural differences, problems with quality control, a lack of trust, an inadequate technology infrastructure, misaligned goals, poor management, reliance on a single vendor, unforeseen difficulties, and a lack of planning are some of the causes of outsourcing failure. 
Companies may improve their chances of success when outsourcing by recognizing and resolving these problems. It's crucial for businesses to create trust, develop quality control procedures, maintain open lines of communication with the outsourcing partner, consider cultural differences, and make sure their technical infrastructure is competent. 
A plan to handle and mitigate unanticipated issues should also be in place, as well as a varied vendor strategy and effective project management. Companies may benefit from outsourcing while limiting risks by taking the required procedures to prevent the typical causes of outsourcing failure.
Frequently Asked Questions
Q1: What are the most common mistakes of outsourcing?
Some of the most common mistakes of outsourcing include: 
Lack of adequate planning and research: Poor planning and inadequate research on the outsourcing partner can result in problems including mismatched objectives, unclear communication, and subpar performance.
Focusing only on cost savings: While cost savings are essential, putting too much emphasis on it might result in choosing an outsourcing partner that is unable to provide the required level of work.
Lack of clear expectations and communication: Not properly conveying expectations and obligations to the outsourcing partner can lead to misunderstandings and blunders, and can delay progress on the project.
Lack of effective project management: It can be challenging to guarantee that the work is being done to the company's standards when there is no clear strategy in place to manage the outsourced project. This can cause delays and other problems.
Neglecting cultural differences can result in misunderstandings and disputes that can hamper project completion. Cultural differences between the organization and the outsourced partner should be taken into consideration.
Neglecting bad technology infrastructure can result in security issues and data breaches. Make sure the outsourcing partner has a sufficient technology infrastructure to manage sensitive data and information.
Failing to set up precise quality control procedures: Making sure the project is on schedule might be challenging if there are no clear means to monitor and evaluate the caliber of the work being done by the outsourcing partner.
Lack of mutual respect and trust: The effectiveness of the outsourcing partnership can be harmed by a lack of time and effort put into establishing mutual respect and trust between the firm and the outsourcing partner.
Lack of a good risk management strategy: The failure of a project or an interruption of operations might result from a lack of a strategy to manage and mitigate unanticipated risks and obstacles.
Dependence on a single vendor: If something goes wrong, relying too heavily on a single outsourced provider can result in vendor lock-in and a lack of flexibility, which might negatively affect business operations.
Q2: What are the 3 disadvantages of outsourcing?
Here are the three major disadvantages of outsourcing. 
Loss of control: Outsourcing has a number of disadvantages, one of which is that businesses may lose control over some facets of their business. If the outsourcing partner is not performing to the company's requirements or if there is a breakdown in communication, this may be very challenging.
Quality concerns: Concerns regarding the quality of the work being completed by the outsourcing partner might arise as a result of outsourcing. If the business is unable to effectively monitor and assess the quality of the work being performed by the outsourcing partner, this might be very troublesome.
Risk of job loss: Employees of the firm may lose their jobs as a result of outsourcing. This may disrupt business as usual and create uncertainty in the workforce, which may be especially challenging for employees whose tasks have been outsourced. It can also result in a decline in the morale of the surviving employees and the loss of important information and experience.
Q3: What are the two most frequent causes of outsourcing problems?
The two most frequent causes of outsourcing problems include poor service definition and cost overruns.
Poor service definition: Poor service definition is a problem in outsourcing that can result in misunderstandings, mistakes, delays, and poor-quality work. The process of precisely describing the scope, deliverables, and expectations of the job that is being outsourced is known as the service definition. Companies should utilize thorough service level agreements, work statements, and frequent check-ins to make sure the outsourcing partner is fulfilling standards and expectations in order to avoid these problems. Companies should also explicitly describe the task's scope and objectives.
Cost-Overruns: When the overall cost of outsourcing exceeds the budget, it is known as a cost overrun. It may happen as a result of bad planning, poor communication, scope revisions, or unexpected difficulties. It might affect the project's schedule, final results, and financial stability of the business. Companies should clearly plan and communicate, budget for eventualities, and routinely analyze the project's progress and costs to avoid cost overruns.
Q4: How does outsourcing affect employees?
Outsourcing may lead to job loss and a decline in pay and benefits for employees, but it may also provide new work opportunities and boost productivity. By effectively communicating with employees and investing in training and retraining programs to ensure that the remaining employees have the essential skills, businesses may reduce the negative effects.
Q5: What is the main impact of outsourcing?
Transferring certain company operations or tasks to an external third party is known as outsourcing. The fundamental benefit of outsourcing is that it enables businesses to reduce expenses and boost productivity by utilizing cheaper labor prices, specialized knowledge, and economies of scale.
However, outsourcing also has its share of challenges, including a lack of control, issues with quality, a possible adverse effect on the workforce, and problems with communication, service definition, pricing, and technological infrastructure. Overall, outsourcing has both a good and bad influence on businesses depending on how well they can handle the obstacles and the outsourcing process. The fundamental consequence of outsourcing is that it may help businesses become more competitive.