Thirdparty risk management is a broad category that includes all of the steps your company can take to prevent data breaches and preserve business continuity. Some of the most typical third party risk assessment issues that all organizations examine on a regular basis are legal issues, historical performance, and creditworthiness. Furthermore, cybersecurity and reducing third-party security threats are becoming increasingly critical.
An effective third party risk assessment process guarantees that your vendor evaluation process is up to date, that sensitive information is protected, and that your organization's risk management approach is improved.

Understanding Third-Party Risks
A third party is an external corporation or specialist that provides a service or specialization but is not a part of the organization. This includes a variety of services, including the following:
Payrolling and human resources

Computer data centers

Cloud services

Medical assistance

Legal administration and many more.
Companies get more flexibility by outsourcing portions of corporate operations that require third-party partnerships rather than building an in-house workforce. Companies can avoid educating their specialists, lawyers, and doctors by collaborating with a third-party source.

However, due to businesses' professional relationships with third-party vendors, these external agents will have access to important internal corporate data. A significant portion of the hazards is introduced here. This is why businesses must implement a dependable third party risk assessment program. This system will investigate and manage any risks that may occur due to the business relationship with a third-party vendor. These risks can have an impact on or compromise various parts of the business, including:
Reputation

Data privacy

Legal

Operations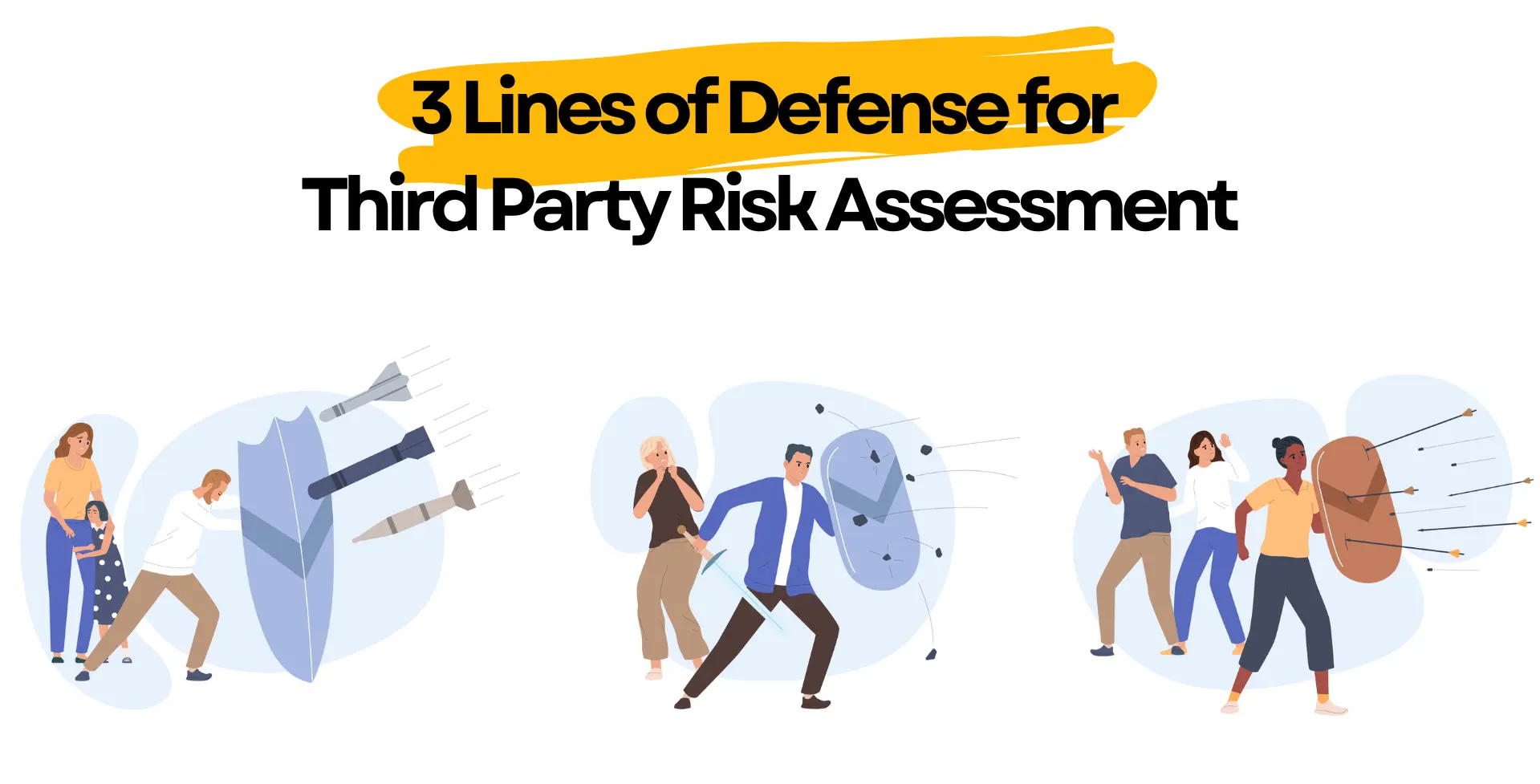 Lines of Defense for third party risk assessment
Establishing three lines of defense is a great method for managing the risks of third-party collaborations. This will serve as a roadmap for quick and decisive responses to threats.
The Front Line of Defense
This level begins with the individual business units responsible for managing the third-party partnership. Third-party providers are entrusted with identifying, mitigating, and analyzing risks in this self-regulatory element. They are tasked with developing best practices that are aligned with the policies of the partner company.
Second Line of Defense
This line of defense is against risks and dangers and it is overseen by the third party risk assessment program. The tasks include developing and implementing the risk framework. They will investigate third-party providers to verify if they are in accordance with corporate policies.
Third Line of Defense
The third line of defense is the audit. They are in charge of independently verifying and assessing internal policies for hazards. third party risk assessment audits will produce a report that reflects the program's efficacy and cost efficiency.
How Do You Perform a Third party Risk Assessment?
The assessment of third-party risk is an essential part of a comprehensive vendor management program. This assessment can take place during the vetting phase, or during an evaluation or review to continuously measure performance.
Throughout the vendor lifecycle, organizations should also provide vendor report reviews that support and document ongoing governance.
What should be included in a third party risk assessment checklist?
A third party risk assessment checklist should incorporate a variety of security protocols that will safeguard your network and your business. A third-party risk assessment begins with the following:
The Business Model
The processes, policies, procedures, and people in place to govern your vendor management processes are referred to as the operational model. Most businesses today divide their processes into three lines of defense (LOD):
Business line – creates, owns, and manages risk.

Support functions – supervises the front line. Also encompasses operational risk, compliance, and other risk disciplines.

Internal audit – the board's mandate to process-audit the first and second lines of defense.
Any third party risk assessment program is based on the lines of defense, along with vendor risk assessment documents that outline their functions. 
To assess your operating model and documentation, let's take a closer look at the checks you can perform.
Third Party Risk Assessment Policy
Has an organized and simple method of evaluating information value

Has a documented and established vendor risk assessment methodology

Identifies and prioritizes assets

Identifies common dangers

Vulnerabilities are identified.

Includes a fair and consistent method of evaluating vendors.

Analyzes, regulate, and determine whether updates or additional controls are required.

Calculates the effect of possible scenarios

Risk is prioritized based on its importance and cost.

All risk assessment outcomes are documented.

Utilizes a tried-and-true security questionnaire
Other critical components include:
Third party risk assessment policy, in which vendors are classified based on their risk.

third party risk assessment procedures – outlines the steps required to conduct a vendor management review.

Continuous governance entails examining audit reports and policies.
What should be in a third party risk assessment policy?
It is critical to ensure a robust IT ecosystem while designing your organization's third party risk assessment policy. Senior management should thoroughly evaluate each new vendor, from ensuring that the finest cybersecurity procedures are used to ensuring that compliance needs are satisfied.
Minimum criteria should be established for certain areas such as human resources, network and data security, access control, IT acquisition, and maintenance. Vendors should also be obliged to have their own risk management program outlining their obligations for incident response, business continuity, and catastrophe recovery.
Each third party risk assessment policy should specify the vendor compliance and review requirements, which may include SOC 2 audits and/or site visits.
Your team should go through a rigorous procedure when selecting the correct vendors: Each new vendor should be able to demonstrate its own procedural risk management strategies, in addition to demonstrating outstanding information security processes.
Your vendor connections may have the ability to quickly accelerate your business objectives, but they must first be evaluated in order to avoid excessive risk for your corporation.

Best Practices to Prepare for and Conduct a Third Party Risk Assessment
Follow the best practices below to conduct a thorough risk assessment:
Prior to the vetting step, you should have a clear grasp of your business objectives and risk tolerance.

Check for vendor dependability during the vetting process utilizing a range of ways, such as background checks, customer reviews, and referrals from reputable sources.

Make a list of all current vendors and categorize the list (e.g., healthcare, payment processors, office services, etc.).

Check your vendor list against the list kept by your accounting department to check that all vendors are listed.

Determine which vendors have the most influence on your business (for example, do you consider a third party to be vital or non-critical?).

Assign a risk rating to each vendor (from moderate to critical) based on the vendor's potential to cause regulatory compliance issues, data security problems, or financial risk to your firm.

Determine the continuing due diligence you must undertake on each vendor based on their level of risk and concentrate your efforts on high-impact vendors who offer a medium-to-high risk to your firm.

Gather information from internal subject matter experts and stay up to date on changing legislation and guidelines so that questionnaires and risk assessments may be updated accordingly.

Standardize your third party management programme to maintain streamlined and efficient procedures.

Conduct regular due diligence assessments and assess the efficiency of your vendor management approach.
Tips For Developing a third party risk assessment Questionnaire
As you develop and revise your third party risk assessment questionnaires as part of your overall vendor management program, the following tips will provide you with guidance.
Customize Each Questionnaire for Each Vendor: Your third party risk assessment strategy should not be one-size-fits-all. Questions should focus on the types and level of risk a vendor poses to your business, the products and services a vendor provides, and the influence a vendor has on your day-to-day business operations. A typical set of questions may suffice for low-risk, low-impact providers. Expand on the normal set of questions for high-risk, high-impact vendors to add concerns about access to confidential information. Simply put, only ask inquiries about the type of provider with whom you're working.

Use straightforward language: Make the directions clear and the questions short. Keep technical jargon to a minimum. Any misunderstanding of a query may result in inaccurate or inefficient results.

Consult Regulatory Guidance and Subject Matter Experts: The questions will differ depending on the vendor's industry and the guidelines imposed by the applicable governing regulatory organizations. The principles and regulations will assist you in categorizing and developing your list of questions. In addition to researching current rules, consult with relevant internal subject matter experts for guidance on which questions to include.

Structure Your Questionnaire Using Important Categories for Your Organization: Using the knowledge gained in the previous stage, structure your questionnaire into categories that are important to your company and relevant to the vendor. You'll stay organized and make the best use of your time and resources this way.

On a regular basis, update the Questionnaire: Determine how frequently you will review and alter your questionnaire in light of changing legislation and vendor risks. A monthly evaluation ensures that the questions you ask are still relevant to the threats your company confronts.
Download the Third Party Risk Assessment Checklist – SignalX