As globalization intensifies, companies are increasingly outsourcing their operations to meet the demands for faster and better products. However, consumer expectations extend beyond just high-quality products; in the present day they increasingly seek goods that are both sustainable and eco-friendly. These products should be produced in a way that respects and preserves the natural world.
In response, companies are striving to develop supply chains rooted in sustainable supplier sourcing. While consumer expectations have evolved significantly, many businesses still find it challenging to implement and maintain sustainable practices within their supply chains.
Globalization has complicated supplier networks within supply chains. Companies now face new types of risks from their suppliers and must adhere to regulations that require compliance with Environmental, Social, and Governance (ESG) standards.
This article will delve deeper into these issues and explore how the dream of a sustainable supply chain can be realized. First, let's define sustainable sourcing.
What is Sustainable Sourcing?
Organizations work with numerous suppliers to keep their supply chains operational and customers satisfied. However, when suppliers fail to meet a company's standards (ethical, environmental, etc.), the supply chain can experience disruptions, leading to costs or damage to the company's reputation.
Sustainable sourcing involves incorporating factors like social, ethical, and environmental performance into the selection, evaluation, and onboarding of suppliers.
Companies typically have sustainability standards and practices. Aligning these with their suppliers is crucial. Suppliers should understand how you(a company) envision your supply chain functioning, your market reputation, and your future sustainability goals.
Today, stakeholders such as customers, shareholders, employees, NGOs, trade associations, labor unions, and regulatory bodies have heightened expectations. They hold companies responsible for ensuring their suppliers adhere to ethical, environmental, and social practices.
The primary objective of a sustainable sourcing strategy is to forge long-term, valuable, and mutually beneficial relationships with suppliers for years to come and reduce the environmental impact of your sourcing practices.
Ensure sustainability standards of suppliers and vendors. Get a full picture of your supplier's background with a 26 parameter risk scorecard.
Sustainability Issues within the Supplier Network
Sustainable sourcing isn't just a trend; it's a necessity in today's global business landscape. But let's face it, it's not as straightforward as it sounds. While companies are increasingly eager to hop on the sustainability bandwagon, the road there is filled with more bumps and twists than most realize.
Suppliers in an organization are divided into several tiers based on the role of the supplier, responsibility they carry out for the company, the magnitude of risk they pose and more. 
Think about it. When we dive into the world of suppliers, especially those not in the immediate spotlight, we start to see a different picture. The truth is, many of these suppliers, especially the smaller ones tucked away in the lower tiers of the supply chain, are struggling. They're trying to keep up with the big demands from their big clients, and sometimes, sustainability takes a back seat. We're talking about issues like proper environmental practices and fair labor conditions – stuff that really matters.
And here's where it gets tricky. These suppliers are dealing with a lot. Tight deadlines, massive orders – the pressure is on. So, sometimes, they have to make tough choices, and unfortunately, sticking to sustainability standards isn't always the choice they make. It's not because they don't want to, but because the challenge is too big to handle alone.
Moreover, a lot of companies don't really have a direct line to these lower-tier suppliers. It's like playing a game of telephone – the message(sustainability) gets lost along the way. 
In order to keep their business going, these smaller suppliers are taking on responsibilities from various types of companies. Now each of the companies(if they are from various industries) have their own compliance and sustainability standards. Therefore, these smaller suppliers are juggling different standards from different companies, and it's hard for them to keep up or see why they should prioritize one over the other(as for them there are no incentives involved to abide by the laws of sustainability).
Resources and know-how are another part of the puzzle. Many of these suppliers are in parts of the world where rules around sustainability are, let's say, a bit relaxed. They might not have the tools or the knowledge to meet these green standards we're all aiming for. It's not just a matter of willingness; it's also about capability.
But still within this array of intricacies, companies from all around the globe are following some best practices to establish a meaningful and long term relationship with their vendor base through the help of sustainable sourcing. That is what we are going to talk about in the later section of this article, but first let us see some of the major benefits that sustainable sourcing can bring to your supply chain. 
Benefits of sustainable sourcing of suppliers: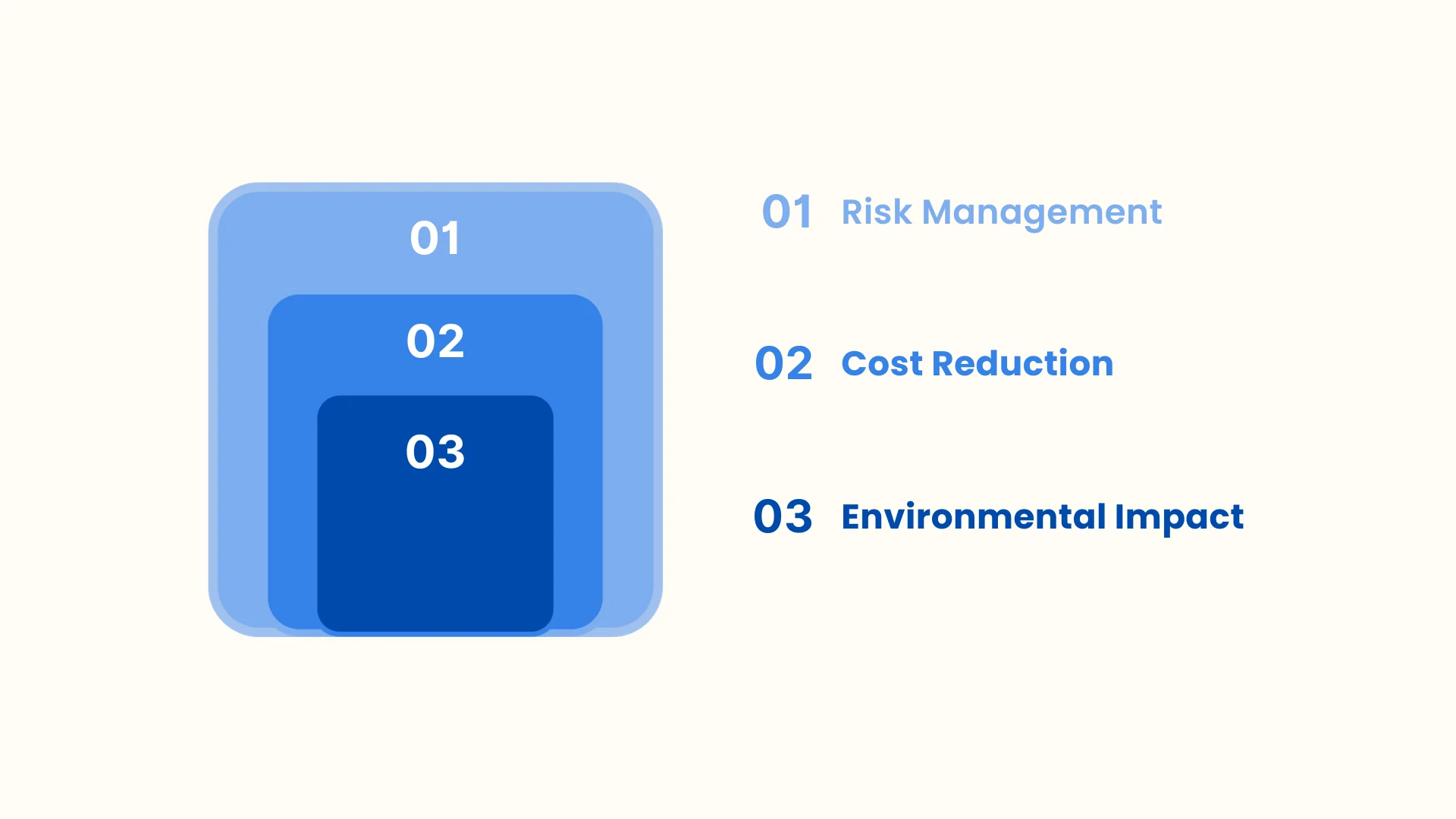 Here are 3 major benefits of sustainable sourcing of suppliers
Risk Management: 
Risks coming from suppliers or vendors within a supply chain are common in today's business landscape. These risks can impact an organization in different forms such as, financial risk, brand reputation risk,supply chain disruptions and many more.
Sustainable sourcing allows a company to carefully select only those suppliers who have the capability to align with the organization's ESG standards and keep on maintaining them throughout their lifecycle. Onboarding suppliers who already have sustainability practice in place can help you mitigate the risk of reputational damage that any supplier might expose your business to(with unethical practices). 
Having a sustainable supplier also reduces the chance of supply chain disruptions and helps you build a resiliency within your organization. 
Cost Reduction: 
Cost reduction in sustainable sourcing is achieved through vendor rationalization and reduced administration. Rationalizing suppliers can streamline the procurement process, strengthen supplier relationships, and improve negotiation power, thereby lowering costs. You might feel that on point purchase price is high but for the longer run sustainable suppliers can deliver more value to your supply chain operations by introducing recycled products, waste material management and also energy efficiency. 
Focusing on the Total Cost of Ownership (TCO) by considering long-term costs like energy efficiency and product longevity further lowers your expenses. This approach not only reduces immediate costs but also aligns economic benefits with long-term sustainability.
Environmental Impact: 
Under stringent ESG (Environmental, Social, and Governance) regulations, investors are increasingly urging companies to adopt sustainable sourcing within their supply chains. By selecting suppliers who prioritize renewable energy, minimize waste, and curtail greenhouse gas emissions, organizations play a significant role in diminishing ecological harm.
This method typically involves procuring materials that can be recycled or composted naturally, endorsing sustainable farming or production techniques, and opting for suppliers with reduced carbon emissions. Such practices lead to a notable decrease in the organization's overall environmental footprint.
Furthermore, implementing sustainable practices opens new avenues for businesses, including access to previously untapped markets, appealing to new customer demographics, and gaining a competitive edge in the marketplace. This not only boosts market presence but also makes the company more attractive to a broad range of international investors.
10 Best Practices to follow while getting started with sustainable sourcing
So far we have come to a conclusion that sustainable sourcing can benefit your organization from many angles. Here some of the best practices for you to follow in order to implement a sustainable sourcing practice within your organization – 
Strategic Long-Term Sourcing Vision: 
Sustainable sourcing should be integrated into the organization's long-term strategic planning. This process involves assessing enterprise value, resource availability, and risks related to sustainability, including biodiversity and climate risk. Organizations need to plan for future sustainability challenges and opportunities, understanding how these factors can impact their long-term goals and operations​​.
Comprehensive and Balanced Sourcing Criteria: 
Develop a sourcing criteria that balance financial factors like cost and quality with ESG considerations such as ethics, human rights, and environmental impact. This dual focus ensures that procurement decisions are financially sound while also aligning with broader sustainability goals of your company. This practice is about understanding the interplay between economic viability and ethical responsibility​​.
Systematic Supplier Evaluation and Relationship Management:
Establish consistent, transparent guidelines for supplier evaluation, onboarding, and management with means you need to create well-documented processes for sourcing negotiations, invoicing, and record-keeping. Building strong relationships with suppliers is crucial, especially for collaboration on sustainable sourcing, transparency, and traceability. Regular communication, clear expectations, and collaborative goal-setting with suppliers are key​​.
This approach calls for a more engaged partnership with your primary suppliers (tier 1), aligning them with your sustainability objectives. It's essential to establish effective communication channels to emphasize the importance of adhering to sustainability standards, extending this commitment to their suppliers (tier 2 and tier 3). Your primary suppliers should embrace the responsibility to ensure that their sourcing practices reflect your sustainability criteria. 
Additionally, consider introducing incentive programs for your primary suppliers, rewarding them for upholding sustainable sourcing practices throughout their supply chain. This strategy fosters a collaborative environment where sustainability is a shared goal across all tiers.
Efficiency in Procurement and Spend Management:
Aim for cost savings and a positive return on investment by optimizing resource usage, reducing input costs, and promoting circular economy principles. This includes measures like waste reduction, reuse, and recycling to make the procurement process more efficient and sustainable​​.
Logistics and Inventory Optimization: 
Implement strategies that reduce transportation mileage, raw material consumption, energy use, and waste. Efficient logistics and inventory management are not only good for the business but also reduce the environmental footprint. Consider the entire supply chain when making decisions to minimize overall environmental impact​​.
Aligning Sustainable Goals with Organizational Objectives: 
As discussed in one of the above points,  integrating sustainability into the broader organizational strategy is crucial for you. This includes reviewing existing sourcing processes, evaluation criterias for opportunities to improve and aligning sustainable  sourcing efforts with the business's overall objectives, even if specific sustainability goals are not set by the company​​.
Goal Setting and Progress Tracking: 
In this practice you need to establish a baseline for sustainability in sourcing processes and set achievable milestones. It's essential to track and analyze information from every step of the procurement process to continuously optimize and incorporate findings into the overall sourcing strategy​​. 
You have to make sure that all your sourcing processes are aligned with the sustainability framework developed by your organization and set up a monitoring system to track the sustainability practice of your supplier base even after onboarding. Remember, though sustainability sourcing focuses more on the selection of strategic suppliers, implementing a sustainable behavior within your supply chain is a continuous process and needs periodic monitoring. 
Incorporating Sustainability into the RFP Process:
Update the RFP process to reflect sustainable sourcing goals. This includes embedding sustainability considerations into vendor selection, RFP questions, evaluation criteria, and scoring. Differentiating between direct and indirect spend is important, as each may require a focus on different aspects of sustainability, such as environmental or social factors​​.
Public-facing Sustainable Sourcing Policy:
Develop and share a sustainable procurement policy both internally and externally. This can encourage vendors to adopt best practices and reassure customers of the company's commitment to responsible spending and sustainability. A public-facing policy can also set a standard in the industry and drive broader change​​.
Building Sustainability into Organizational Culture and Practices: 
This involves embedding strong ESG practices into the organization's procurement function. Teams will need to learn how to evaluate the ESG credentials of potential suppliers, use carbon accounting principles, and apply sustainability initiatives at scale. This also requires investment in new technical skills, tools, and data sources for ESG supply chain analysis and to facilitate the identification of suppliers with favorable ESG footprints​​.
Adapting to the practice of sustainable sourcing is not just a trend, it's a commitment to a better future and making the world safer to do business and deliver nature friendly products . It's about businesses taking a step forward to harmonize profit with the planet, creating a world where environmental care and business growth go hand in hand. 
Simple yet powerful, this approach is shaping a legacy of responsibility and resilience for generations to come.