Businesses rely largely on their supply chains to deliver products to clients efficiently and cost-effectively in today's globalized environment. As a result, vendor compliance has become a more critical component for organizations in order to ensure their supply chain is efficient, cost-effective, compliant, and risk-free. 
In this article, we'll look at the significance of vendor compliance, the advantages of adopting a vendor compliance program, the hazards of noncompliance, and best practices for achieving compliance.
What is Vendor Compliance – Key to better supply chain management
Vendor compliance is the process of verifying that a company's vendors, suppliers, and third-party logistics providers meet the criteria and requirements standards defined by that company.
Setting and enforcing standards for your vendors' operations and behavior is part of vendor compliance. These guidelines can include a wide range of topics, such as product quality, delivery timelines, and documentation requirements.
Companies will typically develop a vendor compliance manual that specifies these criteria and convey that to their vendors. The manual will also cover the ramifications of noncompliance, such as penalties, fines, and the termination of the vendor agreement.
One of the key motivators for vendor compliance is the need to meet customer expectations. Customers today anticipate rapid, accurate, and dependable delivery of goods, and any delays or faults can harm the customer's view of your company.
You may reduce the risk of client discontent and protect your brand by ensuring that your providers satisfy your quality and delivery criteria.
Another reason for vendor compliance is the necessity to meet regulatory standards. Depending on the type of your business and the products you sell, you may be subject to a variety of regulations governing product quality, safety, and labeling.
These requirements apply to your suppliers and vendors as well, who must fulfill the same standards in order to be compliant.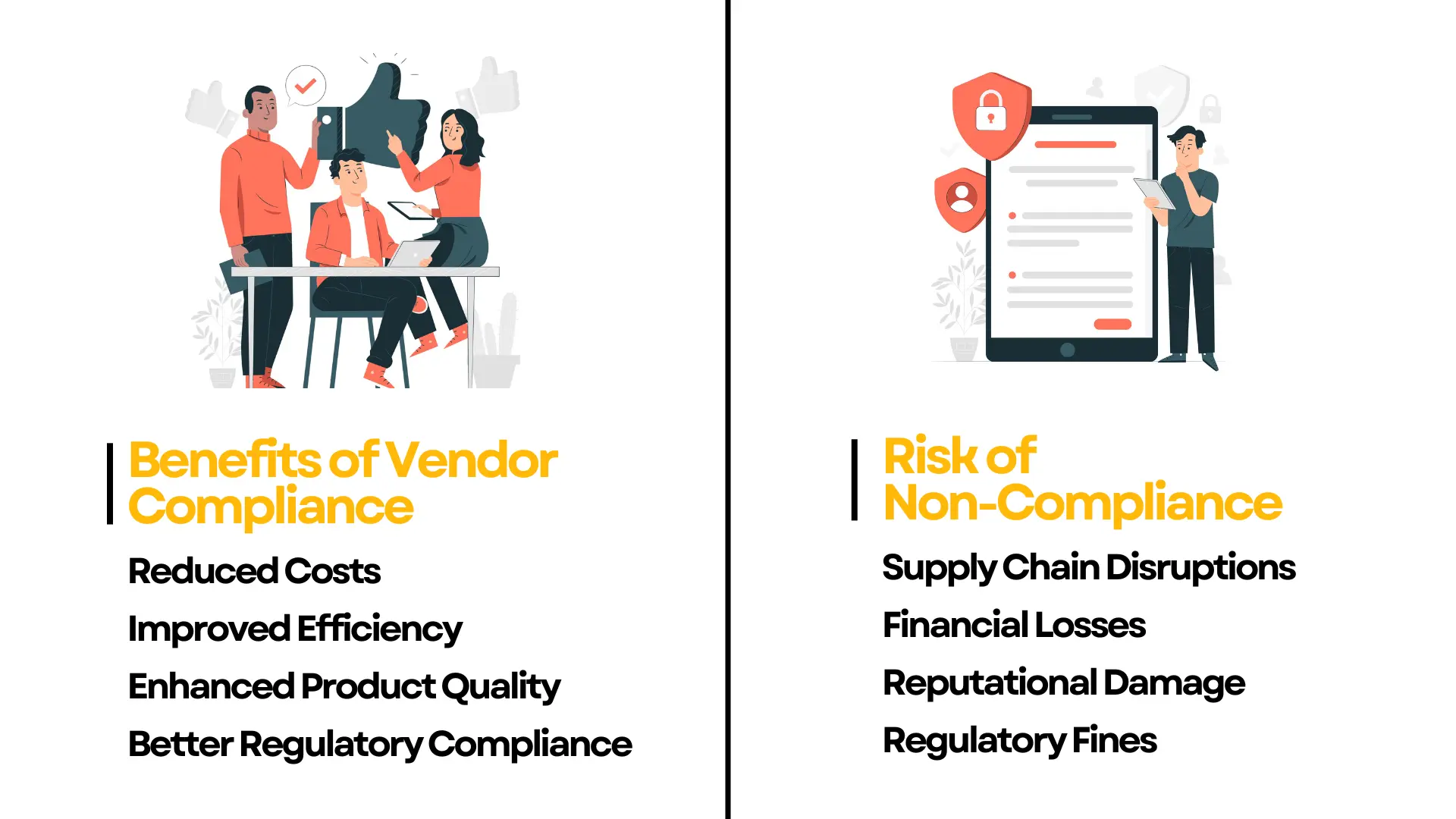 The Benefits of Vendor Compliance
By making sure businesses obtain their suppliers' goods on time, a vendor compliance program helps them reduce risks. Implementing a vendor compliance program can offer several benefits for your business, including:
By setting and enforcing standards for your vendors, you can minimize the risk of errors and delays in your supply chain. This, in turn, can reduce costs associated with rework, inventory holding, and expedited shipping.
Vendor compliance helps you streamline your supply chain processes. By establishing clear delivery timelines, documentation requirements, and quality standards, you can ensure that your vendors deliver goods on time and with the necessary paperwork.
This, in turn, can improve your ability to forecast demand, plan production, and manage inventory.
Higher product quality can also be achieved through vendor compliance. By setting and enforcing quality standards, you can ensure that your vendors deliver products that meet your requirements and expectations of your customers. This, in turn, can improve customer satisfaction and loyalty. 
Better Regulatory Compliance
You can ensure vendor compliance with applicable regulations by setting and enforcing regulatory standards. This, in turn, can minimize the risk of regulatory issues like fines, recalls, and reputational damage.
The Risks of Non-Compliance
Heavy penalties are one way that non-compliance can cost you money. Regulatory penalties may considerably reduce the profits of large corporations, but they may have a much greater negative impact on smaller ones, even driving them out of business. 
Non-compliance with vendor standards can have serious consequences for your business. These consequences can include:
If your vendors fail to meet the standards defined by your company, it can lead to supply chain disruptions. Delays in delivery, quality issues, and documentation errors can all result in delays and loss of production time.
Supply chain disruptions can also result in financial losses. For example, if a vendor fails to deliver goods on time, you may need to pay for expedited shipping or find alternative suppliers to do the job, which in turn can increase costs.
Non-compliance can also damage your reputation. If your customers receive products that are non-consistent and of poor quality or are delivered late, it can harm their perception of your business.
Non-compliance with regulatory requirements can result in fines and penalties. In some cases, non-compliance can also lead to legal action or product recalls.
Key Elements of a Successful Vendor Compliance Program
To establish a successful vendor compliance program, businesses need to focus on several key elements:
Clear Communication
:
Businesses need to set up a clear communication channel for their vendors in order to convey compliance requirements to them. This can be done through a vendor compliance manual, training sessions, or regular communication.
Standardized Processes
:
Businesses need to establish standardized processes for vendor selection, onboarding, and ongoing monitoring. These processes can help ensure that vendors meet the necessary criteria and that their compliance is regularly assessed.
Metrics and KPIs
:
For vendor compliance, businesses must create metrics and key performance indicators (KPIs). These metrics can aid in the tracking of vendor success, the identification of areas for improvement, and the communication of progress to stakeholders.
Collaboration
:
To enhance compliance, companies must work collaboratively with their suppliers. This may entail creating joint improvement plans, sharing frequent performance feedback, and working together to pinpoint areas that can be improved.
Technology
:
Businesses can use a range of tools, including vendor management systems, compliance tracking software, and supply chain analytics, to improve compliance and efficiency.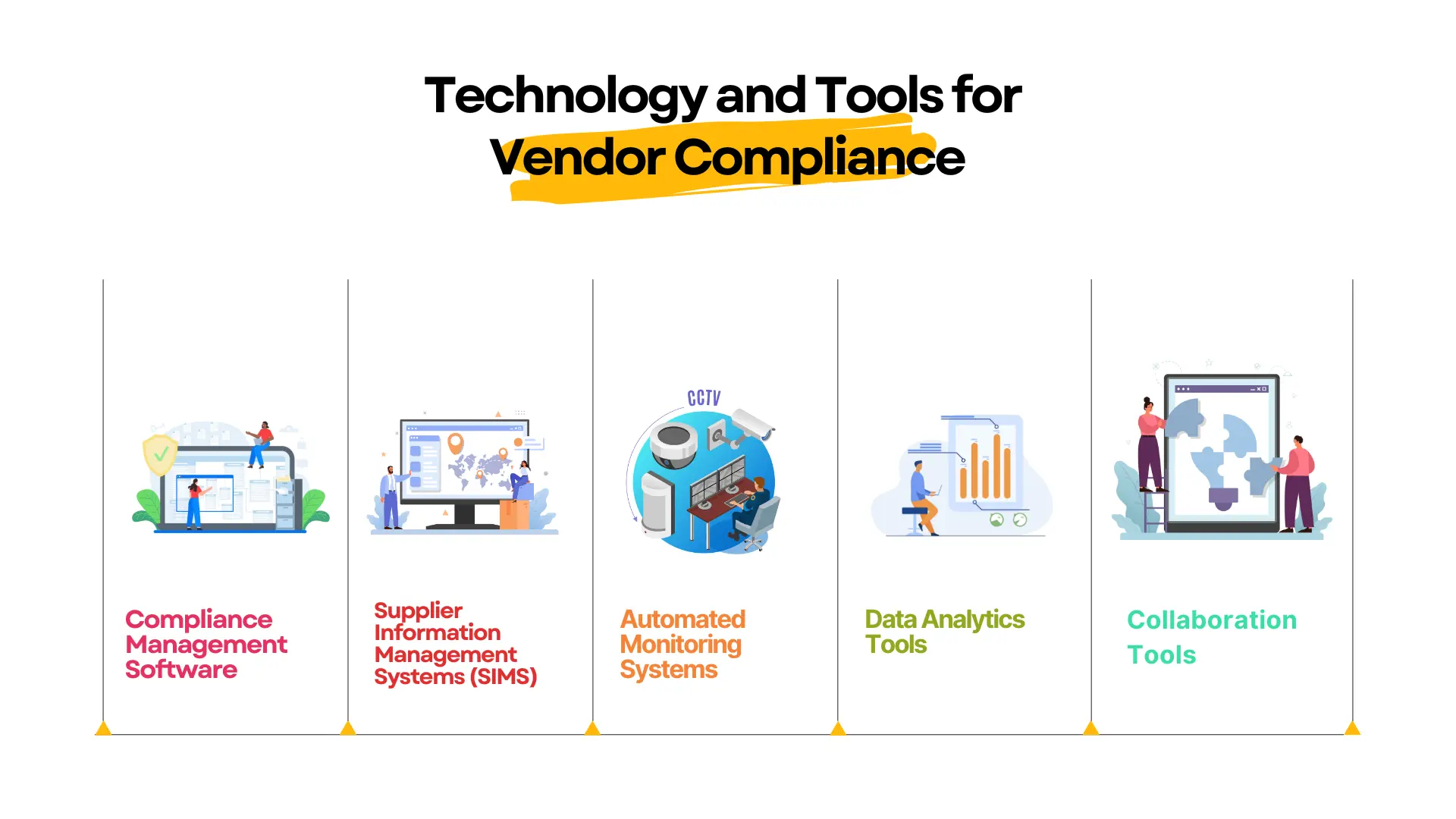 Technology and Tools for Vendor Compliance
The world of vendor compliance is constantly evolving, and technology plays a significant role in enabling businesses to comply with regulatory requirements and effectively manage their supply chains. Here are some of the key technology and tools that businesses can use to improve their vendor compliance processes:
Compliance Management Software:
Compliance management software is intended to assist businesses in managing their compliance procedures through the centralization of data and the automation of workflows. These tools can assist businesses in tracking compliance requirements, monitoring vendor performance, and identifying and addressing compliance issues swiftly.
Supplier Information Management Systems (SIMS)

:
SIMS provides a centralized repository for supplier data, allowing businesses to rapidly obtain and manage information such as contracts, certifications, and performance metrics. These tools can assist businesses in ensuring that their supply chain is in compliance with regulatory requirements and that they are working with compliant vendors.
Automated Monitoring Systems:
Automated monitoring systems can assist companies in real-time monitoring of their supply chain for compliance issues. These tools can be used to watch suppliers' regulatory compliance, monitor supplier financial stability, and spot potential supply chain risks.
Data analytics tools can be used to analyze supplier data and spot patterns that may suggest compliance issues. These tools can assist businesses in identifying areas of risk and taking proactive measures to address compliance issues.
Collaboration tools can help companies work more effectively with their suppliers to ensure compliance. These tools can be used to help with communication, document sharing, and collaboration on compliance-related duties.
By leveraging these techniques and tools, businesses can improve their vendor compliance processes and better manage their supply chains. However, it's important to remember that technology is not a replacement for human expertise and that businesses should still rely on experienced compliance professionals to manage their compliance programs.
Case Studies: Examples of Successful Vendor Compliance Programs
Successful vendor compliance programs are critical to the success of any business. Here are a few case studies of companies that have implemented successful vendor compliance programs:
Nike
Nike has one of the most stringent vendor compliance programs in the clothing business. The company's compliance program ensures that all its vendors adhere to stringent labor and environmental standards. 
Nike also examines its suppliers' facilities regularly and requires all of its suppliers to participate in its Sustainable Manufacturing and Sourcing Index (SMSI) program. The SMSI program was created to assist vendors in improving their sustainability practices and meeting Nike's stringent environmental and social responsibility standards. As a result, Nike has established a reputation as a socially responsible brand and enhanced the sustainability of its supply chain thanks to its compliance program.
Walmart
Walmart is another business that has successfully implemented a vendor compliance program. The company's compliance program ensures that all its suppliers adhere to stringent ethical and social obligation standards. 
In addition, Walmart requires all of its suppliers to engage in its Responsible Sourcing program, which includes regular audits of supplier facilities and the requirement that suppliers satisfy Walmart's ethical standards. The initiative has assisted Walmart in lowering the risk of supply chain disruptions and improving product quality.
Apple
Apple is well-known for its stringent supply chain standards, and it has successfully implemented a vendor compliance program to guarantee that all of its suppliers meet these standards. The company's compliance program is designed to ensure that all of its vendors adhere to stringent environmental, social, and labor standards. 
Apple audits its suppliers' facilities on a regular basis and requires suppliers to engage in its Supplier Responsibility program. Apple has been able to establish a reputation as a socially responsible company and ensure that its supply chain adheres to its robust ethical standards thanks to its compliance program.
Conclusion
More than ever, cost-effective, efficient supply networks are required. Implementing a vendor compliance program with uniform goals and parameters can assist in standardizing your company's internal operations while also achieving considerable cost and time savings.
These reductions and savings might provide your company with a competitive advantage and ultimately enhance your bottom line. In addition, using supplier risk management software as part of your vendor and supplier compliance program saves your firm even more time and money.
Making your vendors accountable for their products, services, and errors saves your company money and is vital to its long-term success.
Frequently Asked Questions


What is vendor compliance management?
Vendor compliance management is the process of ensuring that suppliers, vendors, and collaborators follow an organization's rules, laws, and standards. 
This involves tracking and assessing vendor performance, performing audits, and taking corrective measures as needed. The aim of vendor compliance management is to reduce risks and ensure that suppliers adhere to quality, safety, and ethical standards.
Why is vendor compliance important?
Vendor compliance is essential because it assists organizations in ensuring that their suppliers, contractors, and partners follow legal and ethical standards, fulfill quality and safety requirements, and safeguard the organization's reputation. 
Failing to ensure vendor compliance in a supply chain can result in financial loss, legal risk, and reputational harm to the company.
What is a vendor compliance audit?
A vendor compliance audit evaluates a supplier, vendor, or partner's adherence to a company's policies, protocols, and standards. The audit may include a review of documentation, interviews with employees, and a visit to the supplier's facilities and activities. 
A vendor compliance audit's aim is to find areas where the provider may be non-compliant and to suggest remedial actions to resolve any issues discovered during the audit.