Supplier Evaluation is a crucial process that assesses the capabilities and risks associated with a supplier, either prospective or existing. The main aim of supplier evaluation is to assist procurement or business teams in making informed decisions on their trade partners and ensure the desired quality of output, align suppliers with business expectations, and minimize any third-party risks that could pose financial, legal, reputational, or regulatory consequences.
The Importance of Supplier Evaluation in Procurement
Having a strong supplier evaluation process is vital for businesses to drive supply chain resiliency and protect the organization from potential risks. The purpose of supplier evaluation is to ensure that the suppliers a business works with have the necessary capabilities to deliver the right products or services on time, as well as maintain sound financial and compliance health. According to research, 87% of surveyed enterprises experience one or more disruptions in their supply chain every year due to issues with suppliers.
87% of surveyed enterprises have resulted in one or more disruptions occurring on an annual basis in their supply chain due to health and compliance issues with their suppliers. 
Supplier evaluation is an integral part of a successful supply chain management program and helps businesses mitigate potential risks and improve supply chain resiliency 
Steps to Conduct a Comprehensive Supplier Evaluation
There are four dimensions on which a typical organization may rate their suppliers in their supplier evaluation program. The specific parameters that a business would consider under each may vary from business to business, but the overall dimensions generally remain the same.
The first four dimensions are expectations from functional teams who would be the end users of the supplier's solutions, and the fifth dimension is that of third-party and sustainability risks which are usually business-level expectations of the quality of supplier that the firm would want to engage with.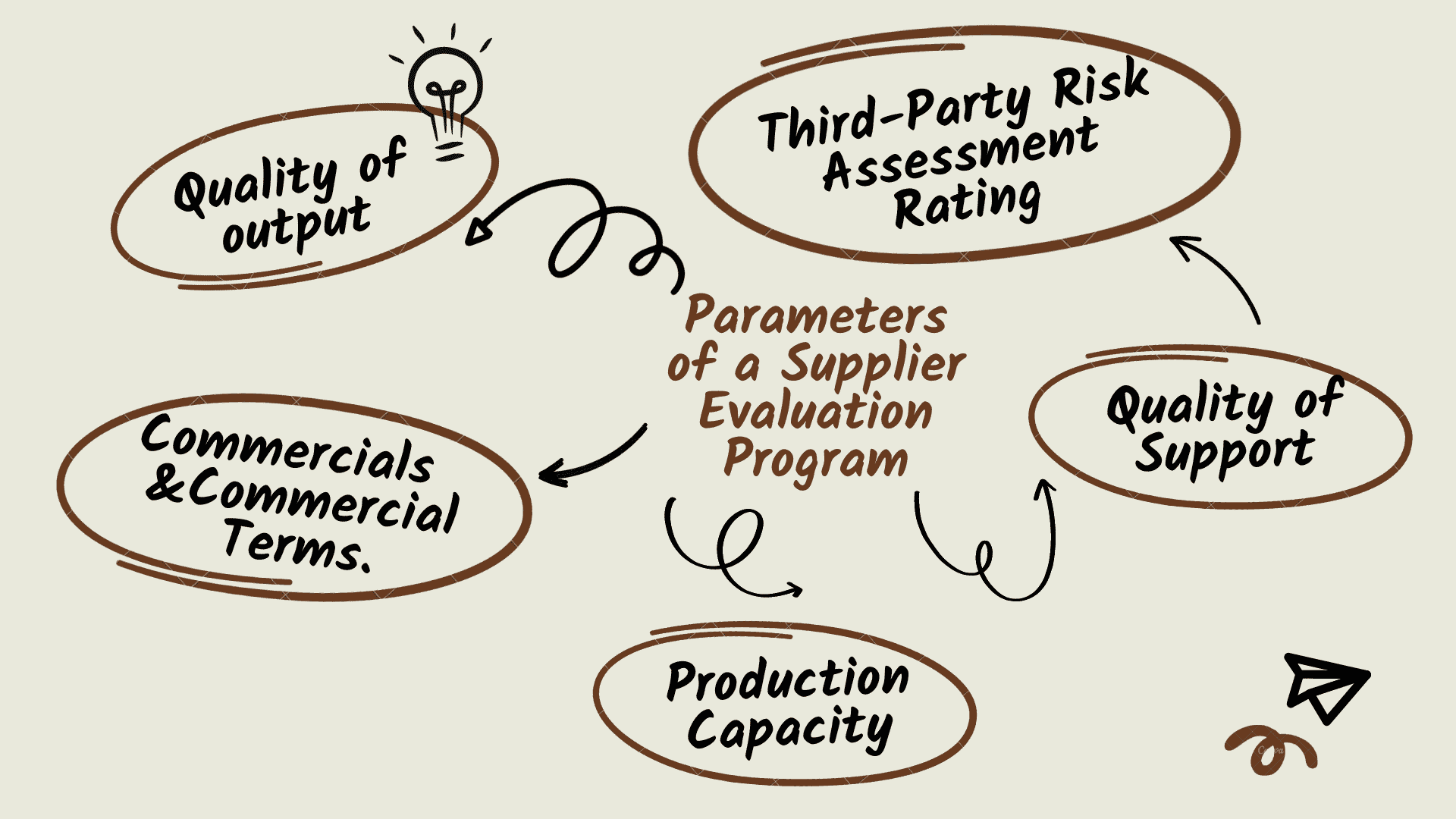 An effective supplier evaluation program would generate a simple scorecard by rating suppliers on these five parameters. The ratings can also be done every six months on strategic suppliers and annually across the supply chain. The parameters of a supplier evaluation program are as follows:
Quality of output




Does the quality of the product or service offered by the supplier meet your expectations? The specific metrics that define quality vary from business to business. Detailing the same and assigning a score is the first step toward evaluation.

Commercials and Commercial Terms.




Is the engagement commercially viable for the business? Once you evaluate multiple suppliers on the quality metric, it is required to understand which supplier would be the most effective given the quality.

Production Capacity




As your business grows, your expectation from the customer on the volume of goods and services may scale. It would be an unfortunate situation if there is an influx of customers at your door but a key supplier in the backend is unable to keep up with the demand and deliver on time. Understanding the supplier's ability to scale his operations is an essential component of supplier evaluation.

Quality of Support




Nothing can be more frustrating than a key supplier not providing the necessary support to address issues that may arise during the engagement. Suppliers' business priorities may change over time and you would be one of the many customers that the supplier is catering to. Incorporating an assessment of the level of support that a supplier would be willing to provide is a vital part of supplier evaluation processes today. Support-related assessments involve checking if the supplier has a well-defined support process, identifying the level of support the business might require going forward, and setting the sight expectation with the supplier.

Third-party Risk Assessment Rating (TPRM)

Financial, legal, reputational, and compliance risks




Is the supplier financially stressed, is he a belligerent party, and are there economic offenses registered against the supplier or its promoters? Is the supplier a chronic defaulter of tax filings, labor payments, and other essential compliances? How robust are the supplier's IT systems? Would the supplier expose you to bribery and corruption risks? There is a long list of risks that suppliers expose a business to. The cost of doing business with compromised entities today is steep.

Regulators do not hold back when penalizing businesses for transacting with non-compliant entities.

Thankfully, the process of generating a TPRM rating is fully automated using AI-driven platforms like

SignalX

.

Sustainability Ratings




98% of ESG vulnerabilities that an enterprise faces originate from its supply chain. We have seen businesses surprised on finding suppliers that have been convicted previously of mismanaging hazardous waste and employ practices of harming the environment. 

Tools for supplier evaluation
Though it may appear daunting, a supplier evaluation program can be quite simple to execute if planned well. AI-based automation solutions like SignalX.ai takes care of the third-party risk assessment part in its entirety. What is left is collecting information on quality, capacity, commercials, and support. Depending on the type of supplier, this can be done through a field visit to the supplier's premises, sampling of supplier services, or via collection and verification of certifications and other associated documents from the supplier. Essentially, implementing the following two activities would suffice the execution of an effective supplier evaluation process.

Sampling, Site Visit, and Audits
Sample the supplier's solution/product and check if it meets your quality checklist. Visit the supplier site, inspect the quality of output, working premises, etc.

Digital Due Diligence Platform


Discreet Checks – Any robust digital due diligence platform can query thousands of sources for financial, legal, compliance, and reputational signals on the supplier and generate a rating. Tools like

SignalX.ai's Vendor Due Diligence automation solutions

are inexpensive and produce a report on any target in under 48 hours.

Non-discrete collections of Certifications and Disclosures – Leverage a digital platform to collect disclosures and certifications from the supplier. Upload your checklist on a tool like

SignalX

or create a custom checklist and automate the data collection process and synthesis.

This could be on Anti-Bribery and Corruption, Supplier Policies, Certifications such as ISO 27001, ISO 9001, etc, Sustainability Disclosures, and more.

Why evaluating suppliers is critical?
Ever since Henry Ford commercialized the assembly line, and ever since globalization swept across supply chains and transformed systems from being vertically integrated to being interconnected with third parties, efficiency has been at the forefront of business expectations from supply chains.
Today supply chains are the backbone of any enterprise, making it incredibly important to thoroughly evaluate and onboard high-quality suppliers and partners that align with the business's values and expectations. The supplier Evaluation program allows you to filter and onboard suppliers who can help you maximize business growth with minimal risks.
The following are some of the benefits of implementing a supplier evaluation program.

Improve end-customer satisfaction and topline
Ultimately, a healthy supply chain with partners that are committed to the growth of the business and are well aligned always results in superior quality products being shipped to end customers and a superior customer experience. Unhealthy or compromised suppliers end up causing disruptions and thereby affecting the end customers and bottom line. Supplier evaluation puts quality and compliance at the center of purchasing decisions. In the long run, well-run supplier evaluation programs drive end-customer satisfaction due to sustained maintenance of quality and experience.
Improve supplier – business alignment


Regular supplier evaluation also communicates to suppliers the KPIs that the business is holding them accountable for and also opens a channel for the partners to seek feedback and identify areas of improvement.

Improve supplier performance
Supplier evaluation programs provide valuable information to functional teams and the business to identify areas of improvement, and trends that indicate falling or improving levels of performance, and open a conversation with suppliers about how we might improve such conditions.A well-managed supplier evaluation process also ensures that monies are being put to the best use and there is no redundancy and wastage.
Improve supply chain resiliency
Ongoing supplier evaluation is a necessary activity to identify suppliers with whom relationships may be deteriorating due to poor quality outputs, change in business priorities at the supplier end, or developing third-party risks. These are opportunities for Procurement and Supply Chain teams to plan for identifying alternatives pre-emptively so that no disruptions occur.
FAQs
What is the purpose of supplier evaluation?
The purpose of supplier evaluation is to assess the capabilities and risks associated with a prospective or existing supplier, in order to make informed decisions on trade partners, ensure desired quality of output, align suppliers with business expectations, and ensure that the supplier is not exposing the business to third-party risks.
What are the dimensions that a business typically considers in their supplier evaluation program?
The dimensions generally considered in a supplier evaluation program include: quality of output, commercials and commercial terms, production capacity, quality of support, and third-party risk assessment rating (TPRM). The specific parameters that a business considers under each dimension may vary depending on the business's specific needs and expectations.
How often should a supplier evaluation program be conducted?
The frequency of supplier evaluation can vary depending on the business's needs and the specific suppliers being evaluated. A business may choose to conduct ratings on strategic suppliers every six months, and across the entire supply chain annually. It is also important for businesses to be proactive in monitoring and re-evaluating supplier performance on an ongoing basis, in order to ensure that their supply chain remains robust and resilient.
How can an effective supplier evaluation program help a business protect itself from risks?
An effective supplier evaluation program helps a business understand and mitigate the risks associated with its suppliers. This includes evaluating suppliers for financial and compliance health, assessing their ability to deliver products/services of the desired quality, and ensuring that they are able to scale their operations in response to changing business needs. By proactively identifying and addressing potential risks in the supplier selection and management process, a business can drive supply chain resiliency and protect itself from unexpected disruptions or other negative impacts.
How can SignalX help in Supplier Evaluation?
SignalX is a digital due diligence platform that helps enterprises with discreet (public data) and non-discrete risk assessments on suppliers. SignalX uses a mix of publicly available data such as media records, litigations, corporate records, etc, and disclosures collected via the platform from suppliers to generate a risk portrait on any given supplier which can then be incorporated into any supplier evaluation process.
SignalX's AI-based automation makes it possible to generate a fully automated third-party risk assessment ratings report in under 48 hours on the given target. The platform also enables enterprises to keep a pulse on their key suppliers and identify developing risks that may be material to the credibility and health of the business. We're trusted by 200+ enterprises to power their supplier evaluation process.