Is your outsourced vendor as concerned about the security, integrity, and availability of data and access as you are? Or are you aware of the gaps and threats that your vendor relationships expose you to overtime? If you don't have a rapid answer to these questions, you're probably overlooking an important component of your company's vendor risk strategy.
What is a Vendor Profile
A vendor profile is a reference document that sourcing experts use to categorize critical vendor information. The questionnaire is sent by procurement specialists, and vendors fill it. Consider these vendor profiles to be a digitized, detailed phonebook entry. The profile includes questions that assist procurement professionals in understanding the vendor's approach, differentiators, and offering details. Recurring procurement contracts are generally the best fit for supplier profiles.
Vendor Profiles act similarly to RFPs. You create the questions, invite participants, and then examine the results. However, these vendor profiles are never formally "closed". You can technically set a deadline for them to react, or you can write them a note at the end of the year.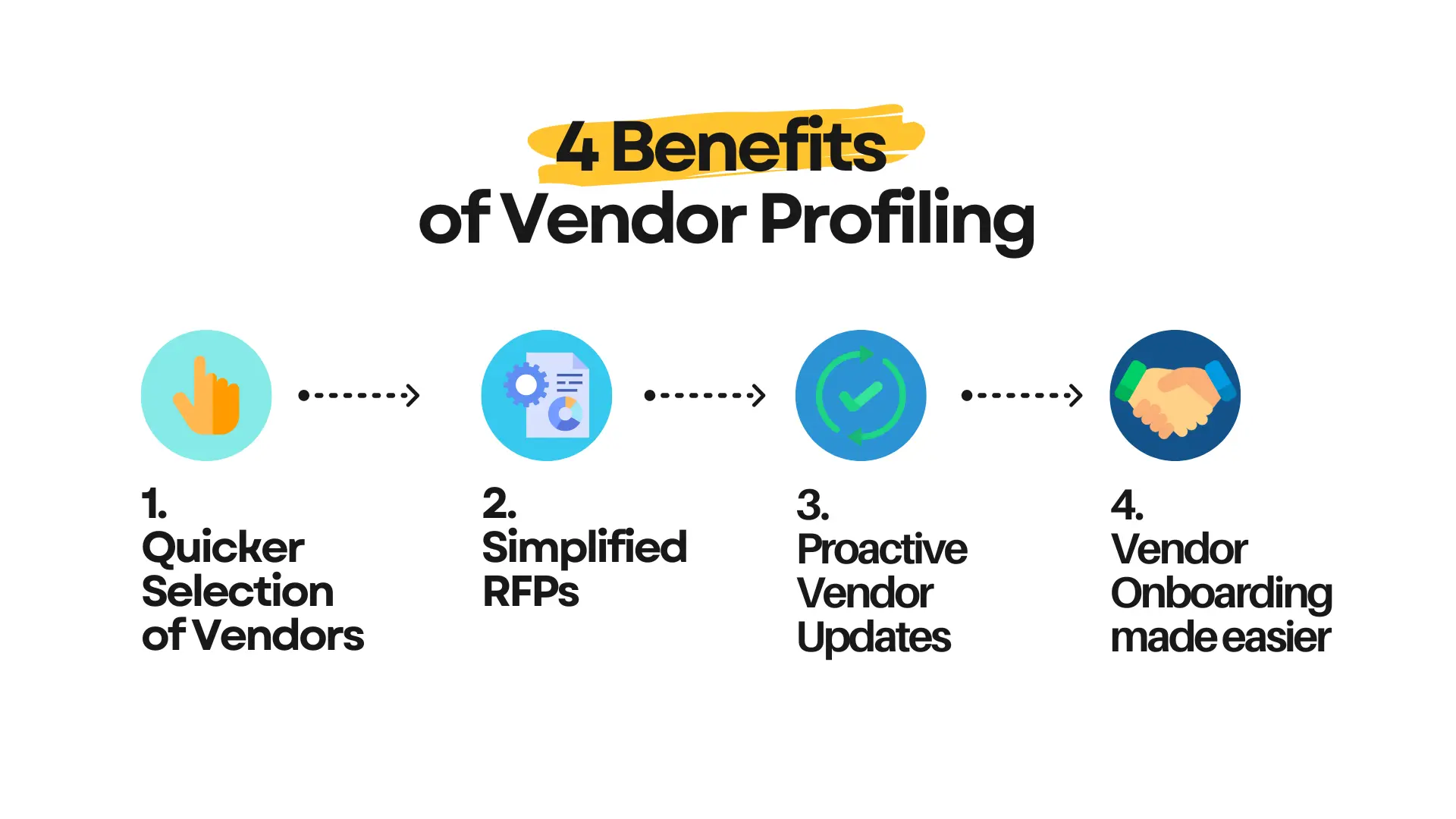 4 Benefits of Vendor Profiling 
Organizations looking to source vendors save time by adopting vendor profiles. Vendor profiles are useful for businesses – they enhance the process, enable proactive adjustments, and increase results. They also provide each vendor with a good start by supplying baseline information. 
1. Quicker selection of vendors
You can use vendor profiles to filter and search for keywords or services within the profile. For example, there could be hundreds of vendors offering retirement benefits. However, sending out a full RFP to all of them is inefficient.
After all, many of the providers will fail to meet the company's criteria. Vendor selection is significantly easier with vendor profiles. The procurement team can cast a wide net while simultaneously quickly narrowing the selection.
For example, if the organization prefers a provider who is local to their location, they can filter the profiles to see just vendors who fulfill that requirement. A simple search narrows the list to a more manageable shortlist, ensuring that vendors do not waste time responding to an RFP that they are unlikely to win.
2. Simplified RFPs
With a vendor profiling system in place, you can be certain that your RFP is being distributed to the most qualified suppliers. As a result, when the RFP is issued, it will be considerably briefer.
There is no need to ask generic questions that have previously been answered in the vendor profile questionnaire. As a result, the RFP can be tailored to the unique needs of the company or client. This saves time for both the team analyzing the RFP and the suppliers responding to it. 
3. Proactive vendor updates
Ideally, vendor profiles are updated on a frequent basis and the information is always up to date. However, keeping up with changes is challenging. After all, vendor offers are constantly expanding and evolving.
Updates from suppliers are likely to clutter your inbox and then be deleted. However, when the time comes to issue your next RFP, you may wish you had that information on hand.

You can certainly send out updates to the profiles on a regular basis. However, allowing your vendors to update as needed saves much more time. A file-sharing system can be useful in this case. You can grant access to each individual supplier profile so that they can make modifications on their own.
4. Vendor onboarding made easier
Potential vendors frequently call procurement professionals. They want to talk to you so that they can be added to your vendor library and considered for future RFPs. You may quickly qualify and onboard potential new vendors with vendor profiles.
You save time and avoid lengthy sales interactions when you send a vendor profile. At the same time, you ensure that you have all of the information necessary to fairly evaluate the new provider.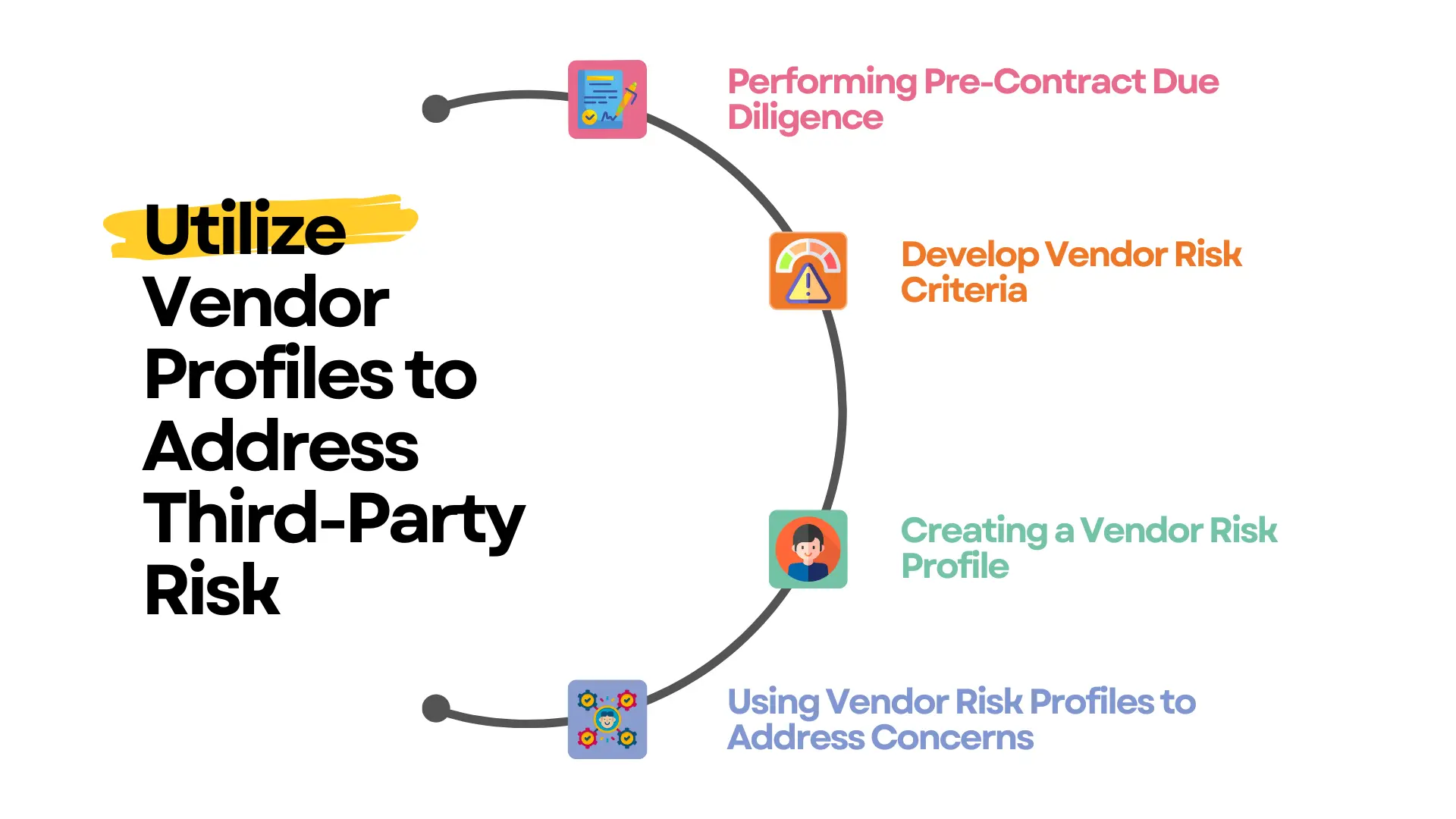 How to Use Vendor Profiles to Address Third-Party Risk? 

Step 1: Performing Pre-Contract Due Diligence
A vendor risk profile program assures that using third-party service providers does not pose an unacceptable risk of business disruption or have an adverse influence on business performance. To fulfill this duty, your program must have mechanisms in place to rigorously examine vendors before partnering with your business.

The initial stage in this procedure is to determine whether a third-party supplier is required.
The two most typical reasons for hiring an outside service provider are that 1) the opportunity cannot be provided by in-house staff and 2) outsourcing is more cost-effective. Having identified a specific requirement, you may then determine the type of connection your business will have with the vendor.
Before signing a contract with a new vendor, your company must conduct due diligence. To do proper due diligence, firms must define who inside their organization has the authority to determine a service need and who will serve as the principal point of contact for third-party queries.
Organizations should examine the vendor's reputation, experience, history of incidents, and corporate policies and processes, particularly as they pertain to data security and privacy when hiring a third-party vendor.
Step 2: Develop Vendor Risk Criteria
Third-party questionnaires, when delivered as part of the due diligence process, can provide significant information into vendor risk profiling. Before deciding on the survey questions, you should think about how this vendor will interact with your data. Will they collect, analyze, process, transmit, or store any of your data?
If this is the case, your company must assess the potential privacy and security issues that may arise if you begin a connection with this third party. Before you can conduct a risk assessment, you must first identify the criteria for risk evaluation. There are numerous potential factors to evaluate, and many industries have major vendor risks. 
Having said that, there are various vendor risks that are widespread in many businesses.
Operational Risk: How vital is the vendor's work to the business activities and operations of your organization?
Data/Privacy Risk: Will the vendor acquire or store any information on your customers, members, donors, or employees?
Transactional Risk: Will the seller handle any of your monetary transactions?
Replacement Risk: Would you be able to replace the vendor swiftly if they went out of business owing to financial insolvency or other issues?
Downstream Risk: Will the vendor use their own vendors (i.e. fourth and fifth parties) to help deliver your products or services?
Compliance Risk: Are there any vendor-related regulatory issues that you must follow?
Geographic Risk: Are the vendors located in an area or country that is inherently risky?
Step 3: Creating a Vendor Risk Profile
Once you've defined your vendor risk criteria, you'll use them to create a formalized risk assessment. In your assessment, you should examine the risks of a new vendor relationship using your risk criteria and create a preliminary vendor risk profile.
This enables you to identify the vendor's underlying risks and assign a suitable amount of due diligence. When doing so, most businesses divide their vendor risk profiles into levels. The most frequent risk tiers are high, medium, and low. The higher the risk tier, the more due diligence will be required to examine each risk and how well it may be managed.
Your vendor risk profiles should answer the following:
What kind of services does the vendor offer?

How important are these services to your company?

What will the duration of your partnership with this vendor be?

What kind of information will the vendor have access to? Will the seller keep any of this information, and if so, how much?

What internal systems and applications will the vendor need to access? What kind of network access does the vendor need?

What would be the commercial impact of a breach or data compromise caused by a third-party breach?

Can you utilize the answers to these questions to assign a risk score of high, medium, or low to the vendor?
Many businesses rely on questionnaires to assist them in answering these questions and developing vendor risk profiles. Furthermore, regular vendor risk assessments are an important aspect of vendor risk management, and full vendor risk profiles are helpful resources during these assessments.
During the vendor onboarding process, your contract should include risk management objectives and obligations, such as:

The agreement's timeframe and performance standards;

The vendor's level(s) of access to the data it will be handling (processing);

Specifications and periodicity of when and how data will be received by the vendor;

The organization's service expectations for the vendor, including any additional services such as software support and maintenance;

Permission for the company to audit and monitor the vendor at any time; and

Cost and pay for services provided by the organization and its vendor.

These contract terms should be included in the vendor risk profile so that you can simply analyze the relevant contractual elements that may affect a vendor's risk score. 
Step 4: Using Vendor Risk Profiles to Address Concerns
You can utilize these vendor risk profiles to create a risk tolerance framework, which allows you to evaluate the amount of risk to your company by weighing the probability or likelihood of risk versus the severity of the consequence.
These vendor risk profiles can assist your company in determining if vendors are low-risk or high-risk, allowing you to establish a system that allows you to effectively prioritize vendor risk and develop a targeted approach to handle these risks. This ranking algorithm has several key advantages:
Security and privacy decisions can be made more effectively by your organization.

You can set clear guidelines for third-party vendors regarding data protection.

Your company can select vendors based on risk and build a clear strategy to manage and resolve these risks.
A monthly self-assessment or questionnaire may be sufficient for monitoring a vendor's security procedures for low-risk businesses. When it comes to higher-risk vendors, though, one best practice is to conduct regular in-depth, on-site audits of their policies and procedures.
Then, using your vendor risk profiles, you can categorize vendors based on risk and target your audits on the merchants who require the greatest attention. Your business should establish audit expectations during the contracting process so that your vendors are aware that you have the contractual right to audit their policies and processes at any time and that your requirements may change over time.
It is vital that your business periodically exercises its right to audit higher-risk vendors.
Conclusion
In an increasingly complex regulatory environment, a company's approach to vendor risk can have a substantial impact on its ability to meet its objectives. 
Vendor profiles can assist firms in mapping vendor risks to the associated legislation, controls, internal stakeholders, and vendors, boosting risk transparency and accountability. It also assists in ensuring that businesses have all of the information they require to fulfill the demands of a changing regulatory environment.
Finally, it streamlines the flow of vendor risk and compliance data, ensuring that the appropriate information reaches the appropriate stakeholders at the appropriate time.
Frequently Asked Questions
Ques: How do you assess the risk of a vendor?
Many variables should be examined when assessing a vendor's risk, including their reputation, financial stability, compliance with laws and regulations, security procedures, business continuity plans, and contractual conditions. To reduce any risks linked with the vendor relationship, it is critical to undertake a thorough examination and run proper due diligence. 
Ques: What should a risk profile include?
A risk profile should be composed of identification, analysis, evaluation, response planning, monitoring, and reporting. It should provide a comprehensive overview of potential risks and a plan for managing them, regularly reviewed and updated.
Ques: What is vendor compliance risk?
The danger that a third-party vendor would break a rule or regulation that you have contractually required them to abide by is known as compliance or regulatory risk.
Vendors are required to adhere to any laws, regulations, and rules established by regulatory organizations that have an impact on their business and industry, as well as any internal policies of the institution.
If compliance criteria are not met, your business may face enforcement actions, severe fines, and a hit to its reputation.