In the world of business, due diligence is like being a detective. It's all about investigating and gathering information to make important decisions. Whether you're looking to invest in a company, buy a property, or partner with another business, due diligence helps you avoid unpleasant surprises. 
In the battlefield of due diligence, a due diligence report plays the role of a sword for you to defend your business from the threats posed by your opposite party(like you target business). 
Before you even create a due diligence report in the first place you need to decide on a format. This due diligence report format will decide how much you want to know about the target entity you are going to establish a relationship with. 
As a risk intelligence expert in the market, we are currently helping our clients with the most comprehensive due diligence reports in the market. Today in this article, we are going to tell you what elements go in a due diligence report format, who prepares a due diligence report and what are the best practices to create one.  
What is a Due Diligence Report?
A due diligence report, also known as a pre-investment review, is an essential document in the investment evaluation process. It offers a detailed examination of a company's financial and operational status, providing investors with crucial insights into the potential investment.
Typically, this report is prepared by expert third-party assessors who collect vital information and records from the company in question. The primary aim of the report is to confirm the accuracy of the company's claims regarding its financial health and overall credibility.
Investors often rely on public disclosures and statements, such as those found on a company's website or in investment proposals. However, to ensure the validity of these claims and to avoid any significant non-compliances that might impact the company's future operations and the investor's return on investment, a due diligence report is indispensable. It serves as a verification tool to substantiate public statements and disclosures, safeguarding the investor's interests.
What is a Due Diligence Report Format?
A due diligence report format is a structured framework or template that outlines the sections and content to be included in the report. It provides a clear and organized way to present information collected during the process and analysis findings. 
A structured due diligence report format ensures that the report is consistent, easy to navigate, and covers all essential aspects of the due diligence process. 
Who is Responsible for Creating a Due Diligence Report?
Generally large enterprises have their own internal teams of CAs, Financial Analysts, Risk Advisory teams to perform data collection and analysis. But companies nowadays, prefer to outsource the activity of due diligence report formatting to some third party vendors, as they try to focus more on the findings and analytics of the reports. 
With the technological advancement and the introduction of AI, preparing due diligence reports is more efficient than ever before. For example, we have a state of the art report delivery timeline of 48 hours and we are renowned in the market for having the most comprehensive due diligence report format. We will discuss in the later section the checks we do in our due diligence reports. 
Benefits of defining a Due Diligence Report Format
Creating a due diligence report format before composing a report gives you a structural understanding of what you want to find out, what are the data points you want to evaluate that will help you understand the landscape of the target business.
Let's look some of the benefits;
Consistency:
A due diligence report format ensures that all essential aspects(facts that you are looking for) are covered consistently in every report. A standardized report format ensures uniformity in the presentation of information. This consistency helps the decision makers easily navigate and compare different reports, fostering a standardized approach across various assessments.
Clarity:
Using a structured format in a due diligence report aids in reader comprehension and navigation. By presenting data in a clear, logical, and organized way, the format improves the clarity of the information. This approach helps readers easily grasp the content, pinpoint crucial information, and derive pertinent insights from the report.
Time Efficiency:
Time is of crucial essence when it comes to executing a due diligence process. Having a due diligence report format beforehand will give you an edge to become more time efficient in the process. A report format gives clarity on what data points you want to collect, how much you want to go in depth, how the analysis of the data should be made and how you want it to get presented. 
A due diligence report format is crucial to define all these attributes hence giving more clarity in the process and also help the decision makers navigate better through the reports and focus on the elements they want to see in the report.
Professionalism:
A well-organized report format enhances the professional appearance of the report. Standardized formats contribute to a professional image. They demonstrate a commitment to thoroughness and organization, instilling confidence in stakeholders, whether they are internal team members, investors, or external partners. 
Compliance:
Adopting a standardized due diligence report format aids in meeting legal and industry standards when required. By following a set format, the due diligence process aligns with regulatory norms and industry benchmarks. This is vital for legal and compliance reasons, as it minimizes the risk of missing important details and guarantees that all essential information is accurately recorded.
How to Compose a Presentable Due Diligence Report Format
Composing a due diligence report format should not be your headache in the age of technology and AI as there are multiple solution providers like us who can help you compose and deliver due diligence reports in the most comprehensive format. 
In case you already have a team of professionals who are looking into the activity of composing a due diligence report format for you then this section is for you. Here are some points to remember while crafting your report format. 
Consistent Format: Start by establishing a uniform format throughout the report. This consistency aids in readability and enables easier comparison of data. A standardized structure ensures that the reader can navigate through the report seamlessly, focusing on the content rather than being distracted by varying layouts.
Clear and Concise Language: The essence of a good report lies in its language. Use straightforward, jargon-free language to make the content accessible to all readers, regardless of their expertise. Clarity in writing helps in breaking down complex concepts and enhances the overall understanding of the report.
Visual Aids (Graphs, Charts, Tables): Integrating visual aids like graphs, charts, and tables is a powerful way to present complex data. These tools not only break the monotony of text but also make it easier to digest large amounts of data at a glance. They serve as a quick reference point and can significantly boost the comprehensibility of your report.
Explain Technical Terms: Due diligence often involves industry-specific jargon that may not be familiar to all readers. Make it a point to explain these terms in simple language. This practice ensures that your report is inclusive and comprehensible to a broader audience, including those who may not have a technical background.
Focus on Relevance: It's essential to sift through the data and emphasize the information that is most pertinent to your due diligence objectives. Avoid the trap of overloading the report with unnecessary details. Stick to what's relevant to keep the report concise and focused.
Well-Structured Executive Summary: Often, the first part of your report that readers will engage with is the executive summary. Make sure it is well-structured, summarizing the key findings and recommendations. The summary could be in a risk scorecard format as well providing an overall risk rating on the target entity. This summary should provide a clear overview of the report, allowing readers to grasp the main points quickly.
Elements to Include in Creating an Effective Due Diligence Report Format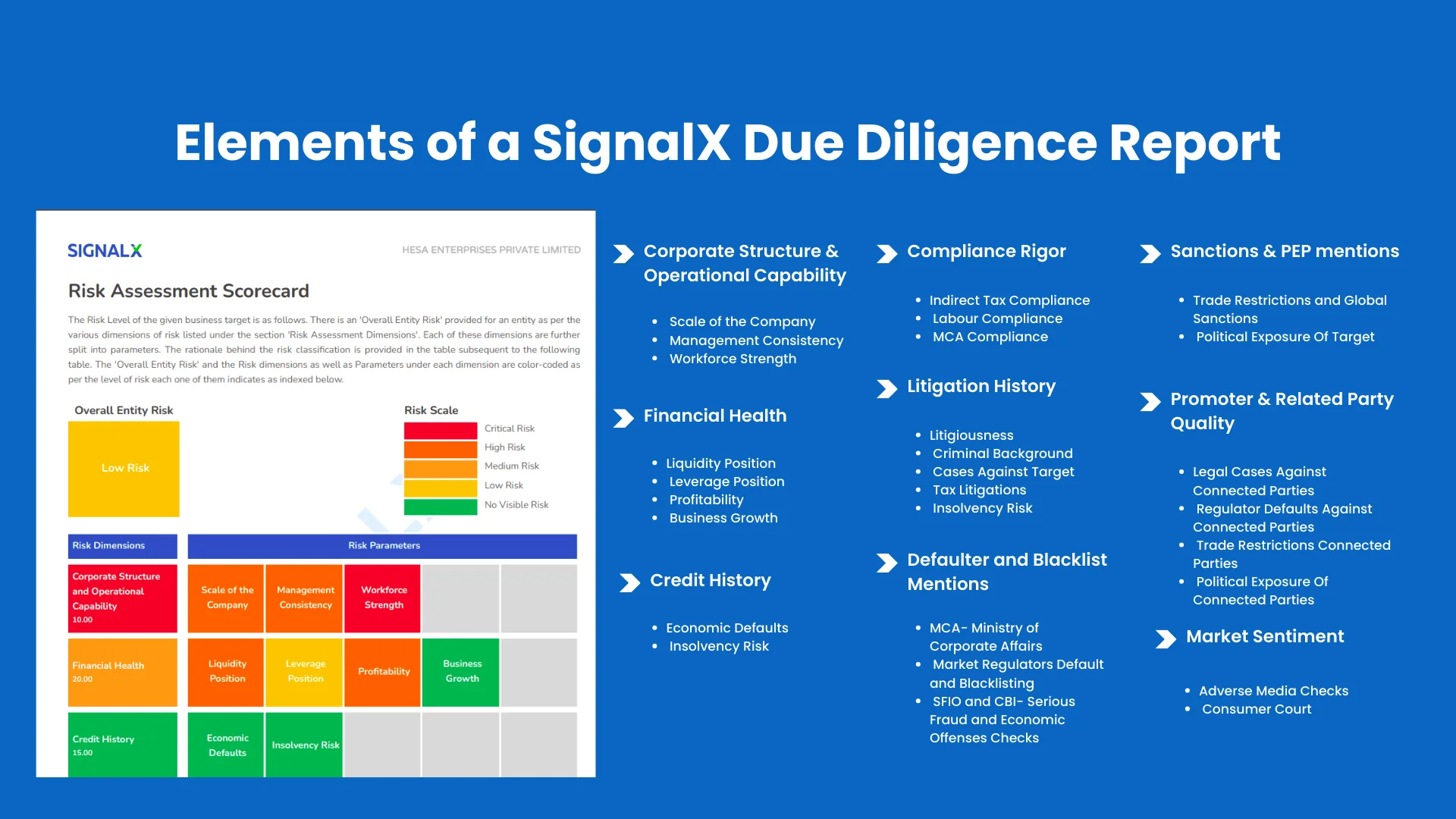 There are many elements that go into the due diligence report format. These included elements majorly depend on how much information you would need to evaluate a target entity properly. 
As the most comprehensive due diligence report provider of India, we evaluate 26 parameters in our due diligence reports. These risk factors are further analyzed and converted into a risk scorecard that helps our users to get a better understanding of the target business posture.
Here are the elements that are included in a due diligence report format – 
Corporate Structure and Operational Capability: Understanding the company's size, management stability, and workforce strength is essential. It helps assess the company's ability to execute its business plan and adapt to changes.
Financial Health: Evaluating liquidity, leverage, profitability, and growth is critical for assessing a company's financial stability and long-term viability. It indicates the company's ability to meet its financial obligations, invest in growth, and deliver returns.
Credit History: Reviewing economic defaults and insolvency risks is vital for assessing the company's creditworthiness and financial integrity. It can influence the company's ability to secure financing and its reputation in the market.
Compliance Rigor: Checking compliance with tax laws, labor laws, and corporate regulations is crucial. Non-compliance can lead to legal issues, financial penalties, and reputational damage.
Litigation History: Understanding any legal challenges, including criminal backgrounds and tax litigations, helps assess potential legal liabilities and reputational risks.
Defaulter and Blacklist Mentions: Identifying if the company is on any defaulter or blacklist by regulatory bodies is important for evaluating its regulatory compliance and operational integrity.
Sanctions and PEP Mentions: Reviewing trade restrictions, sanctions, and political exposures helps in assessing potential legal and reputational risks associated with the company's connections and operations.
Market Sentiment: Assessing media coverage and customer complaints is essential for understanding the company's public image and customer satisfaction levels. This can impact customer loyalty, brand reputation, and business growth.
Operational Parameters: Evaluating registrations, employee numbers, and core business activities provides insights into the company's operational scale and business focus. This is crucial for understanding the company's market position and operational efficiency. 
In summary, the careful crafting of a due diligence report format is not just a procedural step, but a strategic approach to gain deep insights and make informed decisions. With the right structure and elements, such a report becomes a pivotal tool in your business intelligence arsenal. 
Remember, in the dynamic world of business, knowledge is not just power – it's protection, foresight, and the key to successful ventures. Let your due diligence report be the compass that guides you through the complex terrain of business decisions and investments.