In an era marked by growing global interconnectivity in the business landscape, partnerships and cooperative endeavors have risen to paramount importance in driving organizational growth and long-term viability. Nonetheless, it is imperative to acknowledge that not all partnerships share the same level of integrity. The peril of aligning with entities tainted by corruption or unethical practices looms ever-present, capable of inflicting grave repercussions upon your organization. 
To ensure the preservation of your company's reputation, financial well-being, and legal compliance, Integrity Due Diligence (IDD) stands as a potent instrument, affording you the means to make judicious decisions and sidestep associations with tainted partners.
What is Integrity Due Diligence?
Integrity Due Diligence, an often underestimated yet paramount process, involves a comprehensive examination of the integrity, ethical standards, and compliance measures of potential business collaborators, suppliers, and partners. Having a proactive strategy of integrity due diligence acts as a formidable shield, safeguarding your organization from the perils of corruption, fraud, and unethical conduct that could otherwise affect its well-being.
What makes Integrity Due Diligence such a crucial aspect for businesses?
Integrity Due Diligence (IDD) stands as a pivotal shield for companies, fortifying them against the perils of unethical alliances and business practices. It is essential for maintaining a company's standing, complying with comprehensive anti-bribery statutes, and securing financial integrity through meticulous scrutiny of prospective collaborators.
Make informed decisions while selecting your next investment opportunity.
Here are some points signifying the imperative nature of integrity due diligence. 
Strategic Risk Management:
Integrity Due Diligence acts as your main defense against the innate dangers involved in collaborations compromised by misconduct. It enables you to identify and assess possible red flags, including legal violations, regulatory fines, negative press, and financial anomalies.
Preserving Your Reputation:
In the business realm, your reputation is your most invaluable asset. Integrity Due Diligence allows you to uphold and confirm that your associates adhere to the exacting ethical standards and integrity criteria that are vital in preserving your reputation and the intrinsic value of your brand. 
Legal Adherence:
In numerous jurisdictions, stringent anti-corruption regulations exist, and neglecting IDD could trigger legal consequences against your business. By showcasing your unwavering commitment to ethical business practices, Integrity Due Diligence facilitates compliance with these laws, ensuring your operations remain on the right side of the legal divide. 
Financial Prudence:
Collaborations tainted by dishonesty can lead to significant financial losses, penal actions from regulators, and damage to your economic well-being. Integrity Due Diligence provides you with the means to assess the fiscal integrity and openness of prospective associates, thus reducing monetary hazards and bolstering your financial security.
How can you carry out an Integrity Due Diligence Process for your business?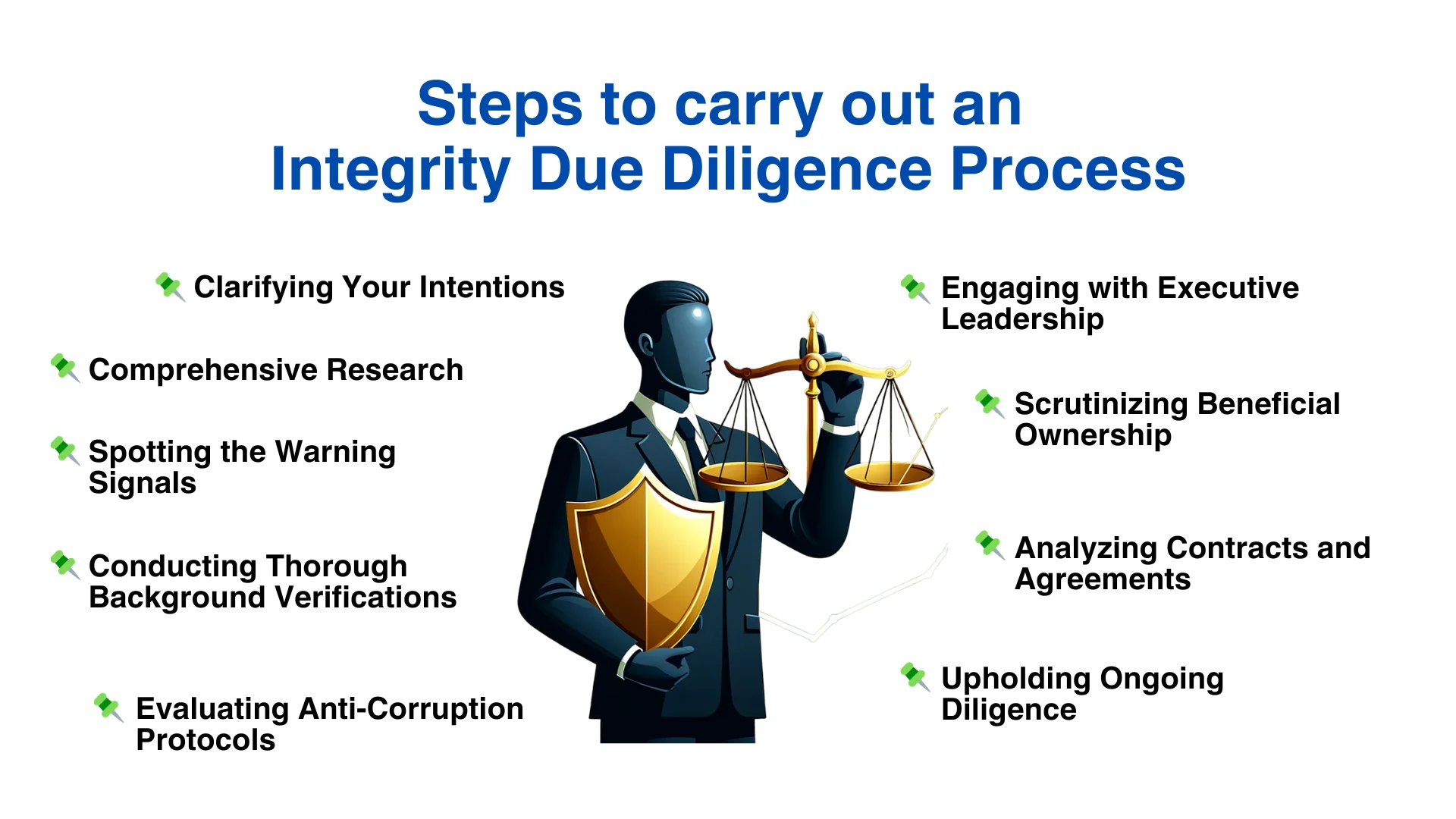 Embarking on a successful Integrity Due Diligence journey requires a systematic and thorough approach to vetting potential partners. We delve deeper into the indispensable steps that form the backbone of an effective IDD process:
Clarifying Your Intentions
In this foundational phase, it's critical to clearly define what constitutes acceptable practice within the realm of integrity, ethics, and compliance. Distilling the essence of what is fundamentally non-negotiable for your organization sets the stage. This ensures that every step you take aligns with the cornerstone values and expectations that you hold paramount.
Comprehensive Research
Integirty due diligence is anchored in rigorous research. This step is exhaustive, stretching beyond superficial checks to include detailed analyses of prospective partners, pulling data from a spectrum of credible sources such as industry records, media publications, and legal databases. It's about constructing a multi-dimensional profile that offers clarity and insight into the entity you might align with.
Spotting the Warning Signals
A proactive stance in identifying potential hazards in the form of corruption or unethical behavior is non-negotiable. This involves discerning patterns and inconsistencies that raise questions—historical legal issues, compliance breaches, unusual financial patterns, and connections that may conflict with ethical norms. These indicators serve as an early warning system to prevent reputational and operational hazards.
Conducting Thorough Background Verifications
An in-depth validation of the information your potential partner presents is indispensable. Analyzing financial reports, scrutinizing legal filings, and understanding corporate ownership structures provides a clearer picture of the entity's past and present, thus ensuring that what is visible on the surface reflects the true depths.
Evaluating Anti-Corruption Protocols
Investigating your partner's resilience against corruption involves a close examination of their internal governance, regulatory adherence, and the robustness of their due diligence processes. It's essential to ascertain that they have a solid framework to detect, prevent, and address corruption.
Engaging with Executive Leadership
Interactions with key management personnel can be incredibly revealing. These discussions can offer an unvarnished look into the organization's ethos, operational culture, and the leadership's dedication to upholding integrity. The true pulse of a partner's commitment to ethical practices often lies in the candid conversations with those at the helm.
Scrutinizing Beneficial Ownership
Understanding who ultimately benefits from the business activities of your potential partner is crucial. This step requires unwrapping the layers of ownership and influence that may not be immediately apparent, revealing vested interests or connections that could signal potential risks or conflicts of interest.
Analyzing Contracts and Agreements
Contractual documentation should be a mirror of your commitment to ethical practices. It's imperative to embed clauses that stipulate adherence to compliance and ethical conduct. These contractual guardrails are vital, acting as both deterrents to malpractice and foundations for resolving potential disputes.
Upholding Ongoing Diligence
Vigilance is the key to maintaining the integrity of a partnership. integrity due diligence should be viewed as a continuum rather than a singular event, involving regular reviews and updates to adapt to new information or changes in the business environment. This ongoing commitment is essential to preserve the trust and ethical standards which will help any thriving partnership.
Streamline Your Corporate Due Diligence Process – Make Smarter, Safer Business Decisions
Scenarios where Integrity Due Diligence has the best use case: 
In the field of business ethics and corporate trustworthiness, Integrity Due Diligence (IDD) stands out as a critical practice applied in various contexts to thoroughly examine the reputation, moral principles, and reliability of prospective business partners, customers, vendors, or persons. The scope of IDD extends to these key areas:
Mergers and Acquisitions (M&A):
In the intricate landscape of M&A, Integrity Due Diligence plays a paramount role, offering an instrument for organizations to judiciously scrutinize the target entity's integrity. This entails an in-depth evaluation of their financial probity, ethical comportment, and conformity with prevailing legal and regulatory paradigms. 
Joint Ventures and Collaborative Ventures:
Prior to embarking on collaborative ventures or partnerships, corporate entities leverage IDD to meticulously appraise the ethical underpinnings of prospective partners. This process is instrumental in discerning any latent indicators of corruption or unethical behavior that may imperil the harmony and integrity of such partnerships. 
Vendor and Supplier Selection:
Selecting third-party vendors or suppliers takes on a strategic aspect. IDD serves as a protective measure, guaranteeing that these chosen suppliers meet stringent ethical and integrity criteria and consistently comply with relevant regulatory guidelines.
Contractual Bidding and Procurement:
Organizations immersed in the sphere of competitive bidding and procurement transactions undertake integrity due diligence process on prospective contractors, thereby ascertaining the veracity of their integrity, financial robustness, and historical adherence to compliance standards. 
Global Market Entry:
In the pursuit of global growth, businesses utilize IDD as a watchful evaluator to measure the ethical standing and reputational value of local collaborators, including partners, distributors, or representatives. This level of scrutiny is intensified when entering regions known for higher instances of corrupt practices.
Government Contracts and Regulatory Compliance:
Firms competing for government contracts undertake IDD as a veritable prerequisite, ensuring strict adherence to regulatory mandates and alignment with government-endorsed standards of integrity and ethics. 
Investment and Diligence for Discerning Investors:
Prudent investors embarking on investment undertakings invariably employ IDD to scrutinize the ethical compass and practices of entities earmarked for potential investment, thereby safeguarding their financial interests and moral convictions. 
Compliance with Anti-Corruption Statutes:
As part of their compliance blueprint, organizations proactively engage in integrity due diligence to satisfy anti-corruption legislations, such as the Foreign Corrupt Practices Act (FCPA) or the UK Bribery Act. This affirms their commitment to adopting requisite measures to preclude corrupt practices. 
Licensing and Regulatory Approval:
Industries mandating stringent licensing and regulatory consents find themselves subject to the scrutiny of regulatory authorities, necessitating IDD as a means to affirm their suitability for licensure. 
Philanthropic and Nonprofit Ventures:
Within the sphere of charitable work, nonprofit entities adopt IDD as a guardian of their purpose and principles. This process verifies that their associates and recipients uphold a deep dedication to ethical benchmarks, thus maintaining the sanctity of their philanthropic efforts. 
Reputation Stewardship:
As custodians of their reputation, organizations employ IDD proactively to safeguard their image and avert inadvertent associations with partners or individuals tainted by a history of corruption or unethical behavior. 
Significantly, IDD serves as a bespoke, flexible procedure that conscientiously adjusts to the specific demands and risks unique to each scenario. The depth and extent of the due diligence conducted can differ, based on the particular subtleties of the context, yet its fundamental objective consistently centers on detecting and lessening the dangers associated with integrity and ethics within the complex web of business interactions and dealings.
In Conclusion 
Using Integrity Due Diligence to steer clear of partnerships with corruption and bad practices is a smart move for the long-term health of your business. It helps you make choices that protect your reputation and stick to the highest moral and legal standards.
In a situation where the fallout from bad partnerships can cost a lot, IDD isn't just a nice-to-have, it's essential for any business that values honesty and aims for long-term success. By adopting IDD, you're putting up strong defenses against corruption and misconduct, ensuring every partnership is built on trust and honesty.
Work with us to automate and streamline your due diligence process and strengthen your business's commitment to good ethics.
At SignalX we are making the world a safer place for every business.
By leveraging the power of AI and Automation we are making due diligence more streamlined and efficient.