NBFC , LLP and small business checks to the SignalX financial module.
It's been a while since we came out with an update. That's not to say we weren't working hard on something new.
Running a due diligence check on any target is not easy, and more so when the target you're looking to verify is not a publicly traded company. We're sure you have, all too frequently, come across situations where huge data gaps have meant that your third party risk checks or pre-deal due diligence is left wanting.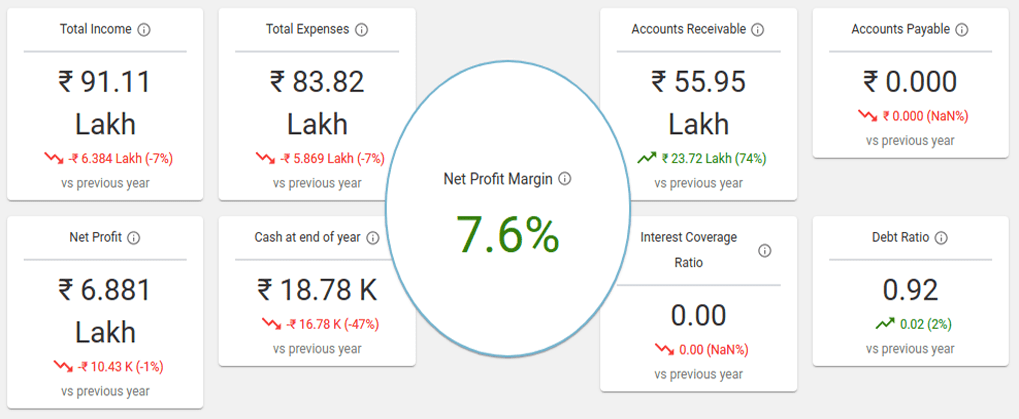 Introducing the addition of LLP, NBFC, and small business to the SignalX financial module to solve this very problem.
With an increasing number of companies relying on NBFCs and Partnership companies to build growth and operations, the automation allows you to track important financial metrics, without feeling the pinch of having to source obscure data and have an analyst run through the numbers!
Up until now, our module was limited to MCA's standard company format for reporting. And we knew it was restrictive, considering a large chunk of your targets  were small businesses, NBFCs or LLPs.
We took a long and hard look at the problem and came up with an elegant solution to report on financials in an intuitive and informative format. You can now:
View key metrics such as the total debt, dues receivable, and accounts payable to ensure that you face no surprises once you have the SignalX report with you.
View key ratios to provide you with all the ease of having a virtual analyst, right on your dashboard, to manage the number crunching.
Perform historical analysis by studying the data available on the NBFC/LLP over the last 5 years
What's more all the data you might require to run these checks yourself and explore the financials further can be easily downloaded from your dashboard (we offer .xls, .csv, and .pdf formats).
With this update, we are excited to empower your diligence checks to be even more comprehensive by bringing in financial reporting for all types of companies, without the company structure and size of the business never posing a limitation.
If you're looking to power up your Due Diligence checks with AI-driven automation, sign up on the SignalX dashboard and leverage our risk intelligence AI today! If you have any feedback for us, or would like something new to be added, please write to us at support@signalx.ai.
If you like what you've read, we recommend these articles for you: