In the rapidly evolving business landscape of 2023, organizations are increasingly relying on third parties for various functions. From marketing and finance to production and manufacturing, third-party engagements have become integral to business operations. 
However, with this increased reliance comes the challenge of managing risks associated with these third-party entities. Third Party Risk Management is a program or a strategy that companies implement to combat risks and threats coming from their third party vendors. Having a vendor risk management tool or third party risk management platform helps organizations to mitigate and manage these risks at various levels throughout a third party's engagement lifecycle with the company. 
Now when a company decides to implement a TPRM program for themselves, the first question that comes to mind is that with so many TPRM solutions and TPRM tools to choose from, which solution would fit perfectly with my use case. Well, this article delves into the essential features to look for in a Third Party Risk Management (TPRM) solution in 2024, ensuring that your organization remains resilient and protected.
Exploring how Third Party Risk Management can add value to your organization?
Understanding the Importance of TPRM
In today's interconnected business world, the need for third party risk management solutions and to manage and reduce risks associated with third-party relationships has never been more crucial. From Cybersecurity to ESG risks, third parties can make an organization knowingly or unknowingly vulnerable to risks from a lot of angles. 
Therefore, the new world of risk management demands for an automated risk management tool that can take a risk based approach when trying to identify, assess, evaluate and mitigate third party risks. 
TPRM plays a pivotal role in safeguarding assets, maintaining reputation, and ensuring regulatory compliance. By adopting a robust vendor risk management software or TPRM system, organizations gain the capabilities to proactively assess, monitor, and mitigate risks tied to their third-party engagements.(whether at the time of onboarding or during their engagement lifecycle)
Key Features to look for in a Modern Third Party Risk Management Solution in 2024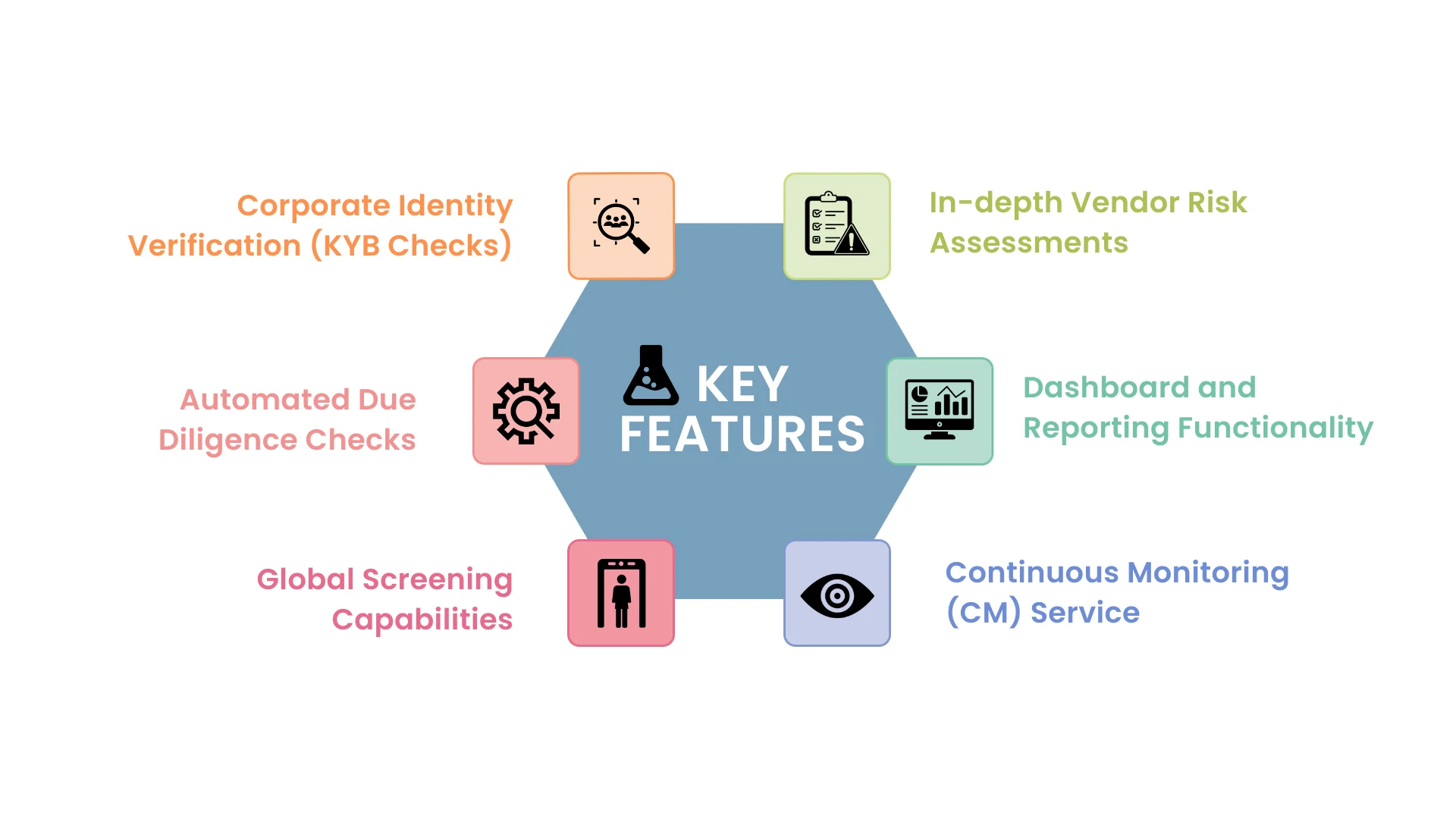 In this section we will explore the key functionalities and features that a reliable TPRM solution should include. 
These components encompass corporate identity verification, automated due diligence checks, global screening capabilities, thorough vendor risk assessments, user-friendly dashboard and reporting features, as well as continuous monitoring services.
1. Corporate Identity Verification (KYB Checks)
The TPRM solution should be equipped to carry out comprehensive Know Your Business (KYB) checks to authenticate third parties during their onboarding process and for subsequent periodic validations. This includes the following critical functionalities:
Business Detail Verification: The tool should be able to validate key business information such as PAN, GSTIN, TAN, MSME Registration Status, MSME number, EPFO, ESIC, CIN, Business Name, and Registered Address.
Promoter KYC Verification: It should have the capability to collect and validate promoter KYC details like PAN, Driving License, Passport, etc.
Bank Account Verification: The system should support a 'Penny Drop Test' to confirm the validity of bank account numbers, names, and other relevant banking details.
API Integration: The solution should be capable of seamless integration with existing systems via API functionality for streamlined data flow.
Vendor Onboarding Form: The tool should provide a vendor onboarding form with built-in validation checks. It should also have the functionality to share these forms with the third party to collect required information and validate it.
Data Export Capability: The system should allow for data export for further use in other systems like SAP.
Field Visit Initiation: The solution should support the initiation of field visits for address verification and facilitate the collection of geo-tagged pictures from the premises to verify business existence.
Anti-Money Laundering (AML) Checks: The tool should be equipped to perform extensive AML checks, including Adverse Media, PEP (Politically Exposed Person), Sanctions, and Global Law Enforcement screening of both the entity and its promoters.
This extensive KYB functionality ensures robust corporate identity verification, providing a strong foundation for risk assessment and mitigation.
2. Automated Due Diligence Checks
A robust TPRM system should incorporate diverse due diligence checks to accurately measure third-party risks. The categories to be covered include:
Financial Stability Analysis: The system should be able to evaluate a vendor's financial health by assessing their five-year financial history, including balance sheet and profit & loss data. It should compute key financial ratios and access data from the Ministry of Corporate Affairs (MCA) for both private and public companies, including LLPs. The tool should have a feature to collect financial disclosures and other relevant data from unregistered and small-scale merchant suppliers like proprietorships and unregistered partnerships.
Regulatory Compliance Reviews: The system should provide a comprehensive review of a vendor's compliance with pertinent regulations and standards. This includes checking the history of GST, EPFO, ESIC, and TDS filings. It should highlight any delays or defaults in tax or salary payments in the past six months. The tool should also be capable of identifying and showcasing aspects such as headcount growth or decrease using EPFO and ESIC data.
Litigation Checks: The system should perform a thorough examination of the vendor's litigation history. This includes reviewing past and ongoing litigations on the business from various legal forums in the country, covering issues like check bounces, economic defaults, debt recovery applications, and incidents of insolvency and bankruptcy over the past decade.
Reputational Due Diligence: The tool should evaluate the vendor's market reputation through adverse media searches, regulatory defaulter and blacklist screening checks, and litigation history, among other factors.
Promoter Integrity Assessments: The system should conduct integrity checks on the promoters, considering aspects such as litigations, regulatory blacklists, and adverse media incidents involving the promoters and their associated entities. The system should be capable of identifying the father's names and other KYC information on directors from MCA filings and incorporate this information in its analysis.
Tired of inacurate data from manual vendor checks? Embrace India's most comprehensive automated due diligence and risk assessment platform.
3. Global Screening Capabilities
A comprehensive TPRM system should have the capacity to perform global checks on third-parties through the scrutiny of public data. This international scope is necessary for businesses with global operations or partnerships, and it should encompass the following:
Global Supplier Due Diligence: The system should have the capability to run exhaustive checks on global suppliers. This includes evaluating their credit ratings, examining records of insolvency and bankruptcy incidents, and reviewing any litigation history to ensure the financial and legal integrity of these suppliers.
Sanction and Blacklist Checks: The tool should be capable of cross-checking global trade sanctions, law enforcement blacklists, and export control lists. This is to ensure that the businesses or individuals involved are not under any international restrictions or sanctions that might affect the relationship or pose legal risks.
Beneficial Ownership Identification: A key feature should be the ability to identify the beneficial owners of the businesses under scrutiny. This allows for a comprehensive view of the business, including the individuals who have significant control or receive benefits from the business, which is vital for due diligence and risk assessment.
Checks on Promoters: In addition to checking the target businesses, the system should also be capable of running similar checks on the promoters. This includes access to credit ratings, records of insolvency and bankruptcy incidents, litigations, and any listings on global trade sanctions, law enforcement blacklists, or export control lists.
4. In-depth Vendor Risk Assessments
The TPRM solution should be able to perform comprehensive and intricate vendor risk assessments in a range of areas. This not only helps evaluate the risk associated with each vendor but also provides insights into specific areas of potential vulnerability. The following are some of the specialized risk assessments the system should support:
Environmental, Social, and Governance (ESG) Risk Assessments: The system should facilitate ESG risk assessments of supply chain partners. This involves evaluating vendors' practices in areas like environmental impact, social responsibility, and governance structures.
Diversity and Inclusion (D&I) Risk Assessments: The TPRM platform should enable D&I risk assessments. These assessments aim to evaluate the vendor's commitment to diversity and inclusion in its operations and workforce, which can have implications for the vendor's reputation and compliance with certain regulations.
Anti-Bribery and Corruption Posture Assessments: The solution should allow for the evaluation of a vendor's anti-bribery and corruption posture. This involves assessing the vendor's policies, procedures, and controls intended to prevent bribery and corruption.
Cyber Risk Assessments: The tool should support evaluations of a vendor's cybersecurity posture. This includes assessing the vendor's cybersecurity policies, practices, and incident response capabilities. 
For every specialized risk assessment, the TPRM system should come equipped with pre-designed questionnaires and scoring models to streamline the data gathering process.
Additionally, it should provide the capacity to tailor assessments to align with distinct vendor groupings, taking into account factors such as the vendor's industry, type, and overall risk profile. The questionnaires should be comprehensive, seeking information on existing certifications as well as policy and compliance documents relevant to each assessment.
To streamline and standardize the risk assessment process, the TPRM solution should be designed to automate the administration of these assessments. This includes the collection of vendor disclosures, the calculation of risk ratings based on the data received, and the generation of insights from these assessments.
By doing so, the TPRM solution eliminates the necessity for manual intervention, fostering greater efficiency and consistency in risk assessment procedures. The intelligence acquired from these assessments can subsequently be leveraged to guide and enhance risk management planning and decision-making.
Lastly, the TPRM solution provider should supply seasoned consultants capable of reviewing the data submitted by suppliers. These experts should be able to provide credible ratings and offer insightful recommendations concerning the suppliers chosen for these specialized risk assessments.
5. Dashboard and Reporting Functionality
The TPRM solution should provide powerful reporting and dashboard features that allow for an effective interpretation and communication of risk assessments. These capabilities play a crucial role in understanding and managing the risk landscape associated with third parties. The following are key features that should be included:
Overall Risk Profile Visualization: The tool should include a dashboard that provides a holistic view of the overall third-party network risk profile. This should enable users to quickly understand the risk distribution across their vendor network at a glance.
Detailed Risk Reports: The solution should generate comprehensive reports detailing the assessed third parties and their respective risk postures. These reports should provide in-depth insights into individual vendor risk profiles, enabling informed decision-making.
Automated Alerts: The system should be equipped to issue automated alerts for parties due for re-assessment. This ensures that no vendor risk assessment is missed and that all assessments are up-to-date.
These robust dashboard and reporting features ensure that your organization has the necessary tools to visualize, understand, and manage third-party risks effectively. The integration of automated alerts further enhances the proactive management of vendor risk assessments.
6. Continuous Monitoring (CM) Service
The TPRM solution should possess robust continuous monitoring capabilities to actively oversee selected vendors for potential risk signals. This feature allows for the early detection and mitigation of risks associated with vendor relationships. The following are key functionalities that should be incorporated:
Vendor List Management: Users should have the flexibility to create, manage, and modify a list of vendors for continuous monitoring based on their evolving business requirements.
Automated Reporting: The system should be programmed to generate comprehensive monthly or quarterly reports summarizing findings from the monitoring activity. These reports should be automatically dispatched via email to the corresponding users.
Broad Scope of Monitoring: The tool should provide a broad scope of monitoring activities that cover changes in various aspects of the vendors' status. This includes changes in MCA status, company address, type of company, new and existing charges, director appointments and resignations, GSTIN registrations and cancellations, GST and EPF filing statuses, and workforce strength.
Monitoring of Legal and Regulatory Compliance: The solution should monitor for any suits filed against the vendor or their directors in CIBIL, mentions in Standard Global Sanctions, and Politically Exposed Person mentions on current or newly added directors. It should also track new litigations against the target and promoters in High Courts and Key Tribunals, insolvency and bankruptcy-related applications, and debt recovery applications filed against the target at DRTs and DRATs.
Automated Alerts: The system should be designed to alert users to significant changes in the vendor landscape, ensuring a prompt response to potential risks.
Integration with Risk Management Reporting: Continuous monitoring data should be integrated into broader risk management reporting to provide a holistic view of vendor risk.
With this comprehensive Continuous Monitoring Service, the TPRM solution ensures that your organization remains vigilant to changes in vendor statuses, enabling you to manage and mitigate third-party risks effectively.
Peform comprehensive due diligence checks on your vendors and suppliers and build strategic relationships for future.
Introduce AI in your TPRM programs and initiatives
The transformative role of Artificial Intelligence (AI) in Third Party Risk Management (TPRM) is paramount. AI has revolutionized TPRM by automating data collection, significantly reducing manual efforts and time. This automation extends to processing documents, such as certifications and policy documents, ensuring a higher accuracy in assessing third-party risks. 
Systems like SignalX exemplify the potential of AI in TPRM, utilizing public data, implementing monitoring programs, and establishing Know Your Business (KYB) systems. The result is a more resilient and efficient risk management process, with cost savings of up to 80% compared to traditional methods. 
Third Party Risk Management is not a piece of software that you can plug in and start doing everything over time. Implementing the apt TPRM program with the right TPRM solution features for your organization that fits your business use case and aligns with your organizational goals and risk appetites is a process to embrace. The concept of one size fits all is now old news, with integrating AI capabilities into your TPRM programs you have to leverage the technological prowess to its very extent and go beyond with it for your third party risk mitigation initiatives.  
For starters, You may want to start off with certain components and build your third party risk management program over time. You may want to put in a KYB system that is able to verify the identity of your target. You may want to put an enhanced due diligence system that is able to conduct due diligence of public data. That could also do some level of monitoring and reporting on an ongoing basis. 
And then you may want to put in place certain disclosure collection and rating systems that are able to automate the data collection from third parties on the risk and compliance posture. And then you may want to bring everything together in a similar view. So a modular third party risk management system allows you to start very small and enables you to go through this journey of building a third party risk management program block by block. 
Conclusion
In 2023, as enterprises continue to expand their third-party engagements, the importance of a comprehensive TPRM solution cannot be overstated. By focusing on the features highlighted above and leveraging the power of AI, organizations can ensure that they are well-equipped to manage and mitigate third-party risks effectively, safeguarding their assets and reputation in the process and building a sustainable risk free future.