Supplier ratings, also referred to as vendor ratings, depend on a formal procedure for assessing companies that offer goods or services to a business.
Organizations use the vendor rating process to assess and gauge the performance of their suppliers or vendors. It involves determining whether the vendor can fulfill the organization's needs in terms of quality, delivery, dependability, and cost-effectiveness. Organizations can use the vendor rating process to evaluate their vendors' strengths and weaknesses and decide whether to work with them going forward.
What is Vendor Rating?
The vendor rating process typically entails gathering and analyzing information on a variety of vendor performance factors, including delivery times, product quality, responsiveness to client needs, and compliance with contractual obligations. Companies can collect the data by conducting surveys, site visits, and audits. In order to assess the performance of the vendor in each area, the organization may also use a scoring system or rating scale.
It is a crucial component of supply chain management because it aids in selecting the top suppliers and controlling the risks connected to them. 
7 Steps to Vendor Rating Process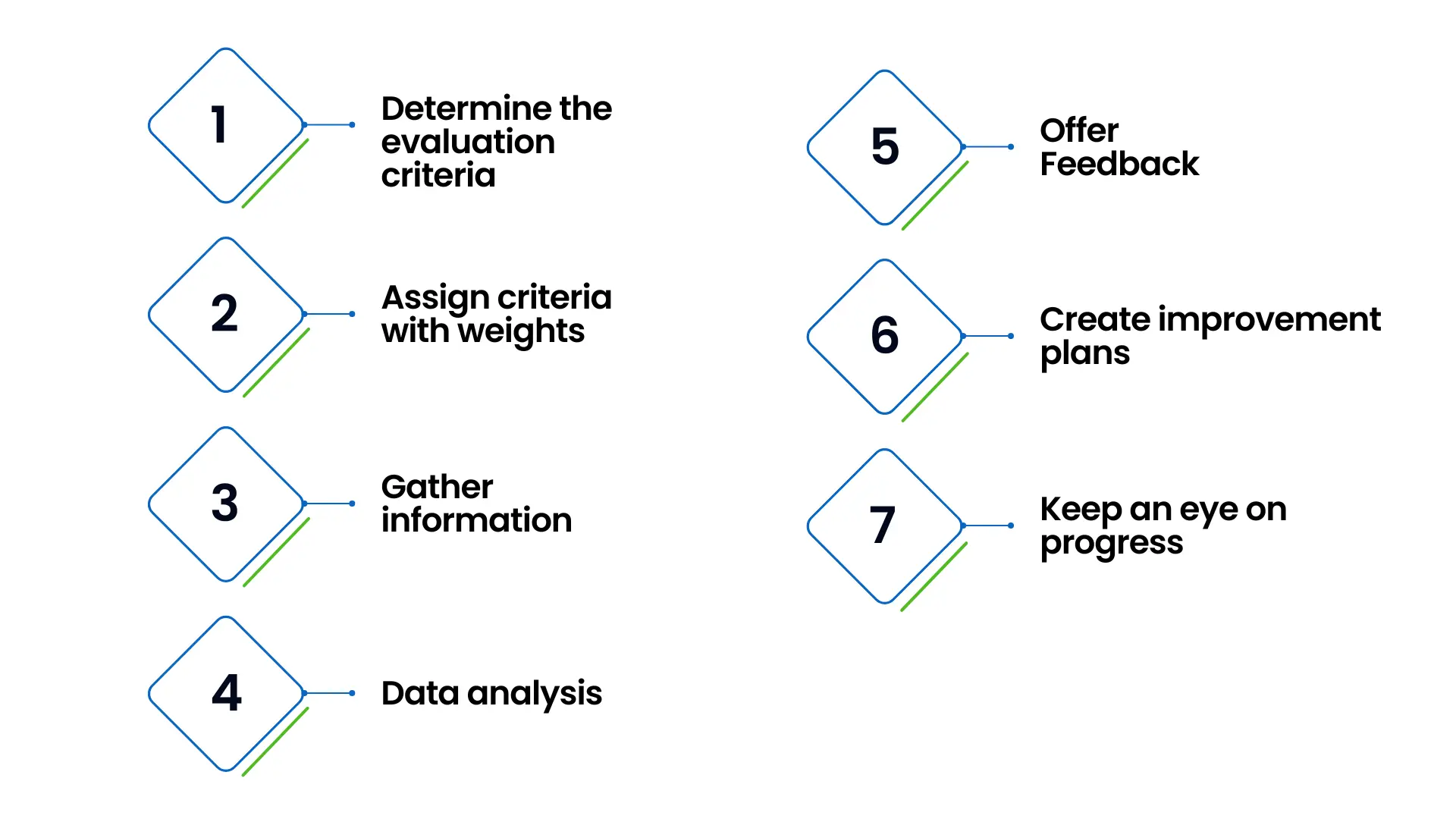 Step 1: Determine the evaluation criteria
Finding the evaluation criteria is the first step in the vendor rating process. Depending on the type of supplier and the sector, the evaluation criteria may change. Quality, delivery, cost, responsiveness, reliability, and innovation are a few typical evaluation criteria. The selection of relevant criteria for the supplier and the organization is crucial. 
Step 2: Assign criteria with weights
The next step is to give each criterion a weight after the criteria have been determined. Each criterion's weight should be determined by how significant it is to the organization. For instance, quality may be given more weight than other criteria if it is the most crucial one.
Step 3: Gather information
The next step is to gather information about the supplier's performance. Data can be gathered from a variety of sources, including internal evaluation, customer feedback, and supplier self-evaluation. It is crucial to gather information that is both objective and pertinent to the evaluation standards.
Step 4: Data analysis
To assess the performance of the supplier, the data must be analyzed after it has been gathered. Several techniques, including scorecards, ranking systems, and benchmarking, can be used to accomplish this. The criteria and weights assigned in the preceding steps should serve as the foundation for the analysis. 
Step 5: Offer Feedback
Feedback should be given to the supplier after data analysis. The criticism ought to be detailed and useful, highlighting potential areas for improvement for the supplier. It's crucial to deliver the feedback in a helpful and constructive way. 
Step 6: Create improvement plans
The supplier should create improvement plans to address the areas that need improvement based on the feedback given. The improvement plans should have precise completion dates and be measurable and realistic. 
Step 7: Keep an eye on progress.
The monitoring of the supplier's performance is the last step in the vendor rating process. Regular follow-up evaluations and ongoing communication can accomplish this. The criteria and weights assigned in the preceding steps should serve as the basis for the monitoring.
What is Vendor Risk Rating?
Organizations use the Vendor Risk Rating process to evaluate and assess the potential risks related to their interactions with third-party vendors. It entails looking at various aspects of the vendor, including their financial stability, regulatory compliance, security measures, reputation, and track record.
A numerical score or rating is typically given to the vendor as part of the vendor risk rating process based on the risk factors examined. With the aid of this rating, businesses can identify the vendors who pose the greatest risk and focus their risk-management efforts accordingly.
The rating of vendors is a crucial component of vendor management because it enables businesses to lessen the risks involved in outsourcing crucial operations to outside vendors. It enables businesses to select, monitor, and fire vendors in an informed manner, ultimately assisting them in safeguarding their name, assets, and customer information.
Why Vendor Rating is Important? 
Vendor rating is crucial because it enables businesses to control costs and risks, monitor the quality and dependability of their suppliers, and promote ongoing development among those suppliers. 
Quality control: Vendor rating aids in quality control by assisting businesses in making sure that the goods and services they purchase from their suppliers are up to par. Companies can identify the best vendors and hold them responsible for adhering to the established quality standards by rating their vendors.

 

Cost control:

By identifying the vendors who provide the best value for the money spent, vendor rating assists businesses in controlling costs. Companies can improve their negotiations and make sure they are receiving the best price for the goods or services they require by rating their vendors.

 

Risk management:

Rating vendors help businesses manage risks by identifying those who are dependable and trustworthy. Companies can identify any potential risks by rating their vendors, such as a history of subpar performance or a lack of financial stability, that may come with working with a specific vendor.

 

Continuous improvement:

Vendor ratings assist businesses in encouraging continuous improvement among their vendors. Companies can encourage their vendors to improve their goods and services, resulting in higher quality and better value, by giving them feedback and ratings.
How vendor rating can be improved?
Establish clear performance metrics:
Set clear performance metrics or Vendor KPIs that accurately reflect the vendor's performance. This will help both the vendor and the company to understand what is expected of them. 
Regular monitoring:
Regularly monitor the vendor's performance against the established metrics. This will help to identify any performance issues early on and address them before they become major problems. 
Give Feedback:
Provide performance feedback to vendors. This helps providers improve their processes and make changes where necessary.
Build good relationships:
Companies need to build good relationships with their providers based on open communication and trust. This helps foster a sense of partnership and encourage providers to go the extra mile to meet expectations.  
Continuous enhancement of processes :
It is imperative to advocate for the continuous enhancement of processes and services which are provided by the vendor. This would enable the vendor to consistently update and refine their practices, thereby providing superior quality goods and services to their clients. This could be accomplished by proposing recommendations for enhancement and delivering instructions and resources required.
Periodic evaluations of the vendor:
It is recommended to conduct periodic evaluations of the vendor to ascertain their compliance level with prescribed performance criteria and also to identify strategies for possible improvement.
Implementation of incentives:
It is advisable to contemplate the implementation of incentives as an effective strategy to motivate and reward high levels of performance. Such incentives may consist of financial incentives, such as bonuses, or non-financial incentives, such as the provision of further business prospects. This may serve as an impetus for the vendor to optimize their performance.
Conclusion
In conclusion, vendor rating is a crucial component of supply chain management that aids in selecting the best vendors and controlling the risks connected to them.
The vendor rating process entails selecting evaluation criteria, allocating weights to those criteria, gathering data, analyzing data, giving feedback, creating improvement plans, and keeping track of performance. Organizations can make sure they are working with the best suppliers and continuously enhancing their supply chain management procedures by adhering to these steps.
Effective vendor management ensures timely product and service delivery, ensures compliance with standards, prevents risks and disruptions in the supply chain, and supports the creation of strong business partnerships.
Frequently Asked Questions
Q1: What are the methods of vendor rating?
Vendor rating methods include the Categorical System, Weighted-Point System, Cost-Based System, Total Quality Management (TQM), Benchmarking, Balanced Scorecard, and Vendor Self-Assessment. These methods evaluate a vendor's performance based on factors like quality, delivery, price, and service. However the ideal vendor rating method depends on the particular requirements and expectations of individual organizations.
Q2: What is the formula for vendor delivery rating?
A generalized formula to calculate vendor delivery rating is as follows:
Vendor Delivery Rating = (Total On-Time Deliveries / Total Deliveries) * 100%
This formula calculates the percentage of deliveries that arrive on time. "On-time" here means that the delivery was made within the agreed-upon delivery window. The "On-time" varies from company to company.
Q3: What are the KPIs for vendor rating?
Vendor rating KPIs typically included the following attributes: quality of goods, on-time and complete deliveries, compliance with terms and regulations, price competitiveness, service level, innovation, financial stability, and flexibility. These indicators provide a comprehensive assessment of a vendor's performance as evaluated by the organization working with them.