Every organization requires vendors or suppliers or third parties to conduct certain operations. Companies can stay lean, manage costs, and concentrate on their core business processes by outsourcing operational activities.
There are a number of factors that can cause a company to be at risk while dealing with third-party vendors. These risks can come in the form of data privacy breaches or cyberattacks, non-compliance, financial losses, and reputational damages.
It is imperative for companies to share sensitive information with third parties and vendors so that they can work effectively and efficiently as per the quality standards set by the employing company. A company's vulnerability is raised here.
Today, vendor risk management or third-party risk management is a "must-have" solution for every company in order to detect, flag, and mitigate risks that are associated with third-party vendors. 
Who is a Third-Party Vendor?
The term third party is widely used in many variations throughout several industries. Third parties are external entities that a company does business with in order to carry out certain operational activities. The terms third party, vendors, suppliers, etc are used interchangeably throughout various types of industries.
For example, the term "Supplier" is commonly used in a business environment where the dealing of physical goods is involved. Whereas, in IT industries, terms like "Vendors" or "Service Providers" are vastly used to identify outsourced entities. 
Third-party is a commonized term that can be used as an umbrella for all the other expressions that companies refer to as outsourcing entities. These outsourced entities can comprise Consultants, Legal Advisors, Marketing teams or firms, Suppliers, etc. 
What is Vendor Risk Management?
Vendor risk management or third-party risk management involves the activities of identifying and assessing, monitoring and reducing risks associated with third-party vendors of a particular organization. For example, the risk associated with onboarding suppliers, vendors, partners, contractors, service providers, consultants, etc. 
The idea is to provide your organization with a solution to perform due diligence on your vendor before signing a contract with them and keep periodic monitoring with a frequency of 3-6 months to identify any forthcoming risks. As an organization, a vendor risk management system is a must to identify, analyze and mitigate risks that a vendor or third party might impose and negatively impact business results.
The requirements of an effective risk management system depend widely upon the industry, regulatory guidance, and types of vendors. But there are certain common practices that every organization can follow to prevent any sort of risks while dealing with an external third party or vendor. 
Why Vendor Risk Management is important?
A business transaction requires companies to share sensitive information with vendors. No matter how secure your business is, third parties who fail to comply with security guidelines and regulations can leave you vulnerable. 
In recent years, the world has seen many unfortunate events such as the Ukraine war, COVID-19, the Suez Canal blockage, etc. These events have led to massive disruption in the business world as it has witnessed operational breakdowns, financial losses, legal litigations, and many more. 
We cannot prevent these events from happening but what we can do is mitigate and reduce the impact by implementing an effective third-party risk management system. 
In the modern world, companies rely a lot on vendors to streamline their certain operational activities. Hence, for a company, it becomes a dependency factor. In case, the vendor or supplier cannot deliver as expected standards and quality, it becomes a devastating event for the company. 
The impact can result in a fall in operational capabilities, supply chain disorientation, and ultimately customer dissatisfaction.  
Implementation of a vendor risk management program not only prevents a company from possible risks but helps it to measure supplier performance, maintain healthy relationships over a longer period, assess and analyze its delivering capabilities, and more importantly foresees any kind of risk involved.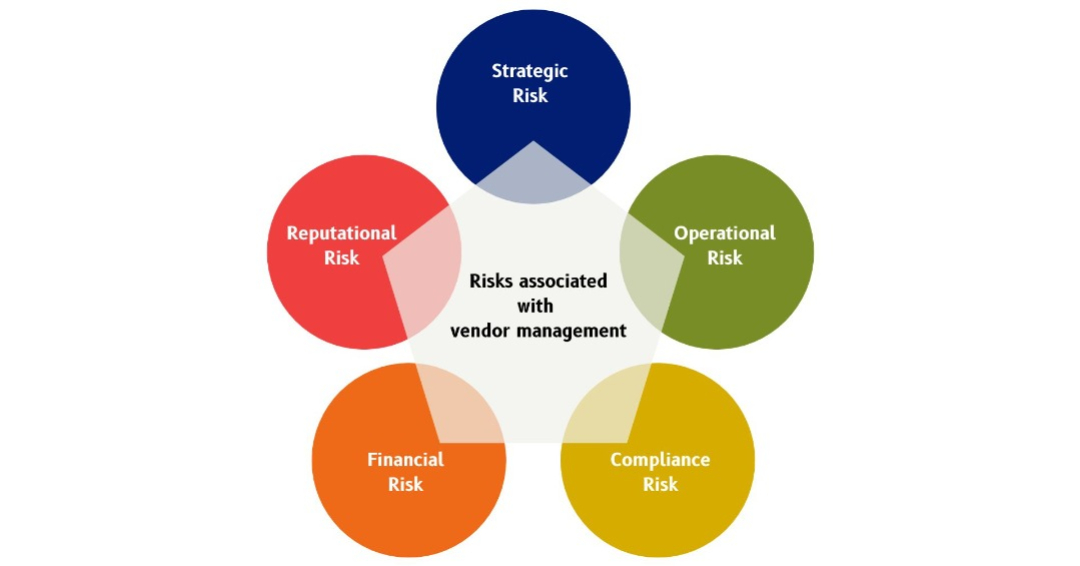 Risks to look out for in a Vendor Risk Management Programme
Here are five primary types of risks that a third party or a vendor can bring to your business. 
1. Strategic Risk  
This type of risk occurs when the decision and actions of a vendor do not sync up with the company's strategy and decisions. For example, your vendor is unwilling to invest any resources that ensure that your product or services are delivered on time, within budget, and with quality. 
2. Operational Risk 
A company needs to evaluate whether the vendor has enough resources and capabilities, human resources and internal processes, security, and quality standards to deliver the required service, or else the company can run into operational risk. 
3. Compliance and Regulatory Risk 
A vendor's failure to comply with regulatory standards imposed by the government can jeopardize your company's security and reputation. This may result in litigation cases against both parties. 
Companies need to make sure the third party does not participate in or practice deceptive marketing activities, violate labor laws and regulations, and comply with the company's policies and standards. 
4. Financial Risk 
Decreasing revenue, poor credit score, and increased liabilities of vendors can pose a risk for your company. In this scenario, the inability of the third party to meet the contractual obligations can impact the company's business operations. 
5. Reputational Risk 
All the inadequacies of a third party can make a company vulnerable to reputational risk. Your audience trusts your company for the quality of products and services you are providing to them. 
A company's reputation is the public perception of the company. It can get harmed if there are poor services, management, fraud, lawsuits, and data breach cases from the vendor.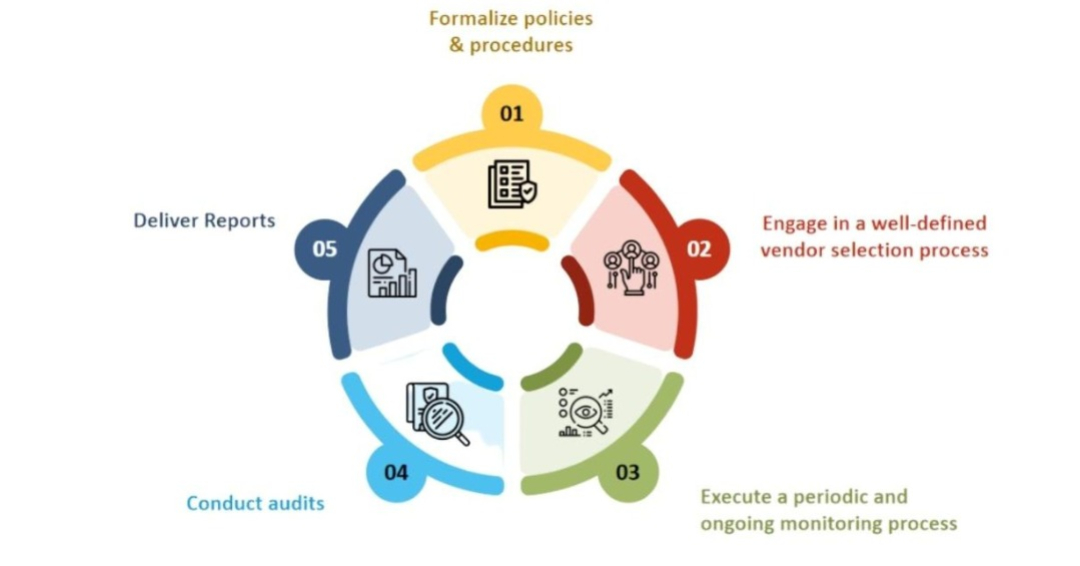 How to Develop a Vendor Risk Management Program?
An organization with a lot of outsourced operations needs a robust strategy for vendor risk management and assessment. Most companies with an effective TPRM dedicate a team to carefully plan and implement vendor risk assessment and monitor the system at every stage to make it streamlined. 
Here are some steps to take to develop a vendor risk management program – 
1. Formalize policies and procedures 
To initiate a vendor risk management strategy, companies must create formal policy and procedure guidelines. The document checklist for vendor risk management will vary depending on the type of company and the complexity of the situation.
The policies should reflect how the company is going to assess and manage the risk involved with a vendor. These policies and procedure guidelines are to be regulated internally at every level of management to have a clear understanding of the implemented strategy. 
2. Engage in a well-defined vendor selection process
Establishing a robust vendor vetting process is crucial for companies to select the right vendor to deliver their products and services and is an important step toward vendor risk management.
A company needs to prepare a set of questionnaires and processes in order to assess its vendors and compare them with competitors. Some of the vendor vetting steps include – Issuance of an RFP, and conducting a pre-due diligence assessment to meet the policy requirements.
Having a detailed vendor risk management process will help your company to filter out all of the high-risk vendors early in the process. Now you will have a filtered list of vendors and suppliers in your supply chain who abides by the performance and security standards of your company. 
Some of the common selection and review processes of third parties include the following – 
Collecting all your third-party vendor data and running due diligence checks on newly onboarded ones. 
Perform an in-detailed risk evaluation to identify any form of cybersecurity, information security, compliance, reputational, and data security risk that your company might be exposed to from the vendor. 
Categorize the total number of vendors based on their risk profile ratings. Keep those who come with minimal risk or certain risks that can be mitigated, and remove the rest of the high-risk profiles. 
Streamline and automate your complete vendor risk management process. Work with your vendor risk management team to pre-set company standards and risk acceptance criteria. This will allow you to onboard new vendors and monitor all the existing vendors on a real-time basis. 
So that whenever there is a hint of any form of risk, you should always be prepared to counter. With SignalX's VDD solution, you can easily automate the whole process of vendor risk management, and run various due diligence checks on them to ensure all the risk factors are at bay. 
3. Execute a periodic and ongoing monitoring process 
Vendor Due diligence helps companies to build better relationships with their vendors. It can be considered a thorough process to know your vendor. 
Having a system for running periodic due diligence on onboarding third parties and keeping up with ongoing monitoring has helped many companies mitigate the risk of Data security crime, Financial crime, Reputational Distress, etc. 
With the power of AI and automation companies are now following due diligence practices like never before. Apart from tracking vendor KPI, with due diligence, you can also identify any underlying risk and keep a check on the health profile of the third party. 
In recent times, companies are finding it difficult to mitigate all the risks associated with a third party with a due diligence process. As technology is evolving, the nature of crime is also changing, fraudsters are finding new ways to go beyond the security thresholds. 
Companies are now embracing the risk mitigation solutions of enhanced due diligence. Keeping a constant tab on their third parties to identify 
Politically exposed persons or entities

Past and ongoing litigation cases

Sanctioned and debarred entities

Law and regulation violation 

Adverse news or public media
Enhanced due diligence provides a 360-degree clear view of your third parties, know them better, and always stays one step ahead of any risk. SignalX's comprehensive platform makes it even easier for companies to run both due diligence and enhanced due diligence checks and helps you make the right decision while selecting the next vendor. 
4. Conduct audits
Vendor onboarding is no easy task for any organization. As you plan to deploy vetting exercises and run due diligence checks on third parties, sometimes it's better to turn your head and observe how things are working internally. 
This will help you to identify any room for improvement, provide you with much clearer data to evaluate, and reduce the chances of stepping into any unforeseen risks. The due diligence reports provide transparent data for evaluation which in turn help internal stakeholders to run an audit. 
Execution of an internal audit process in your Third party onboarding program is beneficial to fill in the gaps and avoid non-compliance. 
5. Deliver Reports
Reports on your vendor risk management program, helping a company to keep stakeholders informed about the third-party risk environment. A streamlined reporting system helps organizational leaders take quick decisions based on the reporting conclusions. 
With a comprehensive reporting practice, your organizational leaders will have a clear understanding of 
The vendor portfolio 

Probable Risk factors and related threats

Status of real-time due diligence and monitoring 

Financial health, reputational standard, and structural capabilities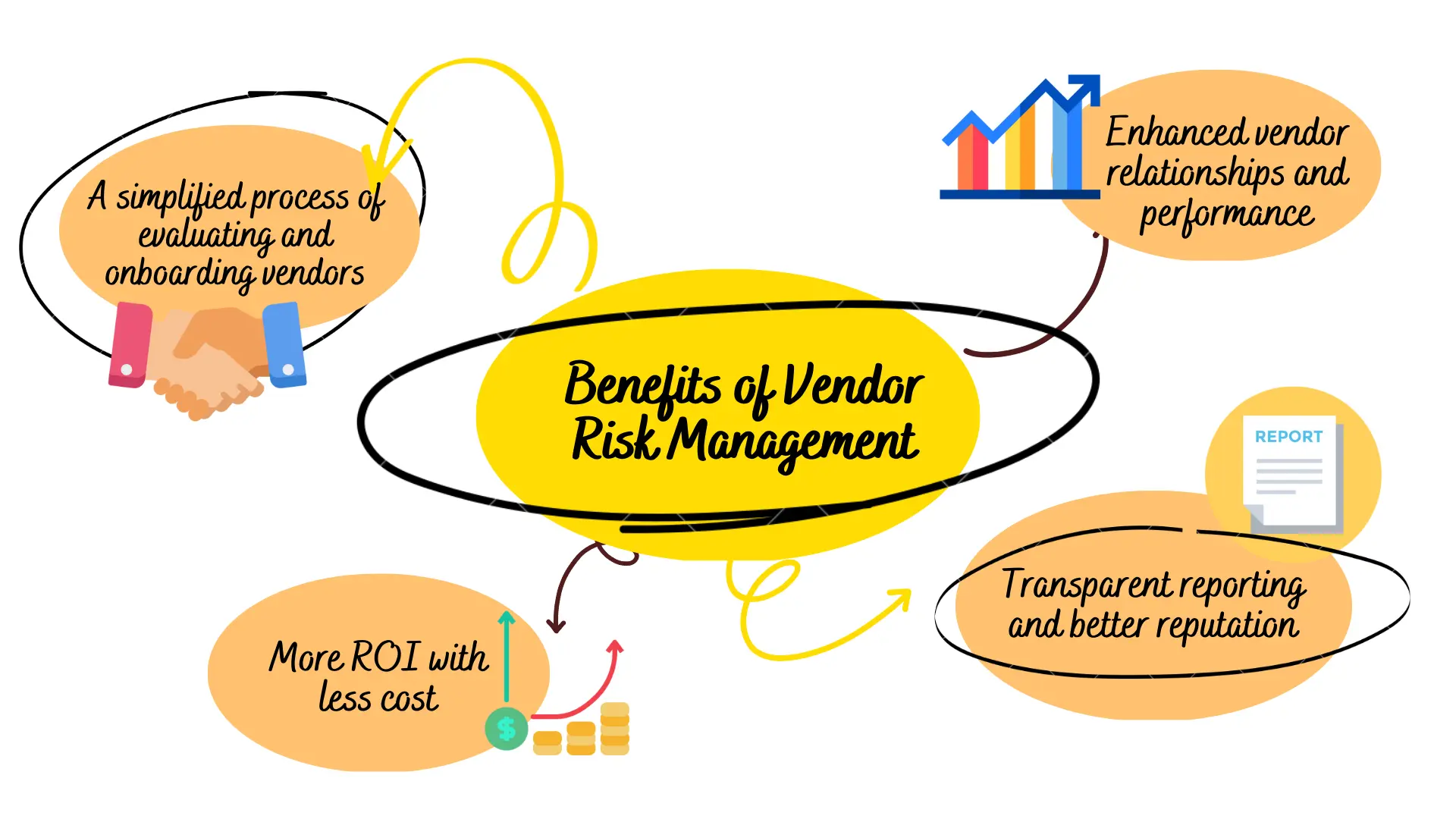 Benefits of Vendor Risk Management
Third-party risk management brings a lot of benefits to both the company and the vendor. The primary benefit is transparency. The more transparent your vendor is with you the more likely you are to retain a sustainable relationship with the same. 
There are a bunch of benefits that come along with vendor risk management. Such as – 
A simplified process of evaluating and onboarding vendors
For every company dealing with a third party or a vendor, the major roadblock is the evaluation and selection of the right vendor that fits best their use case. 
A vendor risk management program gives a holistic view of the health and capabilities of the vendors to help organizations make informed decisions. 
Enhanced vendor relationships and performance
Third-party assessments give a clearer picture of vendors' performance to the company. Thus making the vendor more trustworthy in the eyes of the company. 
Better performance evaluation results in the delivery of higher-value outcomes and better relationships. 
More ROI with less cost
Outsourcing operational activities to third-party vendors are often practiced by companies from all over the world. Why do they do it? To save cost and time. But if lacking a vendor risk management program a company makes itself vulnerable to several risk factors and might have to spend to mitigate those risks. 
That is why having a third-party management program is so important for a company to harness. A TPRM helps you better plan your money and to decide where to invest for higher ROIs. 
Transparent reporting and better reputation
Vendor risk management can help you analyze situations and report identified problems. This maintains fluency and transparency in data flow throughout the organization. 
As a result, companies build better relationships and reputations with clients and other stakeholders.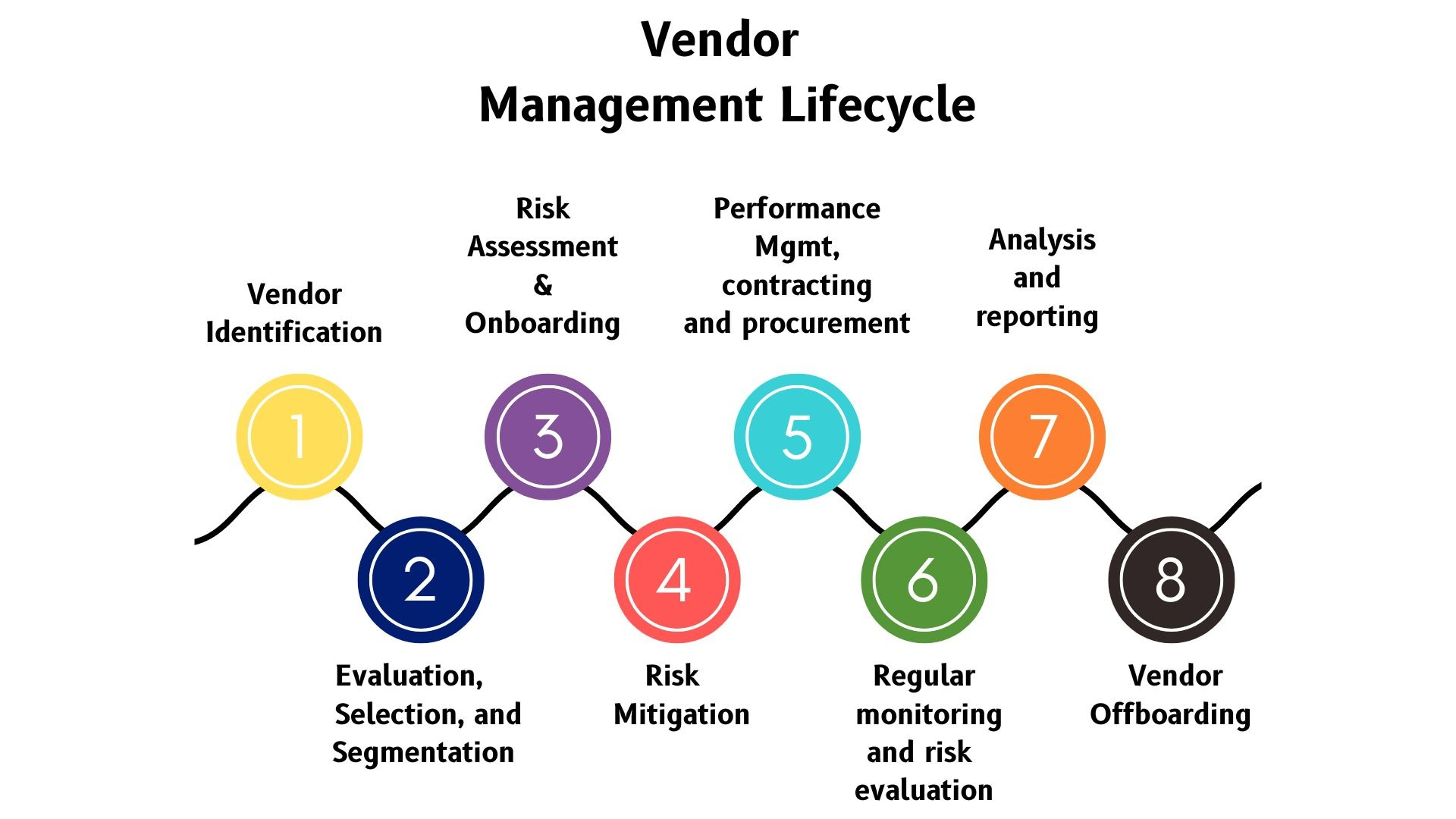 Many companies consider Vendor risk management as a one-time process. But unfortunately, that is not the case. With technology evolving like never before, the magnitudes and types of risks and threats are also increasing. 
Thus making it very important for companies to make third-party risk assessment a common practice. Companies tend to face various risk factors and obligations at different stages of a vendor relationship. Therefore, having a TPRM that can address the complete vendor lifecycle is essential. 
Here are the activities of vendor lifecycle management consists – 
Vendor Identification                           

Evaluation, Selection, and Segmentation 

Risk assessment & Onboarding           

Risk Mitigation

Performance reviews, contracting,     

Regular monitoring, risk evaluation,

and procurement

Analysis and reporting                         

Vendor Offboarding 
Vendor Risk Management with SignalX
It is crucial to build confidence with third parties by assessing their reliability, detecting risks, and managing them proactively. With technological advancement, companies are now more reliant on AI and automation to make their jobs more efficient and swift. 
With SignalX's 360-degree risk intelligence platform, you can improve your third-party onboarding processes and mitigate the risk of threats. With the most comprehensive risk assessment, due diligence, and monitoring solutions, SignalX's third-party risk management technologies can help your company gain greater insights into third-party relationships. Such as — 
Generate 26 Parameter Scorecard & supplier risk rating
Assess Suppliers of any size and type
Collect disclosures and data from Suppliers
Monitor Strategic & Critical Suppliers
Build a Resilient Supply Chain
Ensure Compliance in your Supply Chain
Build Trust and Reduce Onboarding Time
Identify Red Flags early on and Mitigate Risks
We help you build a resilient workflow to onboard, assess, analyze, and verify your third parties and keep any types of risks at bay. 
Frequently Asked Questions
Ques: What is the vendor risk management process? 
A business uses a vendor risk management system to identify, evaluate, monitor, and minimize the risks related to vendors or suppliers. The VRM process entails assessing possible risks and weaknesses that might be brought on by a vendor's actions, goods, or services and putting in place the appropriate security measures to reduce those risks.
Due diligence, risk evaluation, contract negotiations, continuous monitoring, and risk mitigation techniques are frequently included in the process. VRM aims to reduce outsourcing-related risks and make sure that suppliers abide by the organization's security, privacy, and legal requirements.
Ques: Who is responsible for vendor risk management?
Organizations or businesses that use the vendor's or supplier's products or services are typically responsible for vendor risk management. Procurement or vendor management teams are usually responsible for this, but other stakeholders such as information security, legal, and compliance teams may also be involved.
It is ultimately the organization's responsibility to ensure its vendors are meeting its security, privacy, and regulatory requirements, and that they are not posing undue risks.
Ques: What is the vendor risk assessment process?
Third-party vendor risk assessment refers to identifying potential risks and vulnerabilities associated with their products, services, and operations. Its purpose is to determine whether a vendor meets the organization's security, privacy, and regulatory requirements and to inform risk management decisions.